Once you open the online tool for PDF editing by FormsPal, you can fill in or edit snap mid certification form here and now. To make our editor better and easier to work with, we continuously come up with new features, bearing in mind suggestions from our users. This is what you'll want to do to begin:
Step 1: Click on the "Get Form" button above. It'll open up our editor so that you could begin completing your form.
Step 2: After you launch the file editor, you will get the form all set to be filled in. Besides filling in different blank fields, you can also do some other things with the file, including putting on custom words, editing the initial textual content, inserting images, affixing your signature to the PDF, and a lot more.
This document will involve some specific details; to ensure accuracy and reliability, remember to bear in mind the subsequent suggestions:
1. First of all, while completing the snap mid certification form, begin with the part that includes the next blanks: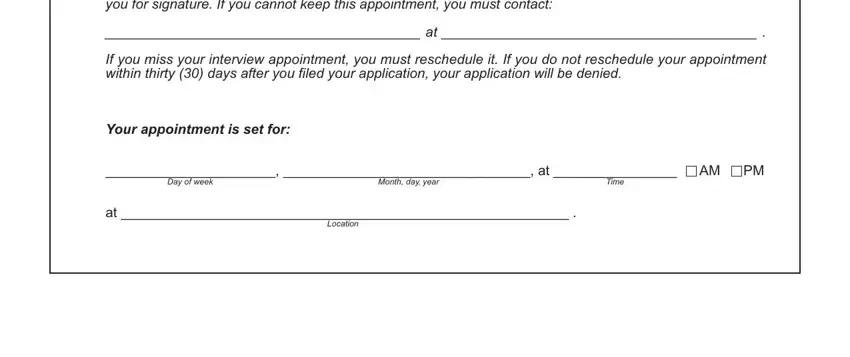 2. Once the last array of fields is complete, it is time to put in the necessary details in If you wish to authorize someone, I want to apply on my behalf, Name of individual, Signature of applicant, Date month day year, If you are eligible for Food, SECTION B FILING FOR BENEFITS, Name of person filing application, Address of person filing, Do you live with the persons, Yes No, Telephone number, Household address if different, SECTION C HOUSEHOLD INFORMATION, and Mailing address if different from so that you can progress to the next stage.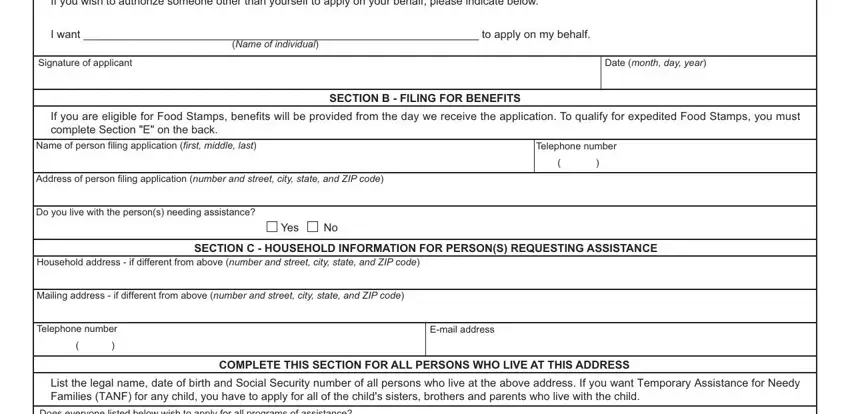 It is possible to make an error while filling in the Do you live with the persons, and so be sure to look again prior to deciding to submit it.
3. This third step is normally simple - fill in every one of the fields in Does everyone listed below wish to, Yes No If No mark the programs, FIRST NAME, LAST NAME, DATE OF, BIRTH, month day year, SOCIAL SECURITY, NUMBER, PROGRAMS REQUESTED, CASH, HEALTH, FOOD, COVERAGE, and STAMPS to complete this process.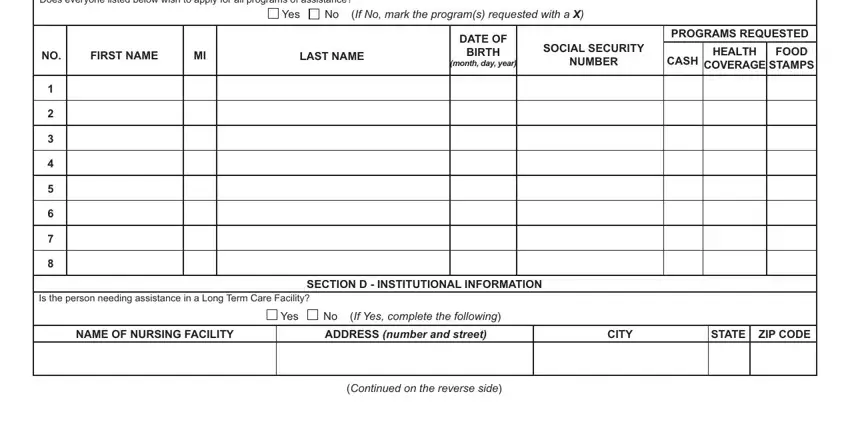 4. To move ahead, the next part will require completing a couple of form blanks. These include You may get Food Stamps within, Is any individual a migrant or, Are your monthly rent mortgage, Yes, Yes Yes Yes, Yes, No No No, Is your gross monthly income less, Yes, Please complete this section if, SECTION F HEALTH PLAN SELECTION, We will check your eligibility for, Anthem Blue Cross Blue Shield, MHSYour Family Health Plan, and MDWise, which you'll find essential to carrying on with this particular PDF.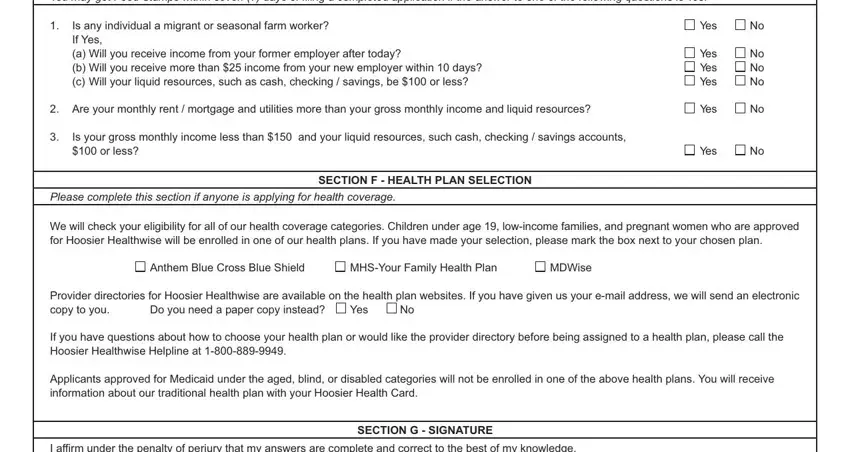 5. To finish your document, this final area involves a couple of extra blanks. Completing I affirm under the penalty of, Signature of applicant, Date signed month day year, Signature of witness if signed, Date signed month day year, ADDITIONAL INFORMATION, FS EXPEDITED SERVICE WORKER, INTERVIEWS, OFFICE USE ONLY, Case number, Denial, Program, FS Cash MA, Date month day year, and PRESCREENER will finalize everything and you'll surely be done in an instant!
Step 3: Before moving on, check that blank fields have been filled in properly. When you verify that it's good, press "Done." Make a free trial subscription at FormsPal and acquire direct access to snap mid certification form - download or edit inside your FormsPal cabinet. FormsPal guarantees your information privacy via a protected system that in no way saves or shares any personal data used in the PDF. Be assured knowing your docs are kept confidential whenever you use our editor!