Once you open the online PDF tool by FormsPal, you can easily fill in or change construction statement statements right here and now. FormsPal development team is relentlessly endeavoring to enhance the tool and help it become even faster for users with its many features. Bring your experience to another level with constantly developing and exciting possibilities we provide! Getting underway is effortless! What you need to do is take these easy steps down below:
Step 1: Press the "Get Form" button above. It's going to open our pdf tool so you could begin filling out your form.
Step 2: The tool helps you customize PDF documents in various ways. Transform it by adding personalized text, correct what's already in the PDF, and include a signature - all doable within minutes!
Filling out this PDF requires care for details. Make certain every single blank is done correctly.
1. First, once filling out the construction statement statements, start in the section that contains the next fields: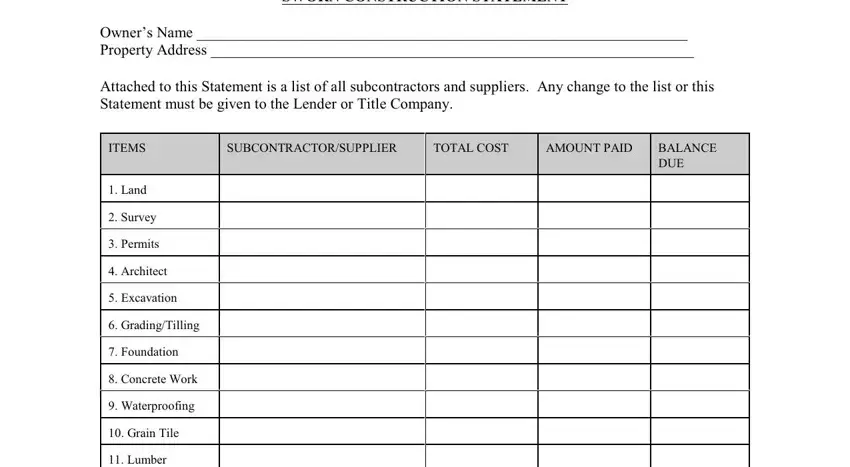 2. Just after the prior part is filled out, go on to type in the relevant information in all these: Lumber, Siding, Roofing, Sheet Metal Gutters, Sheetrock Plastering, Brickwork ChimneyFireplace, Ornamental Iron, Insulation, MillworkTrim Windows, Cabinets CounterVanity Tops, and Hardware.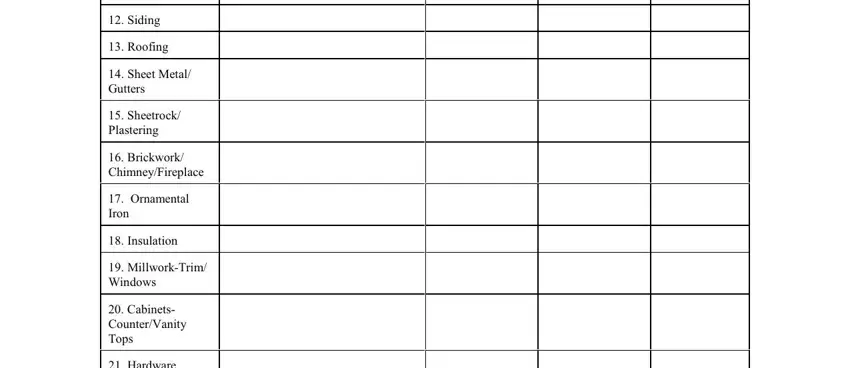 3. The following portion will be focused on Hardware, Septic System, and Rinke Noonan - fill in all of these empty form fields.

4. This specific subsection comes next with these fields to complete: WaterGas Sewer Hookup, Well, Plumbing, Heating, Air Conditioning, Electrical Wiring, Electrical Fixtures, GlassMirrors, Painting Interior Decorating, Painting Exterior, and Tile Work CeramicPlastic.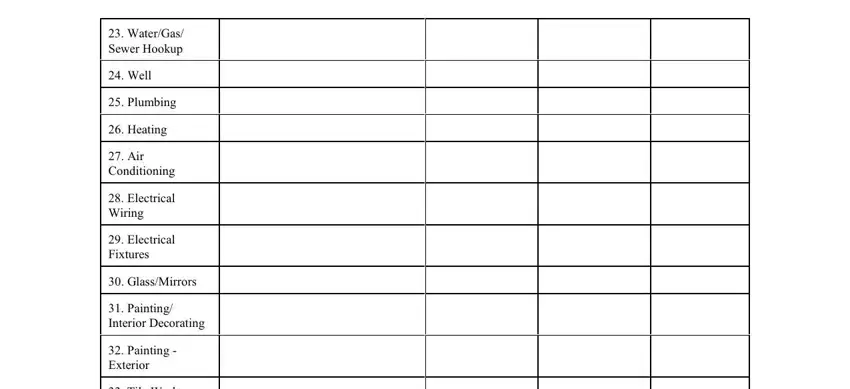 It's easy to get it wrong while completing the GlassMirrors, hence ensure that you go through it again prior to when you finalize the form.
5. Now, this last section is precisely what you will need to wrap up prior to using the form. The blanks at this stage include the next: Tile Work CeramicPlastic, LinoleumFloor Tile, Carpeting, Garage Doors, Appliances, Blacktopping, BeddingSod, Landscaping, Carpenter Labor, Contractors Fee, and Furnishings.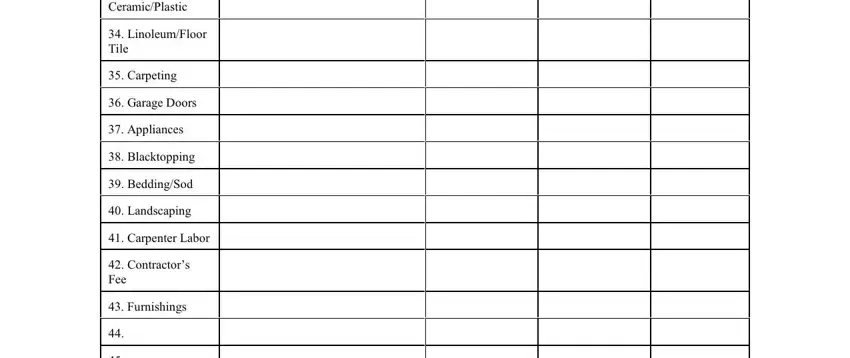 Step 3: After double-checking the form fields, press "Done" and you are done and dusted! Go for a free trial account with us and gain instant access to construction statement statements - download, email, or edit from your FormsPal account page. Whenever you work with FormsPal, you're able to complete forms without the need to get worried about personal data breaches or entries getting shared. Our secure system ensures that your private details are kept safe.