observation sheet for teachers can be filled in online effortlessly. Just try FormsPal PDF tool to get it done in a timely fashion. In order to make our editor better and simpler to work with, we consistently develop new features, considering suggestions coming from our users. It just takes several basic steps:
Step 1: Just hit the "Get Form Button" in the top section of this page to get into our pdf file editor. There you will find everything that is necessary to work with your document.
Step 2: With this handy PDF editor, you may do more than merely fill in forms. Try all the features and make your forms look faultless with customized textual content added in, or tweak the file's original content to perfection - all comes along with the capability to add your own pictures and sign the PDF off.
With regards to the fields of this specific form, here's what you should know:
1. Fill out your observation sheet for teachers with a group of essential fields. Collect all the important information and ensure nothing is missed!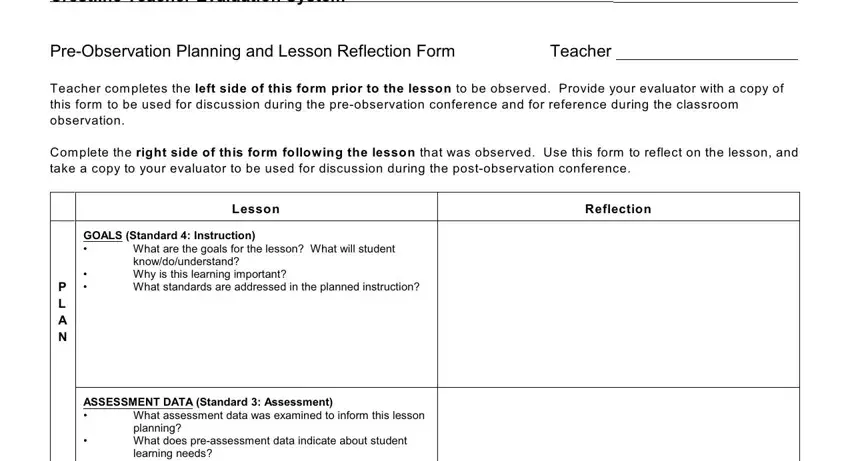 2. Soon after completing the last section, head on to the next part and fill in the essential details in these blank fields - PRIOR CONTENT KNOWLEDGESEQUENCE, What prior knowledge do the, KNOWLEDGE OF STUDENTS Standard, and What should the evaluator know.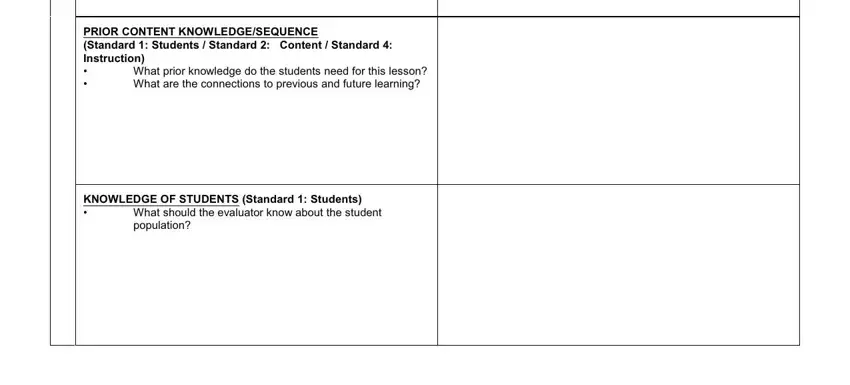 3. This third section should also be quite easy, Lesson, Reflection, LESSON DELIVERY Standard Content, T E A C H, DIFFERENTIATION Standard Students, How will the instructional, RESOURCES Standard Content, and What resourcesmaterials will be - these blanks has to be filled in here.
4. This next section requires some additional information. Ensure you complete all the necessary fields - A S S E S S, CLASROOM ENVIRONMENT Standard, How will the environment support, ASSESSMENT OF STUDENT LEARNING, How will you check for, PreConference Initials Teacher, and PostConference Initials Teacher - to proceed further in your process!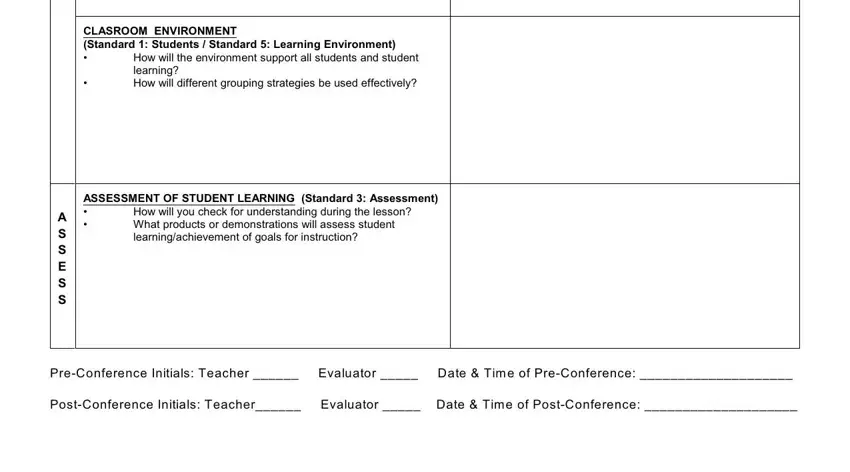 Always be very careful while filling in ASSESSMENT OF STUDENT LEARNING and How will you check for, since this is the part where most users make some mistakes.
Step 3: Just after proofreading your fields and details, click "Done" and you're good to go! After starting a7-day free trial account at FormsPal, it will be possible to download observation sheet for teachers or send it through email directly. The document will also be readily accessible via your personal account page with your each and every edit. FormsPal ensures your information privacy via a protected system that never saves or shares any personal information used. Be confident knowing your paperwork are kept safe whenever you use our tools!