When working in the online PDF tool by FormsPal, it is easy to complete or modify how to make a referral to dads in dallas texas right here. Our team is focused on making sure you have the perfect experience with our tool by regularly presenting new capabilities and enhancements. Our editor is now much more user-friendly as the result of the newest updates! So now, filling out PDF files is a lot easier and faster than ever. With a few basic steps, you may begin your PDF editing:
Step 1: Open the PDF doc in our editor by clicking on the "Get Form Button" above on this page.
Step 2: When you open the file editor, you'll see the document made ready to be filled in. Apart from filling in different fields, you can also perform many other things with the file, namely writing your own text, modifying the original textual content, adding graphics, placing your signature to the PDF, and more.
With regards to the blanks of this specific PDF, here's what you need to do:
1. Whenever completing the how to make a referral to dads in dallas texas, make certain to incorporate all important blank fields in the relevant form section. This will help hasten the process, enabling your information to be processed fast and accurately.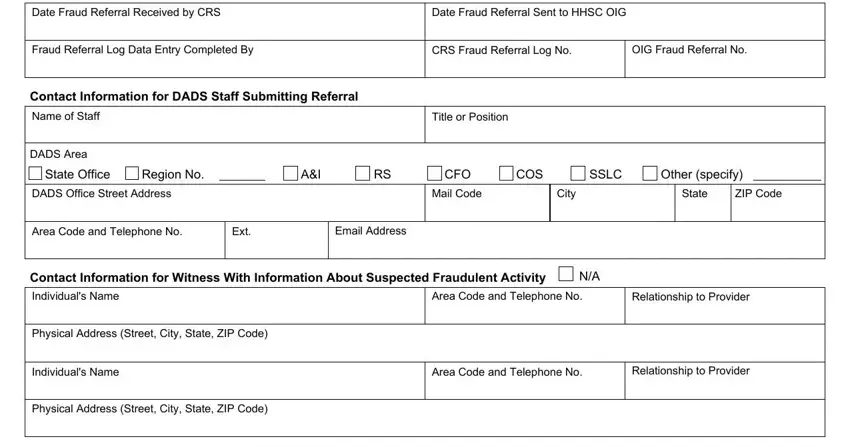 2. Once your current task is complete, take the next step – fill out all of these fields - Law Enforcement Agency Notified, Yes, Name of Law Enforcement Agency, Date Notified, Name of Individual Contacted, Title or Position, Area Code and Telephone No, Ext, Email Address, Case No, Other Entity Notified ie Insurance, Yes, Name of Entity, Date Notified, and Name of Individual Contacted with their corresponding information. Make sure to double check that everything has been entered correctly before continuing!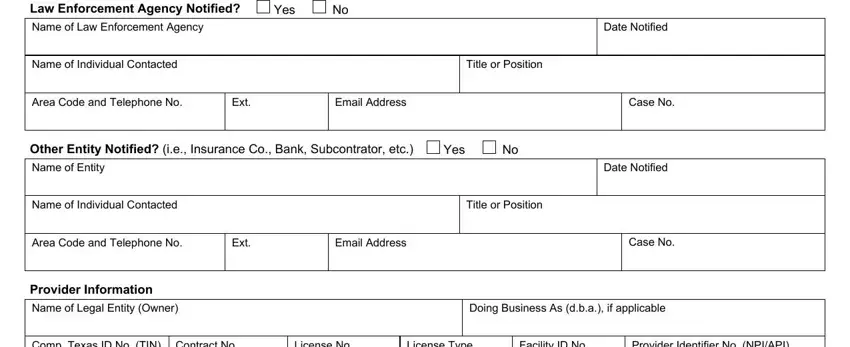 Regarding Yes and Date Notified, be sure that you get them right in this current part. These are definitely the most important ones in this document.
3. In this particular step, take a look at Comp Texas ID No TIN Contract No, License No, License Type, Facility ID No, Provider Identifier No NPIAPI, Physical Address Street City State, Area Code and Telephone No, Business Mailing Address PO Box or, Physical Address Where Suspected, Same as providers physical address, and Same as providers physical address. All these should be taken care of with highest attention to detail.

4. Filling out Type of Provider, Adult Foster Care, Area Agencies on Aging, Hospice, Intermediate Care Facilities, Assisted LivingResidential Care, Medically Dependent Children, CCAD Residential Care, CLASS CMA DSA SFS, Medicaid Administrative Claiming, ID Service Coordination, Client Managed Personal Attendant, Nursing Facilities, Consumer Directed Services, and Day Activity and Health Services is key in this stage - be sure to be patient and fill in each field!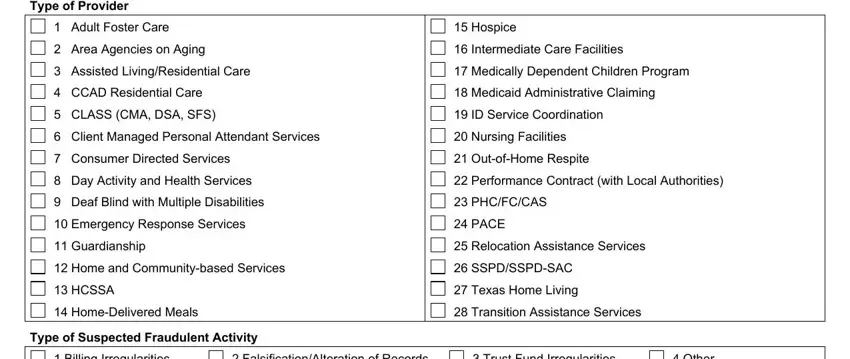 5. To finish your document, the last area involves some additional blanks. Completing Billing Irregularities, FalsificationAlteration of Records, Trust Fund Irregularities, Other, If Other specify, Date or Date Range of Suspected, Type of Review, Administrative Review, Investigation On Site, HCSTxHml Certification Review, Trust Fund Monitoring, Billing and Payment, Investigation Desk Review, HCSTxHml Followup Review, and Other will certainly conclude the process and you're going to be done in a short time!
Step 3: Check that the information is accurate and then just click "Done" to complete the project. Right after setting up a7-day free trial account here, it will be possible to download how to make a referral to dads in dallas texas or email it promptly. The document will also be at your disposal via your personal account with your modifications. FormsPal guarantees your data privacy with a protected method that never records or shares any sort of personal information typed in. Be confident knowing your docs are kept safe whenever you work with our service!