You can fill out indiana notice claim form effortlessly in our PDFinity® online PDF tool. The editor is constantly upgraded by us, receiving new awesome functions and growing to be greater. Here is what you'd have to do to start:
Step 1: Click on the "Get Form" button above. It'll open our tool so you can start filling out your form.
Step 2: Using this state-of-the-art PDF file editor, you could do more than simply fill in blank fields. Try each of the functions and make your forms seem high-quality with customized textual content added, or modify the file's original content to excellence - all that comes with the capability to add any photos and sign the document off.
Be mindful when filling out this form. Make sure all mandatory blank fields are filled in correctly.
1. To start off, once filling in the indiana notice claim form, start with the part that includes the following blank fields: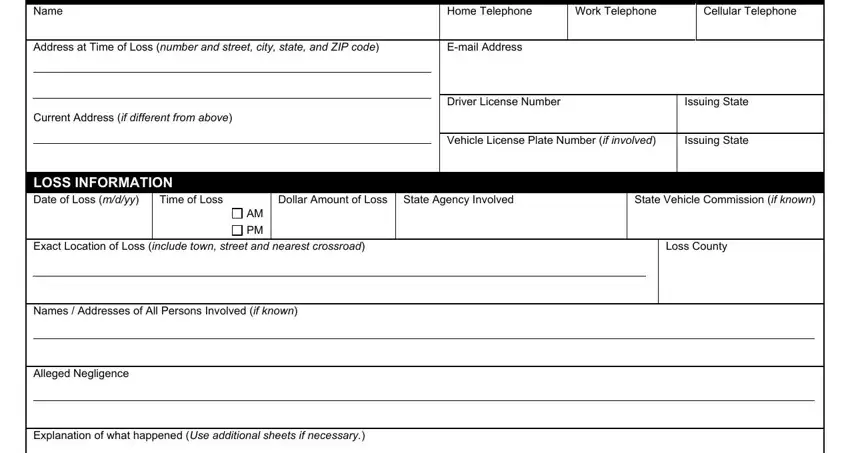 2. Soon after the prior section is completed, go to enter the suitable details in all these: Explanation of what happened Use, Please read I swear and affirm, Claimants Signature, and Date mdyy.

Those who use this document generally make mistakes when completing Claimants Signature in this section. Be sure you revise what you enter right here.
Step 3: Go through everything you have typed into the blanks and hit the "Done" button. Sign up with FormsPal today and instantly use indiana notice claim form, available for download. All alterations made by you are preserved , so that you can edit the pdf later as needed. When you use FormsPal, you can easily fill out documents without worrying about personal information breaches or data entries getting distributed. Our secure system makes sure that your personal information is maintained safe.