When using the online editor for PDFs by FormsPal, you can easily fill out or edit ucc1 statement here. To retain our tool on the leading edge of convenience, we aim to integrate user-driven features and enhancements regularly. We're at all times grateful for any feedback - play a pivotal part in revampimg PDF editing. With some basic steps, you are able to start your PDF journey:
Step 1: Access the form inside our tool by clicking on the "Get Form Button" above on this page.
Step 2: After you launch the file editor, there'll be the form made ready to be filled out. Apart from filling in different blank fields, you could also perform other sorts of actions with the file, namely writing any textual content, modifying the original textual content, inserting illustrations or photos, putting your signature on the form, and much more.
It really is easy to complete the form following this helpful guide! Here's what you must do:
1. Complete the ucc1 statement with a number of necessary blank fields. Get all the required information and ensure absolutely nothing is neglected!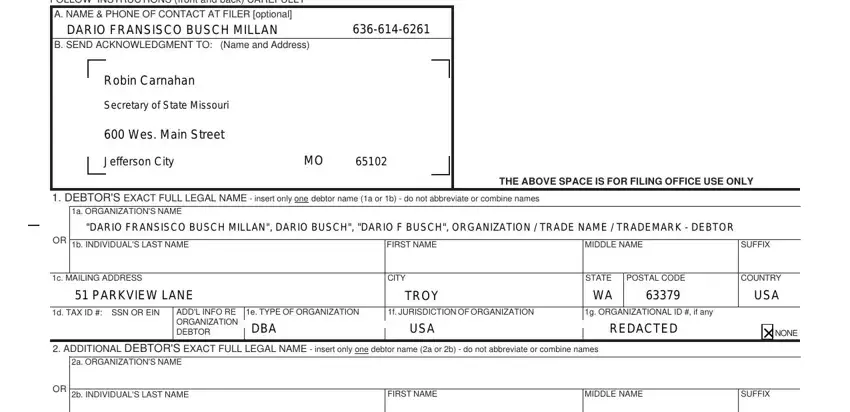 2. Once your current task is complete, take the next step – fill out all of these fields - c MAILING ADDRESS, CITY, STATE, POSTAL CODE, COUNTRY, d TAX ID SSN OR EIN, ADDL INFO RE ORGANIZATION DEBTOR, e TYPE OF ORGANIZATION, f JURISDICTION OF ORGANIZATION, g ORGANIZATIONAL ID if any, NONE, SECURED PARTYS NAME or NAME of, a ORGANIZATIONS NAME, b INDIVIDUALS LAST NAME, and FIRST NAME with their corresponding information. Make sure to double check that everything has been entered correctly before continuing!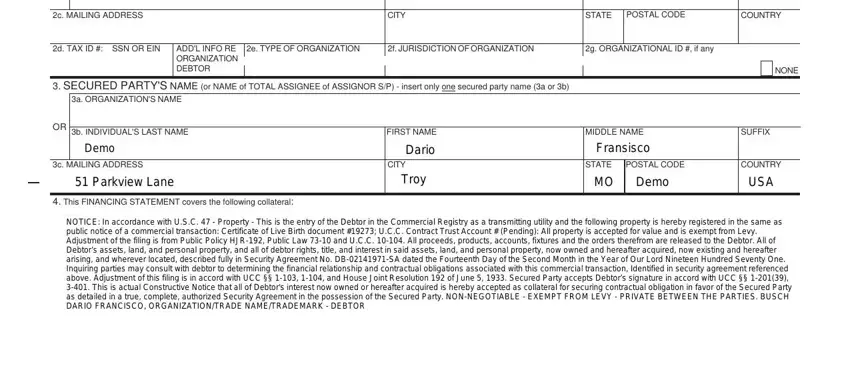 3. Completing ALTERNATIVE DESIGNATION if, This FINANCING STATEMENT is to be, if applicable, LESSEELESSOR, CONSIGNEECONSIGNOR, BAILEEBAILOR, SELLERBUYER, AG LIEN, NONUCC FILING, Check to REQUEST SEARCH REPORTS on, optional, All Debtors, Debtor, Debtor, and OPTIONAL FILER REFERENCE DATA is essential for the next step, make sure to fill them out in their entirety. Don't miss any details!

4. This section comes with these particular empty form fields to complete: MISCELLANEOUS, ADDITIONAL DEBTORS EXACT FULL, THE ABOVE SPACE IS FOR FILING, a ORGANIZATIONS NAME, b INDIVIDUALS LAST NAME, FIRST NAME, MIDDLE NAME, SUFFIX, c MAILING ADDRESS, CITY, STATE, POSTAL CODE, COUNTRY, d TAX ID SSN OR EIN, and ADDL INFO RE ORGANIZATION DEBTOR.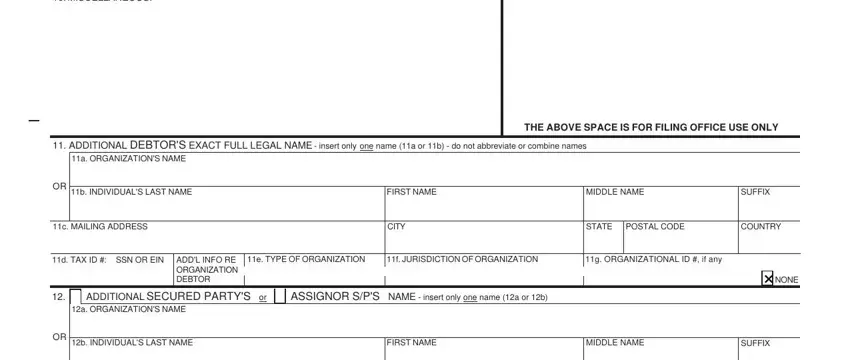 Be very mindful when completing d TAX ID SSN OR EIN and b INDIVIDUALS LAST NAME, since this is the part where most users make mistakes.
5. To wrap up your form, the final section has a few extra fields. Filling in c MAILING ADDRESS, CITY, STATE, POSTAL CODE, COUNTRY, This FINANCING STATEMENT covers, timber to be cut or, asextracted, Additional collateral description, collateral or is filed as a, fixture filing, Name and address of a RECORD, if Debtor does not have a record, Check only if applicable and, and Debtor is a will certainly conclude everything and you can be done in a tick!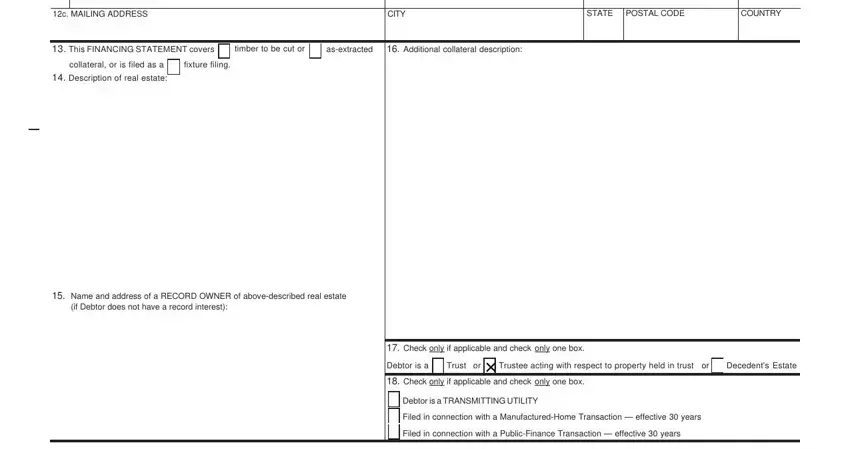 Step 3: Spell-check what you have typed into the blank fields and then hit the "Done" button. Grab the ucc1 statement after you subscribe to a 7-day free trial. Easily access the pdf file inside your personal account, along with any modifications and adjustments conveniently preserved! If you use FormsPal, you're able to complete documents without worrying about data breaches or entries getting shared. Our secure platform ensures that your personal information is stored safe.