This PDF editor makes it easy to create documents. You won't have to do much to edit usps form 6401 documents. Merely adhere to these steps.
Step 1: Click the button "Get Form Here".
Step 2: So, you can begin editing your printable form 6401. Our multifunctional toolbar is at your disposal - insert, remove, change, highlight, and conduct many other commands with the text in the document.
If you want to prepare the printable form 6401 PDF, provide the information for each of the parts: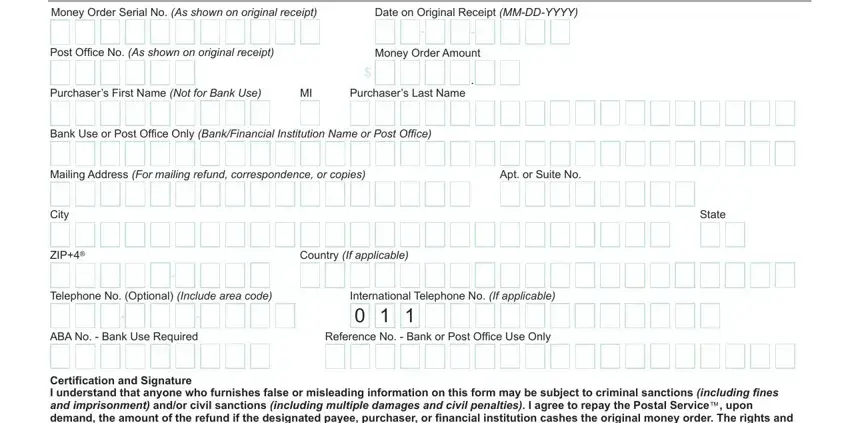 Write down the details in Certification and Signature I, Signature of Customer Filing the, For Postal Use Only, Date Signed MMDDYYYY, Privacy Act Statement Your, POST OFFICE AFFIX STAMPS OR METER, Mail to, St Louis Accounting Service Center, After you file an inquiry you can, SECTION B THIS AREA IS FOR, By presence of this signature I, Customers Photo ID No, ID Type eg Drivers License or, Finance No of Accepting Office, and ZIP Code.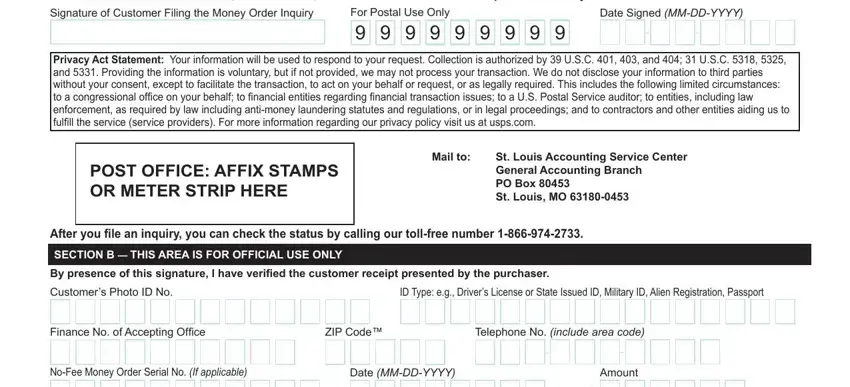 In the Post Office ID, Signature of Postal Service, Date Inquiry Filed MMDDYYYY, and PS Form August PSN Page of field, emphasize the relevant particulars.

The area Bank Action, Complete Section A of the form in, money order, The ABA number is required for, Sign the form, Enter the date signed in the, Postal Service Employee Action for, Customer photo ID government, Include the digit finance number, Do not require a fee this service, Do not issue a nofee money order, Put the original form in an, same day Do NOT retain, Instructions for Completing, and Postal Service Employee Action is going to be where one can indicate each side's rights and obligations.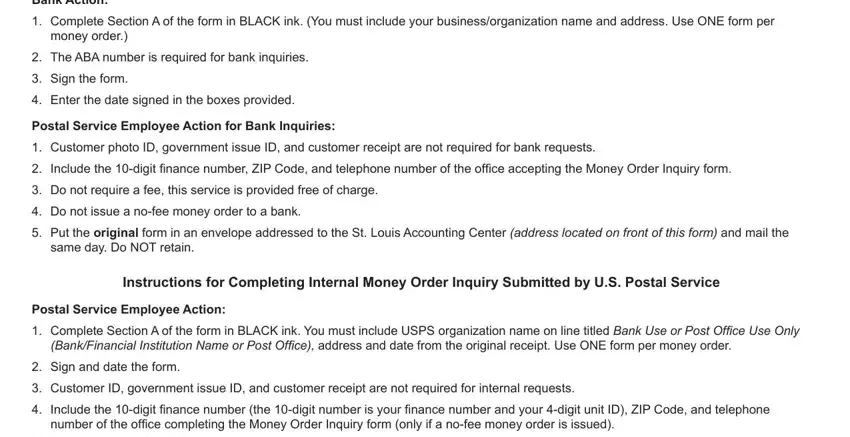 Step 3: When you pick the Done button, the final document is easily exportable to any of your gadgets. Or, you can easily send it through email.
Step 4: Be sure to avoid upcoming worries by creating minimally two copies of your form.