This PDF editor makes it easy to create documents. You won't have to do much to edit form 6401 money order inquiry documents. Merely adhere to these steps.
Step 1: Click the button "Get Form Here".
Step 2: So, you can begin editing your usps money order inquiry form 6401. Our multifunctional toolbar is at your disposal - insert, remove, change, highlight, and conduct many other commands with the text in the document.
If you want to prepare the usps money order inquiry form 6401 PDF, provide the information for each of the parts: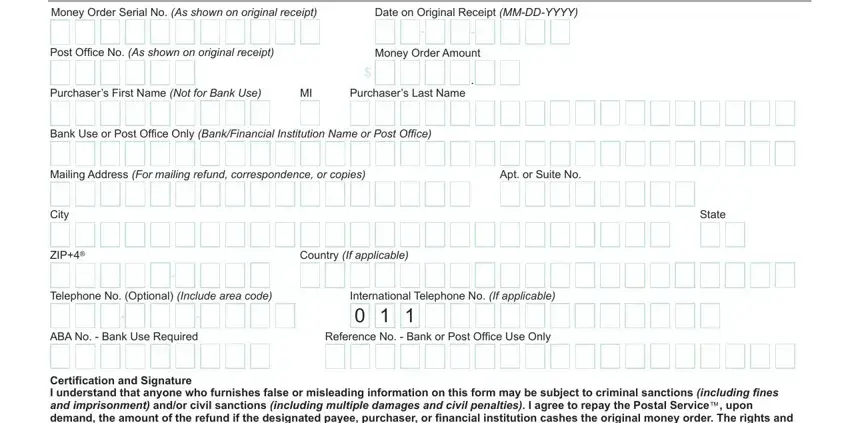 Write down the details in FinanceNoofAcceptingOffice, ZIPCode, TelephoneNoincludeareacode, NoFeeMoneyOrderSerialNoIfapplicable, DateMMDDYYYY, Amount, PostOfficeID, SignatureofPostalServiceEmployee, PSFormAugustPSNPageof, and DateInquiryFiledMMDDYYYY.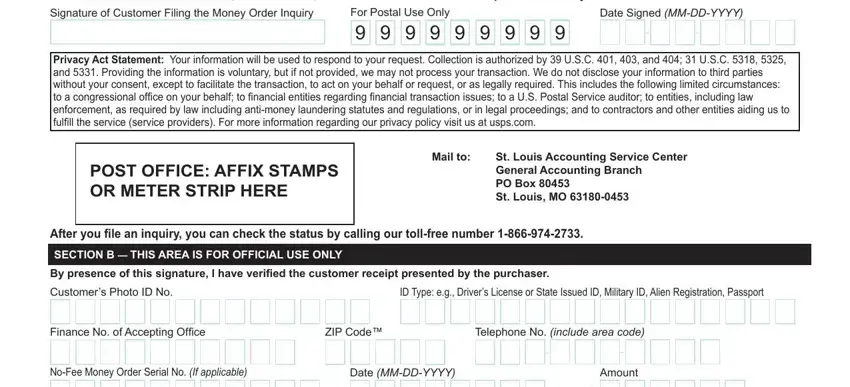 In the moneyorder, and samedayDoNOTretain field, emphasize the relevant particulars.

Step 3: When you pick the Done button, the final document is easily exportable to any of your gadgets. Or, you can easily send it through email.
Step 4: Be sure to avoid upcoming worries by creating minimally two copies of your form.