When working in the online tool for PDF editing by FormsPal, it is possible to complete or change christi release form here. The tool is continually updated by us, acquiring powerful functions and growing to be greater. To get started on your journey, consider these easy steps:
Step 1: Access the PDF in our editor by clicking the "Get Form Button" above on this webpage.
Step 2: The editor will give you the ability to change most PDF documents in various ways. Modify it by including any text, correct what is originally in the file, and put in a signature - all when it's needed!
In an effort to fill out this form, be sure to type in the information you need in every single blank field:
1. When filling in the christi release form, make sure to complete all important blank fields in their relevant form section. It will help to speed up the process, enabling your details to be handled efficiently and appropriately.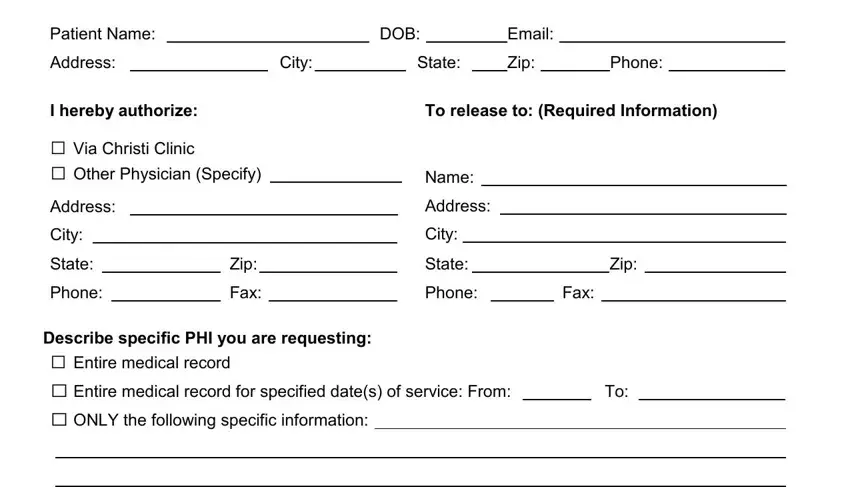 2. Just after completing the last part, go to the next part and fill out all required details in all these blanks - o Psychologicalpsychiatric, List any restrictions, and The purpose of the disclosure is.

Always be extremely careful while completing List any restrictions and o Psychologicalpsychiatric, as this is where a lot of people make errors.
3. Throughout this stage, check out Expiration Date I understand this, Noted here, Per the Kansas Department of Labor, Signature of Patient or Legal, Date, Printed Names, Relationship to Patient, if signed by other than patient, Address, City, State, ZIP, Via Christi Clinic Copy Service is, and If you have questions concerns or. Every one of these must be completed with greatest attention to detail.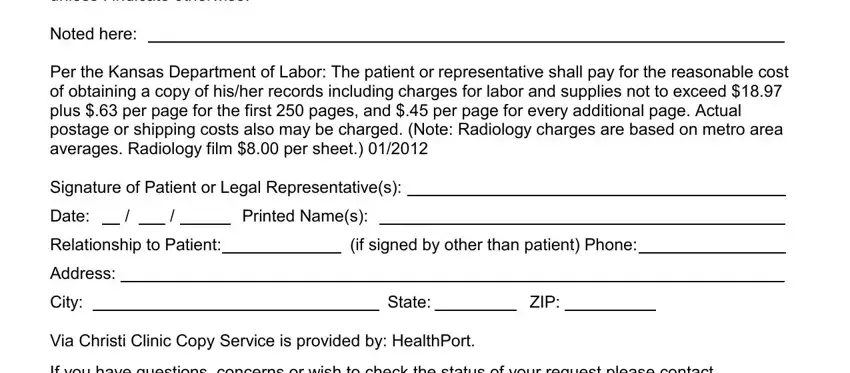 Step 3: Make sure the details are correct and click "Done" to finish the project. Find the christi release form the instant you register online for a free trial. Immediately get access to the pdf inside your FormsPal account, together with any edits and adjustments all synced! At FormsPal, we aim to make sure your information is kept protected.