The idea driving our PDF editor was to make it as intuitive as possible. The whole procedure of filling out form vs 300 certificate of divorce effortless in case you adhere to all of these actions.
Step 1: Click on the button "Get Form Here".
Step 2: The form editing page is currently open. Include information or manage existing details.
Create the form vs 300 certificate of divorce PDF and enter the material for each and every segment: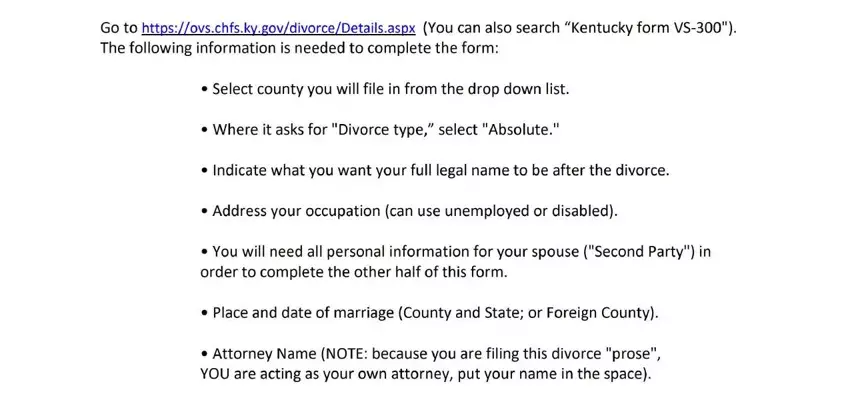 Fill in the MUST, BE, TYPED COUNTY, fx, Absolute, Divorce Limited, Divorce Annulment, First, Party CURRENT, LEGAL, NAME, First, Middle, and, Last DATEOFBIRTH, MM, DD, YYYY a, AGE, Last, Birthday USUAL, RESIDENCE, City, County, and, State PLACE, OF, BIRTH, State, or, Foreign, Country NUMBER, OF, TIMES, MARRIED, RACE a, USUAL, OCCUPATION b, KIND, OF, BUSINESS, OR, INDUSTRY and Second, Party field using the data requested by the application.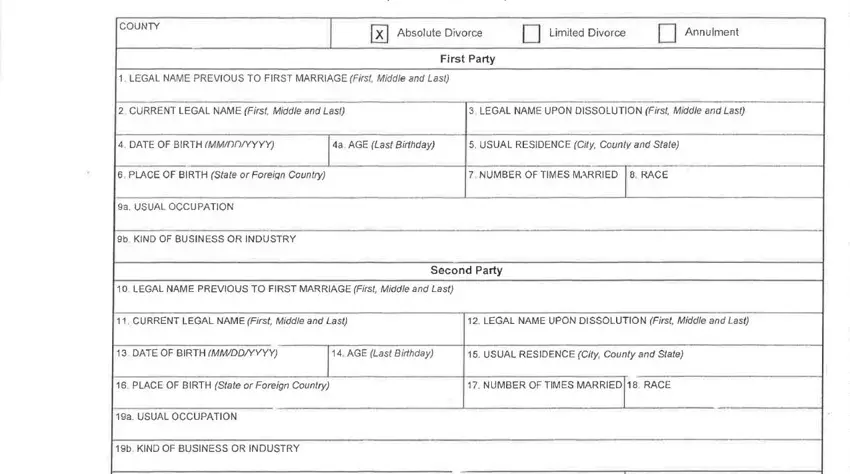 You can be asked to write down the data to let the application fill out the segment DATE, OF, MARRIAGE, MM, DD, YYYY DATE, OF, DIVORCE, OR, ANNULMENT NUMBER, OF, CHILDREN, UNDER ATTORNEY, FOR, PlAINTIFF ATTORNEY, STREET, ADDRESS SIGNATURE, Black, or, Blue, Ink TYPED, ATTORNEY, NAME CITY, STATE, ZIP, CODE PHONE, NUMBER DAY, OF ABSOLUTE, DIVORCE, Q, LIMITED, DIVORCE, OR COUNTY, HEREBY, CERTIFY, THAT, ANNULMENT, BY and CIRCUIT, COURT, CASE, NUMBER
Explain the rights and obligations of the parties in the field .

Step 3: Hit "Done". It's now possible to export the PDF file.
Step 4: It may be more convenient to create duplicates of your file. You can rest assured that we won't reveal or read your particulars.