It is very easy to fill in the wi dnr form 9400 193 empty blanks. Our PDF editor can make it practically effortless to edit almost any form. Down below are the basic four steps you'll want to follow:
Step 1: You can hit the orange "Get Form Now" button at the top of the following website page.
Step 2: You're now on the document editing page. You may edit, add text, highlight specific words or phrases, insert crosses or checks, and add images.
The PDF template you plan to fill in will cover the following segments: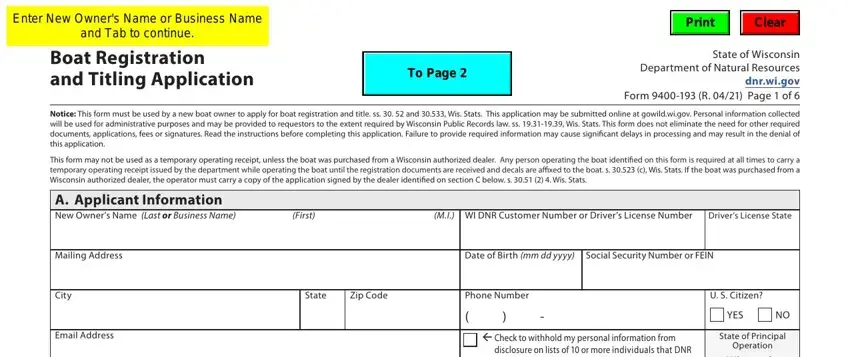 Enter the necessary information in Hull Identification Number (verify, (#### AA), Make or Manufacturer, Model (cannot be the same as the, Year (yyyy), Boat Length, Nickname (descriptors that will, Propulsion Type, Fuel Type, Boat Use (check one), Engine Type, Airboat/Hovercraft, Propeller, Gas, Pleasure, Water Jet, Diesel, Rental/Lease, Outboard (includes trolling motor), Hull Material, Wood, Aluminum, Steel, Fiberglass, Plastic, Rigid Hull Inflatable, Boat Type, Open, Pontoon, Personal Watercraft (jet ski, Cabin, House, Paddlecraft (canoe, Rowboat, Sail Only, Inflatable, Rubber/Vinyl/Canvas, Aux Sail with Motor, Other, Other, Air Thrust, Electric, Commercial–carry passengers, Inboard, Manual, Other, Commercial–used for fishing, Sterndrive (I/O), Sail Only, Other, Dealer/Manufacture Demo, Pod Drive, Boat‑for‑hire engaged in, Other type of engine, Other, No engine, Out‑of‑State Registration State, Out‑of‑State Registration Number, Fleet # (if applicable), Inboard / Sterndrive engines ONLY, Engine Serial Number 1, Make – Engine 2, and Engine Serial Number 2 area.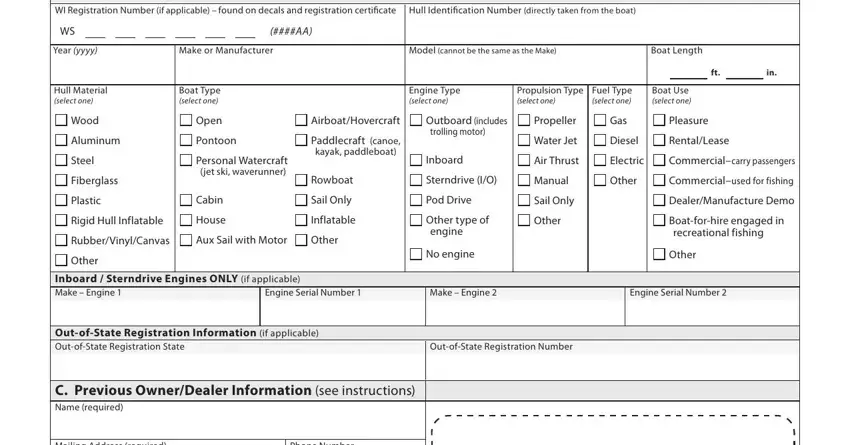 It's important to provide certain particulars within the box Purchase Price (motor and, Trade‑in Amount (complete section, Total Taxable Amount (price minus, 5% State Sales Tax (taxable x , 1/2% County Tax – if applicable, 1/10% Baseball Stadium Tax – if, TOTAL TAX DUE = $, Trade‑In – Describe any property, Trade‑in Serial / Hull ID or, Trade‑in Description, A 5% sales tax must be collected, Exemptions From Tax – Your, Code 1, P = If purchased from your parent, Code 2, Code 3, Code 4, Code 5, and Code 6.

Describe the rights and obligations of the sides inside the section Code 6, Code 7, Code 8, Questions on Tax contact DOR (608), and Continues.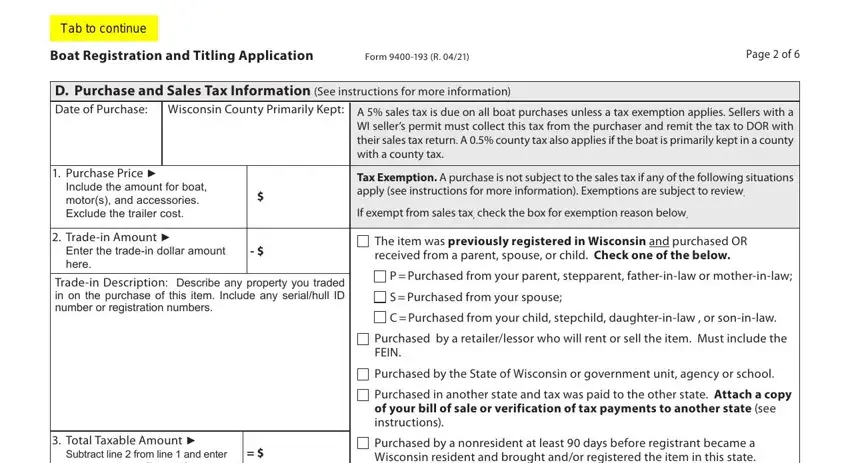 End by checking the following sections and completing them accordingly: Mailing Address, City, State, Zip Code, Phone Number (, Dealer Federal Identification No, Signature of Dealer ONLY, Date, Tape previous owner's registration, MANDATORY – All fields required if, Lienholder's Name, and Note: Documented boats must record.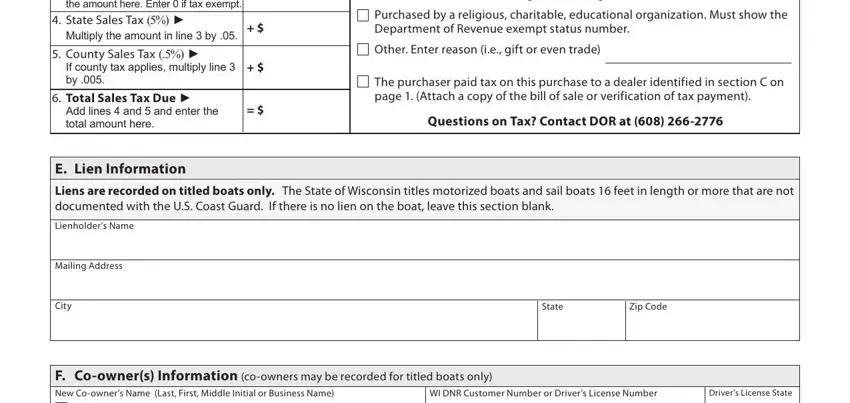 Step 3: Click the Done button to save the file. So now it is readily available for transfer to your device.
Step 4: To avoid possible future risks, please be sure to get as much as two copies of each separate form.