aabc com can be filled in effortlessly. Just make use of FormsPal PDF tool to perform the job in a timely fashion. We at FormsPal are committed to providing you with the best possible experience with our editor by continuously releasing new capabilities and improvements. Our editor is now a lot more helpful thanks to the most recent updates! At this point, editing PDF forms is easier and faster than ever. Getting underway is effortless! All you have to do is adhere to the next simple steps below:
Step 1: Press the "Get Form" button at the top of this webpage to open our PDF tool.
Step 2: As you launch the PDF editor, you will find the document all set to be filled out. Apart from filling out different fields, you can also do various other things with the form, particularly writing any textual content, modifying the original text, adding images, signing the form, and much more.
This form requires specific info to be entered, thus be certain to take the time to provide exactly what is requested:
1. To start off, when completing the aabc com, start in the area that has the following fields: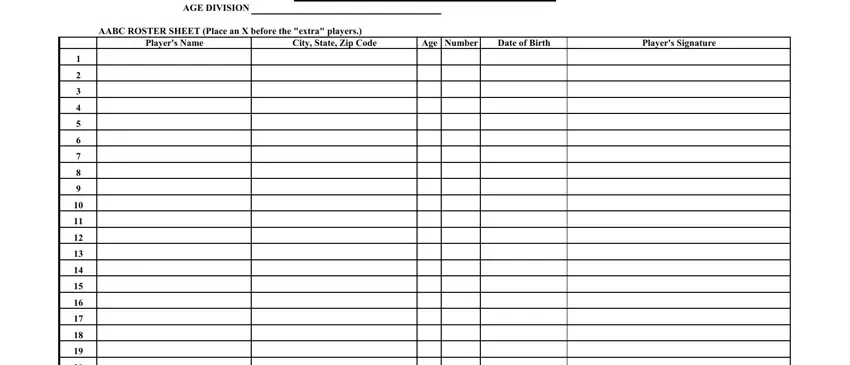 2. Soon after the prior section is done, proceed to type in the suitable information in all these - Stan Musial only, Coach Address CityStZip email, Coach Address CityStZip email, NAME of TEAM, NAME of LEAGUE RECORD FOR YEAR, TEAM MANAGERS NAME, ADDRESS CityStZip, MANAGERS PHONE MANAGERS EMAIL, WON LOST, THIS FORM MUST BE COMPLETED IN, Coach Address CityStZip email , Coach Address CityStZip email , and Certifying League Official Sign.

People who use this document often get some things incorrect while filling out NAME of TEAM in this section. Remember to revise what you type in here.
Step 3: When you have glanced through the details in the document, press "Done" to conclude your form. Grab the aabc com once you register here for a free trial. Easily access the form in your personal account, along with any edits and changes conveniently saved! Here at FormsPal.com, we do everything we can to ensure that your information is stored private.