It is possible to fill out aims assessment pdf effectively with the help of our PDFinity® editor. Our team is relentlessly endeavoring to enhance the tool and enable it to be much easier for people with its cutting-edge functions. Unlock an endlessly revolutionary experience today - check out and find new possibilities along the way! To get started on your journey, go through these simple steps:
Step 1: First, access the editor by pressing the "Get Form Button" at the top of this page.
Step 2: This editor offers the capability to customize almost all PDF forms in a range of ways. Transform it by writing any text, correct existing content, and place in a signature - all manageable within a few minutes!
It's easy to finish the pdf using this detailed tutorial! Here's what you have to do:
1. The aims assessment pdf necessitates particular details to be inserted. Ensure the following fields are completed: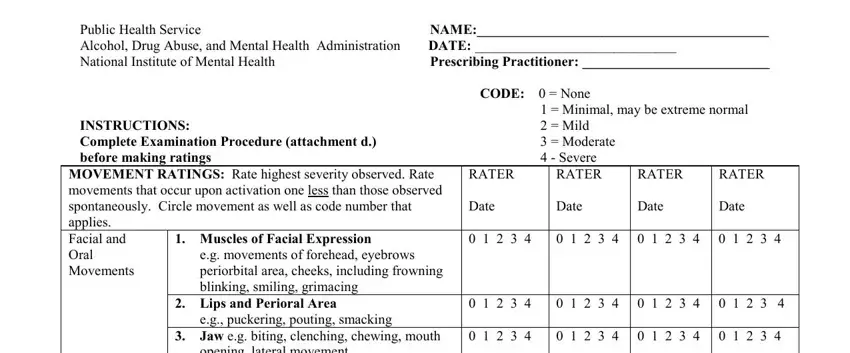 2. After the previous part is completed, you should insert the needed specifics in Extremity Movements, opening lateral movement, Tongue Rate only increases in, both in and out of mouth NOT, Upper arms wrists hands fingers, Lower legs knees ankles toes, eg lateral knee movement foot, Trunk Movements, Neck shoulders hips eg rocking, O , Global Judgments, Severity of abnormal movements, movements, Patients awareness of abnormal, and movements Rate only patients so you're able to proceed to the 3rd step.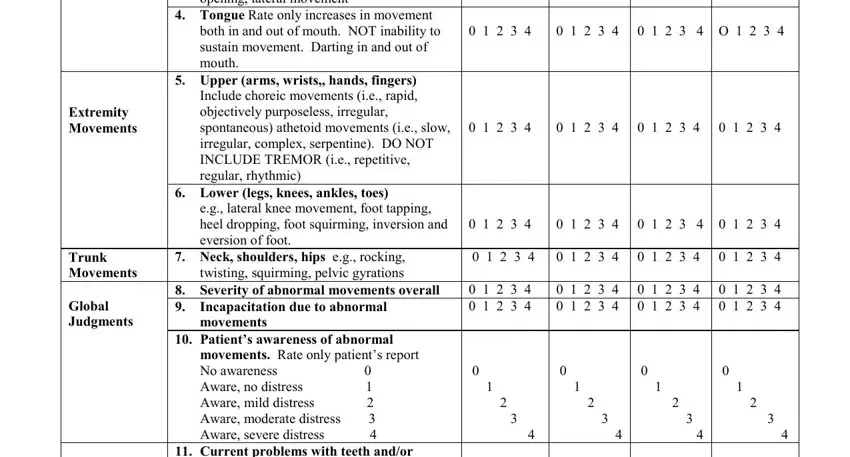 It is easy to make a mistake while filling out your Severity of abnormal movements, hence make sure to take another look before you finalize the form.
3. This third step is normally hassle-free - fill out all of the blanks in Current problems with teeth andor, Dental Status, dentures, Are dentures usually worn, Edentia, Do movements disappear in sleep, Final , No Yes No Yes, No Yes No Yes, No Yes No Yes No Yes No Yes, No Yes, No Yes, No Yes, No Yes, and No Yes in order to complete the current step.

Step 3: Prior to submitting this file, ensure that all form fields have been filled out right. As soon as you think it is all fine, click "Done." Right after starting a7-day free trial account here, you'll be able to download aims assessment pdf or email it right away. The file will also be available from your personal account page with your changes. FormsPal ensures your information confidentiality by using a protected system that never records or shares any kind of sensitive information involved in the process. Be confident knowing your paperwork are kept safe every time you work with our service!