In case you need to fill out AE, you won't need to download any sort of software - simply use our online PDF editor. In order to make our tool better and less complicated to use, we constantly develop new features, taking into consideration feedback coming from our users. Starting is effortless! All you should do is stick to the next simple steps down below:
Step 1: Press the "Get Form" button in the top part of this webpage to open our PDF editor.
Step 2: As soon as you open the file editor, you'll notice the document all set to be filled out. Other than filling out various fields, you could also perform many other things with the Document, including putting on your own words, editing the initial text, adding images, signing the PDF, and a lot more.
This PDF form will need specific data to be filled in, hence be certain to take the time to type in exactly what is expected:
1. Complete the AE with a selection of essential blanks. Gather all the information you need and make sure there is nothing overlooked!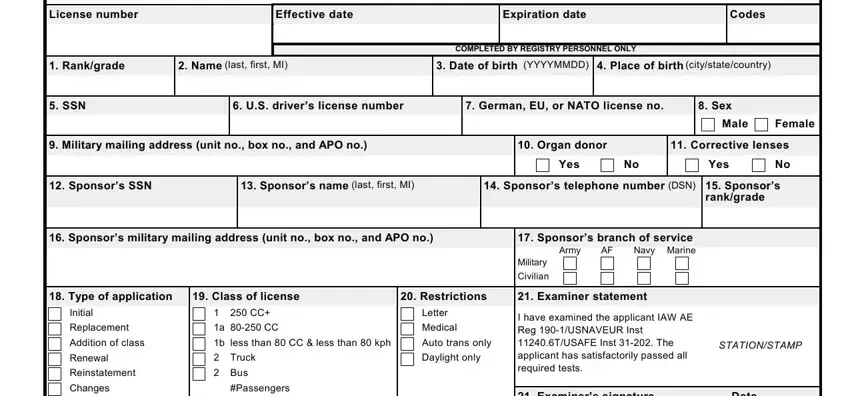 2. The third stage is to fill in these particular fields: EU or NATO transfer, Restriction, German transfer, Auto, less than CC up to kph, less than CC up to kph, Examiners signature, Date, Applicant statement, PAID STAMP, I am familiar with the provisions, Applicants signature and date, Test scores and dates for driver, Military license number, and Date of orientation.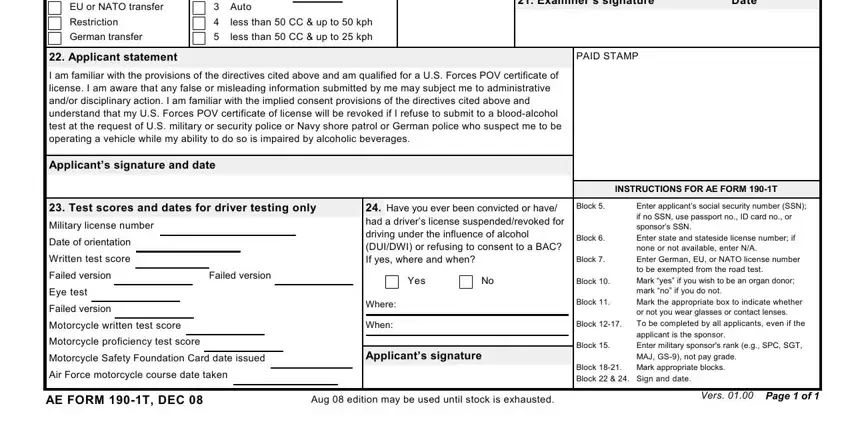 It's simple to get it wrong when filling in the Date, for that reason make sure that you reread it prior to deciding to send it in.
Step 3: Right after double-checking the filled out blanks, click "Done" and you are all set! Go for a free trial plan at FormsPal and acquire direct access to AE - download, email, or change inside your FormsPal account. When using FormsPal, you can easily fill out forms without needing to be concerned about personal information leaks or data entries being distributed. Our protected system helps to ensure that your personal information is maintained safe.