When working in the online PDF editor by FormsPal, you are able to complete or alter Ae Form 190 6D right here and now. To retain our editor on the forefront of practicality, we strive to put into action user-oriented capabilities and improvements regularly. We're routinely looking for suggestions - play a pivotal part in revolutionizing how you work with PDF docs. All it requires is a few basic steps:
Step 1: Simply press the "Get Form Button" above on this page to get into our form editing tool. Here you will find all that is necessary to fill out your document.
Step 2: The editor gives you the opportunity to customize nearly all PDF files in a variety of ways. Modify it by writing customized text, adjust existing content, and add a signature - all within the reach of several clicks!
Be attentive while completing this form. Ensure that all necessary blanks are completed correctly.
1. Start completing the Ae Form 190 6D with a group of major blank fields. Note all of the information you need and make sure there's nothing missed!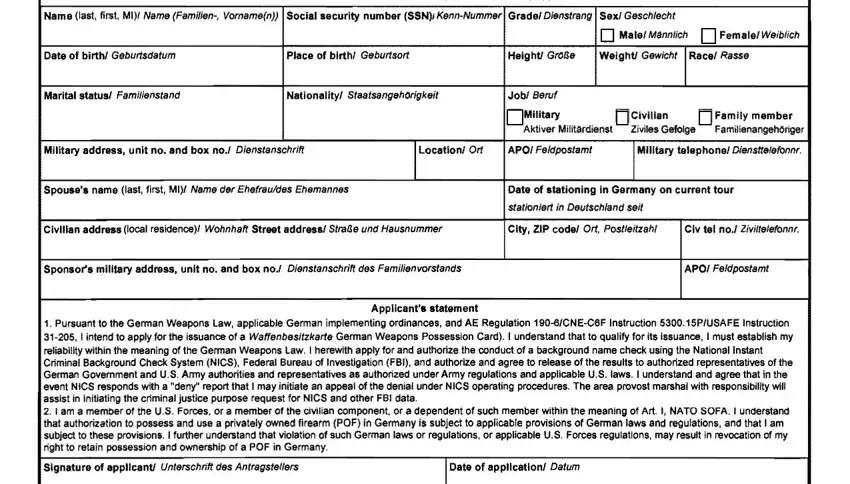 2. Just after this section is done, proceed to enter the suitable details in all these: Name and grade of approving, Military telephone number, Part II Approving authority, Organization and APO, Signature, Where was the police background, Part III Reliabilityl, Date investigation completed, Untersuchung abgeschlossen am, Signature of the approving provost, Unterschrift des Leiters der, Result of Investigation o, rgebnis der Untersuchung, ohne Bedenken, and D Unfavorable Unvorteilhaft.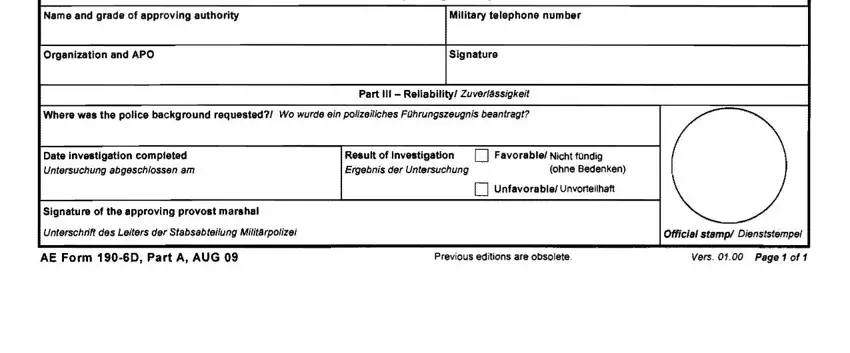 People who work with this form frequently make mistakes when completing Signature in this section. Don't forget to double-check what you type in here.
Step 3: When you have looked over the information in the document, click on "Done" to finalize your form. Obtain your Ae Form 190 6D when you sign up for a free trial. Quickly gain access to the form within your FormsPal account, with any edits and changes automatically saved! Here at FormsPal, we do our utmost to guarantee that all of your details are stored private.