You'll be able to work with dial cargo entry pass form easily using our online PDF tool. To maintain our editor on the forefront of efficiency, we aim to implement user-driven features and improvements on a regular basis. We're always grateful for any feedback - join us in revampimg PDF editing. To get the ball rolling, go through these simple steps:
Step 1: Open the PDF in our editor by clicking the "Get Form Button" above on this webpage.
Step 2: When you launch the PDF editor, you'll notice the form all set to be filled out. Aside from filling in different fields, you can also do various other things with the PDF, including adding your own words, changing the initial textual content, adding images, affixing your signature to the PDF, and a lot more.
Pay close attention while filling in this document. Make certain all required fields are filled in correctly.
1. To start with, while completing the dial cargo entry pass form, beging with the section that has the following blank fields: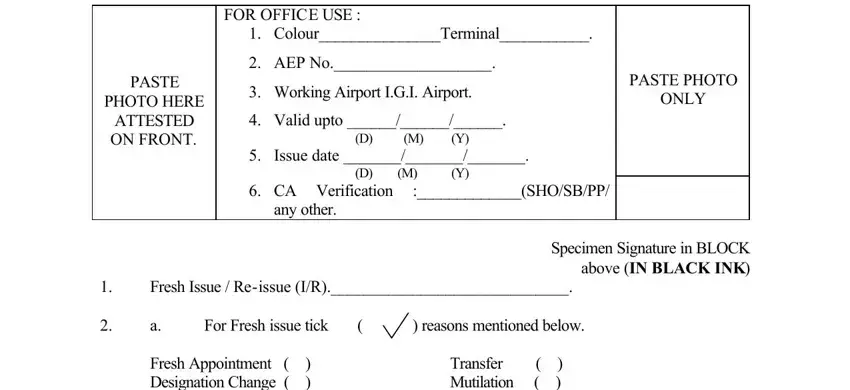 2. Once your current task is complete, take the next step – fill out all of these fields - a Transfer Fresh Appointment , Any other reason , b Date as of a, Fathers Name, Name in full Surname First, D M Y , a Permanent Address , Mothers Name , Date of superannuation D M Y D, b Present Address , and Date of Birth a Organisation with their corresponding information. Make sure to double check that everything has been entered correctly before continuing!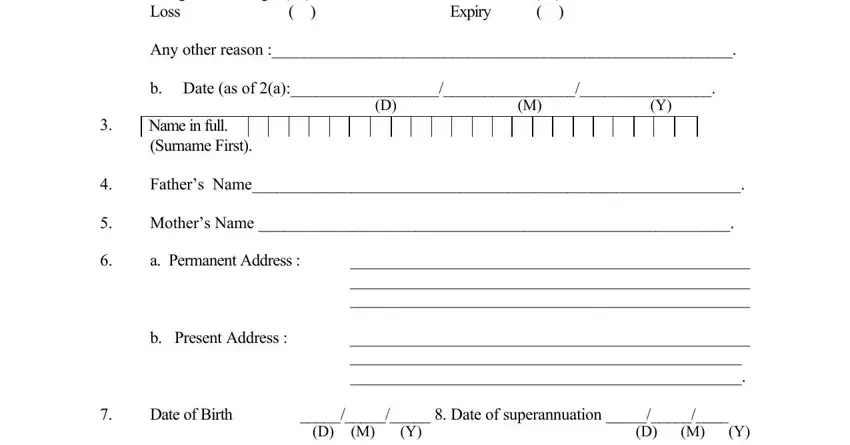 3. In this part, check out Code , d e, Designation, Employee , Code , Place of duty , Nature of duty , Office Address , and Date of Birth a Organisation . Every one of these need to be completed with utmost awareness of detail.

4. This fourth subsection comes with all of the following fields to look at: Did you apply for AEP earlier YES , Details of AEP in possession AEP, Information relating to applicants, a Nationality , c Place of Issue , e Expiry of Passport , Passport No , Date of issue , Type of Visa , g Expiry of visa , I certify that the particulars, Date , Signature of Applicant, and PART B.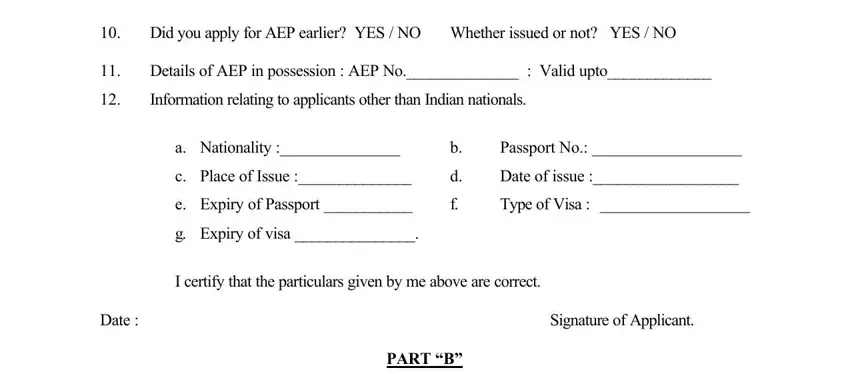 5. The final notch to finish this form is essential. Make sure to fill in the mandatory blanks, such as Pass in order to perform his her, Period for which recommended , cid Recommended for issue of AEP, PurpleOrange White For Terminal, Signature of Authorized Signatory, Place Date To be signed only by, Designation , Name , This part may be used by agencies , PART C, and all airports in the country in, prior to using the file. If you don't, it can result in a flawed and probably invalid paper!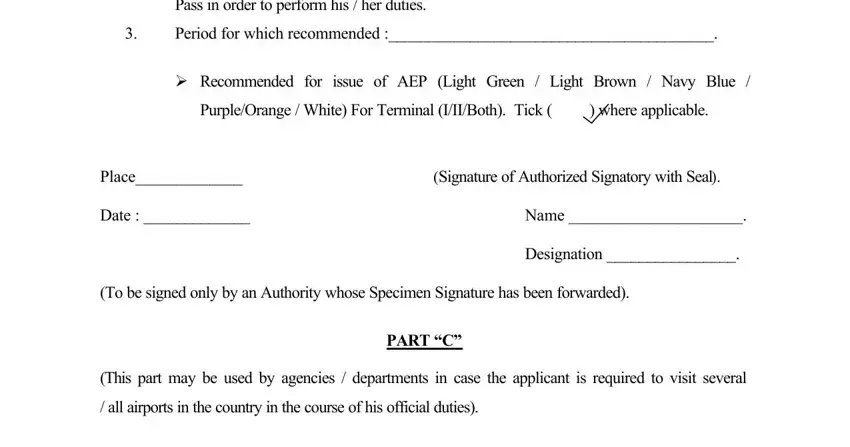 Lots of people generally make some errors while filling out This part may be used by agencies in this section. Be sure to reread whatever you type in here.
Step 3: After going through your filled in blanks, click "Done" and you are done and dusted! Right after registering a7-day free trial account at FormsPal, you'll be able to download dial cargo entry pass form or email it directly. The form will also be accessible through your personal account page with your every edit. FormsPal is devoted to the privacy of our users; we always make sure that all personal data coming through our tool remains secure.