kpa port pass application form can be filled in online without any problem. Simply make use of FormsPal PDF tool to complete the job fast. The tool is constantly maintained by our staff, getting new awesome features and becoming better. With a few easy steps, you'll be able to start your PDF journey:
Step 1: Hit the "Get Form" button above on this webpage to open our PDF tool.
Step 2: When you launch the PDF editor, you will find the form all set to be filled out. Aside from filling out different fields, you may also do many other actions with the form, namely putting on any textual content, changing the initial text, inserting graphics, placing your signature to the document, and much more.
This form will require particular data to be filled in, hence be certain to take the time to fill in precisely what is requested:
1. While filling out the kpa port pass application form, be certain to incorporate all of the important blank fields in the associated part. It will help speed up the work, which allows your details to be processed promptly and appropriately.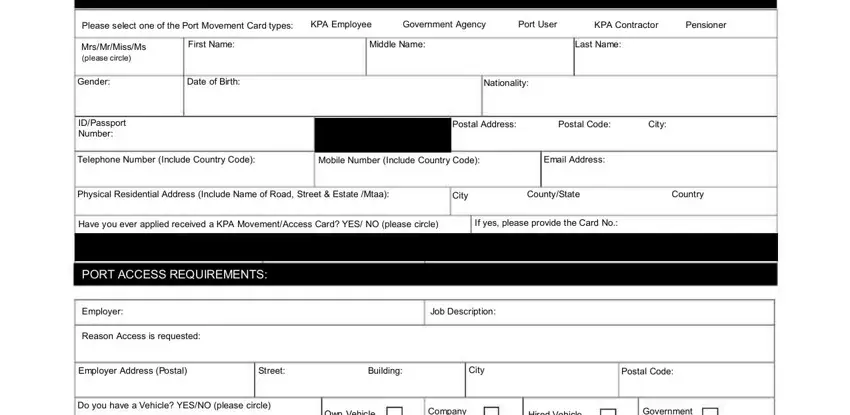 2. The next step is usually to fill in all of the following blanks: Name, Signature, Declaration to be signed by, Position, Contact Number, I declare that the information, information that is false I will, I have read and understood the, KPA reserves the right to, PAUMENT METHOD, PAYMENT METHOD Signature, Date, OFFICE USE ONLY Application, Input By KPA Movem entAccess, and Access Group Access Privileges.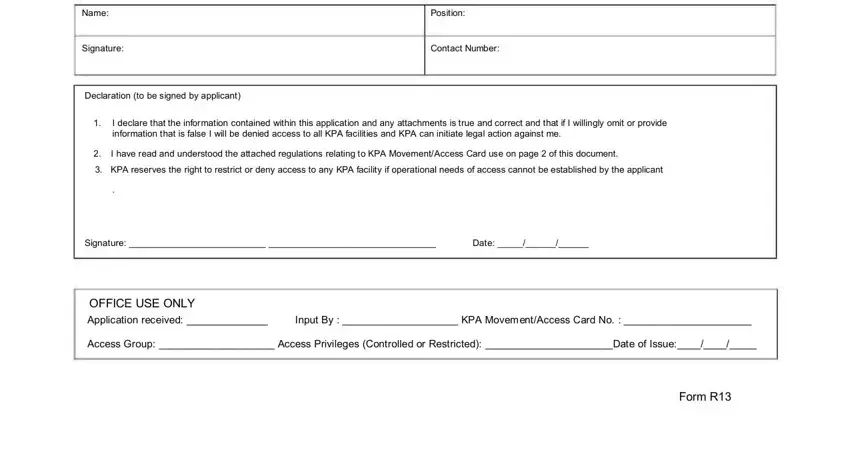 People often make some errors when completing Declaration to be signed by in this area. Ensure that you double-check whatever you type in here.
Step 3: Check what you have typed into the form fields and click on the "Done" button. Go for a 7-day free trial plan with us and acquire instant access to kpa port pass application form - accessible inside your personal cabinet. We don't share the information that you type in while working with documents at our site.