Having the objective of allowing it to be as simple to operate as possible, we set up our PDF editor. The process of filling in the alabama medicaid prior authorization phone number is going to be straightforward in case you try out the following steps.
Step 1: Initially, press the orange button "Get Form Now".
Step 2: Now you're on the document editing page. You may modify and add text to the file, highlight specified content, cross or check particular words, add images, sign it, erase unnecessary fields, or remove them entirely.
Fill out all of the following segments to fill out the template: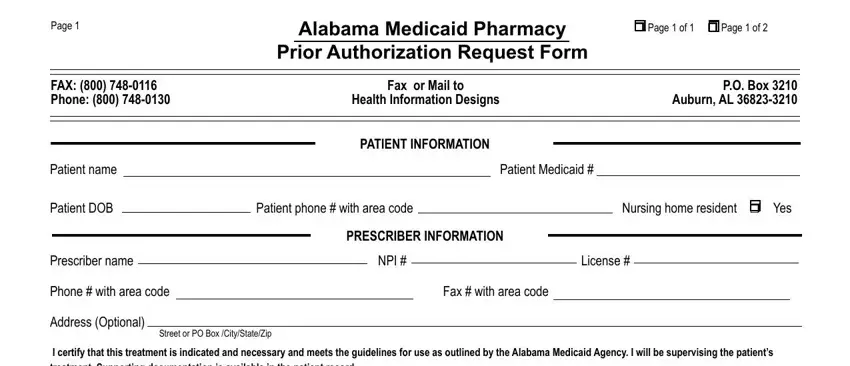 You have to note the necessary details in the J Code, Qty, If applicable, Diagnosis or ICD-9 Code, Days supply PA Refills: 0 1 2 3 4, Diagnosis or ICD-9 Code, ❒ Initial Request, ❒ Renewal, ❒ Maintenance Therapy ❒ Acute, Medical justification, ❒ Additional medical justification, Medications received through, *If the drug being requested is a, DRUG SPECIFIC INFORMATION, ❒ ADD/ADHD Agents ❒ Alzheimer's, ❒ Antidepressants, ❒ Antidiabetic Agent, ❒ Antiemetic Agents, ❒ Antihistamine, ❒ Antihyperlipidemics ❒, ❒ Antiinfective, ❒ Anxiolytics, ❒ Cardiac Agents, ❒ EENT-Antiallergics, ❒ EENT-Vasoconstrictors, ❒ Estrogens, ❒ H2 Antagonist, ❒ Intranasal Corticosteroids ❒, ❒ Platelet Aggregation Inhibitors, ❒ Skin & Mucous Membrane Agent, ❒ PPI, ❒ Triptans, ❒ Respiratory Agents ❒ Skeletal, ❒ Other, and List previous drug usage and area.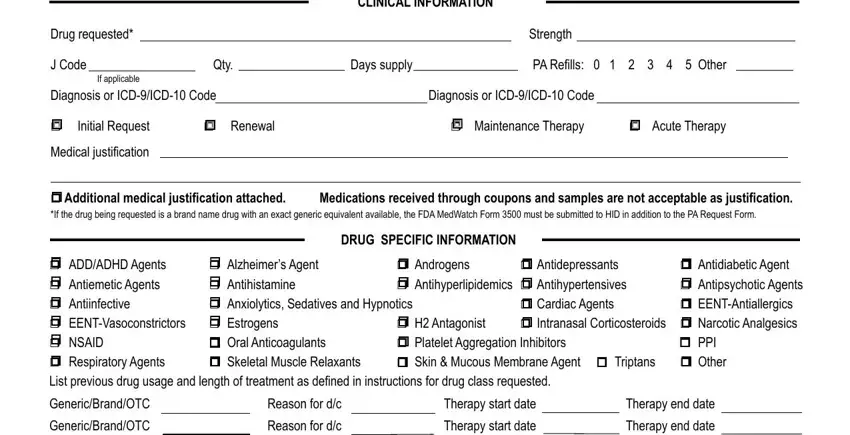 You may be required to note the particulars to let the software prepare the area Generic/Brand/OTC, Generic/Brand/OTC, Reason for d/c, Reason for d/c, Therapy start date, Therapy end date, Therapy start date, Therapy end date, If no previous drug usage, DISPENSING PHARMACY INFORMATION, May Be Completed by Pharmacy, Dispensing pharmacy, NPI #, Phone # with area code Fax # with, NDC #, NOTE: See Instruction sheet for, Form 369 Revised 4/9/08, and Alabama Medicaid Agency.

The ❒❒❒❒❒ Sustained Release Oral, Proposed duration of therapy Type, Reason for d/c Reason for d/c, Is medicine for PRN use, Severity of pain: ❒ Mild ❒, ❒❒❒❒❒ Biological Injectables ❒, Current weight, If rheumatoid arthritis, ❒ Yes ❒ No ❒ Yes ❒ No, ❒ Yes ❒ No, ❒ No, and ❒ Yes section needs to be used to put down the rights or responsibilities of both sides.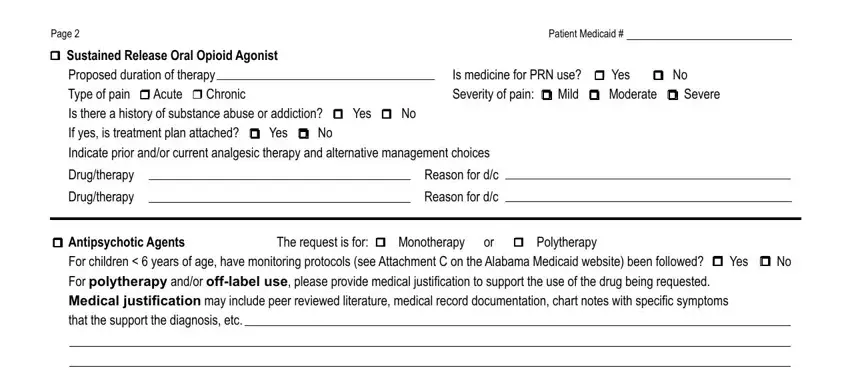 Look at the fields ❒❒❒❒❒ XenicalR, ❒ If initial request Weight ❒ If, BMI kg, Height kg, Current weight, inches, kg/m2, ❒❒❒❒❒ Phosphodiesterase Inhibitors, Failure or inadequate response to, ❒ Documentation of vasoreactivity, ❒ Consultation with specialist, ❒❒❒❒❒ Specialized Nutritionals, Height, inches Current weight, ❒ If < 21 years of age, Method of administration, Duration, # of refills, ❒❒❒❒❒ XolairR, Current weight, and Is treatment recommended by a and next fill them out.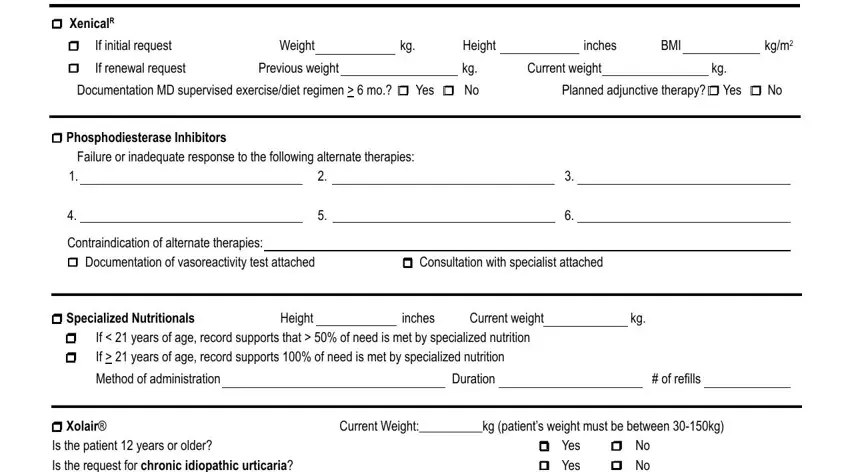 Step 3: When you are done, choose the "Done" button to upload your PDF document.
Step 4: Come up with as much as a couple of copies of your file to remain away from any sort of future complications.