With the objective of making it as simple to apply as possible, we made our PDF editor. The whole process of filling the Alaska Form 08 4514 is going to be effortless for those who follow the following steps.
Step 1: Initially, press the orange button "Get Form Now".
Step 2: At this point, you're on the form editing page. You can add information, edit present details, highlight particular words or phrases, place crosses or checks, add images, sign the file, erase unrequired fields, etc.
Type in the content requested by the application to prepare the file.
Make sure you note your particulars in the box IMPORTANT The status of your, TIP To avoid delays do not leave, PART I BUSINESS NAME, Enter the exact full name and, Per AAC a a change in the, PART II BUSINESS LICENSE FEES, Business license fees are, DISCOUNTS only a sole, Senior Discount if you are years, and and you are willing to provide.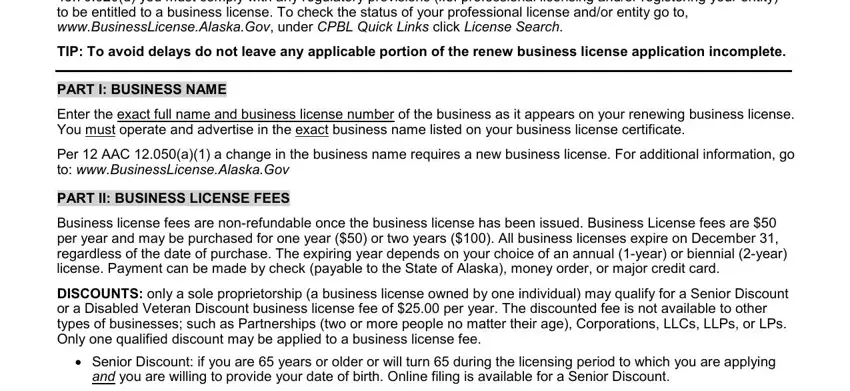 Write the expected data as you are within the Disabled Veteran Discount if you, Rev, and Renewal Business License segment.

The space ENDORSEMENT FEES per location in, TIP The endorsement fee is a flat, PART III SIXDIGIT NAICS CODES, Provide the sixdigit NAICS North, IMPORTANT The State of Alaska uses, You may provide up to ten NAICS, PART IV ALASKA PROFESSIONAL, Any line of business based on the, IMPORTANT If a line of business is, and To determine if the sixdigit NAICS is where you can indicate both parties' rights and responsibilities.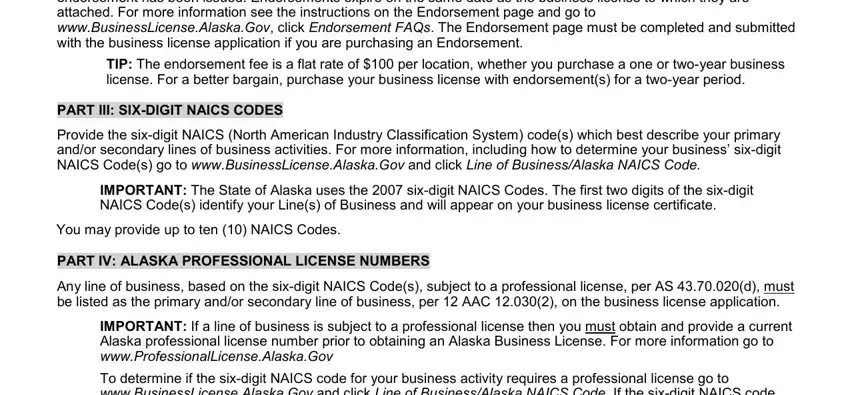 End by reviewing all of these fields and completing the required information: Barber Manicurist Permanent, For more information go to, PART V SIGNATURE, Provide the printed name title, PART VI ENDORSEMENT RENEWAL, Effective An Endorsement is, If you sell products requiring an, Location A separate endorsement, Endorsement will be sold, Endorsement Fees per location in, Endorsements must be renewed at, TIP The endorsement fee is a flat, and sign must be displayed in a.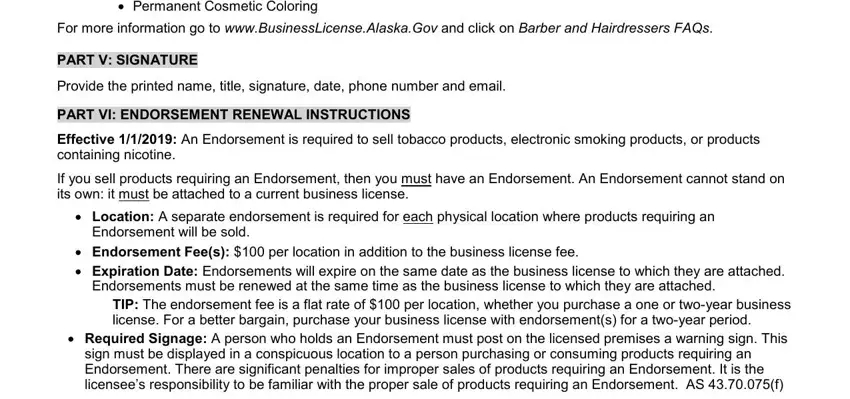 Step 3: When you click the Done button, your completed document is simply exportable to each of your gadgets. Or, you can send it using mail.
Step 4: Generate no less than a couple of copies of your document to remain away from different potential future troubles.