We were designing the PDF editor with the concept of making it as effortless to apply as it can be. This is the reason the procedure of filling in the alabama medicaid referral form will be simple follow these particular steps:
Step 1: Hit the orange button "Get Form Here" on the following web page.
Step 2: At the moment, you can update your alabama medicaid referral form. This multifunctional toolbar makes it possible to include, delete, adapt, highlight, and also perform many other commands to the text and areas inside the file.
Provide the data requested by the program to create the document.
The system will need you to prepare the MEDICAID RECIPIENT INFORMATION, Address, ALABAMA MEDICAID REFERRAL FORM, Todays Date, Date Referral Begins, If different from above, Recipient, Recipient DOB, Telephone with Area Code, Name of ParentGuardian, PRIMARY PHYSICIAN PMP INFORMATION, SCREENING PROVIDER IF DIFFERENT, Name, Address, and Telephone with Area Code part.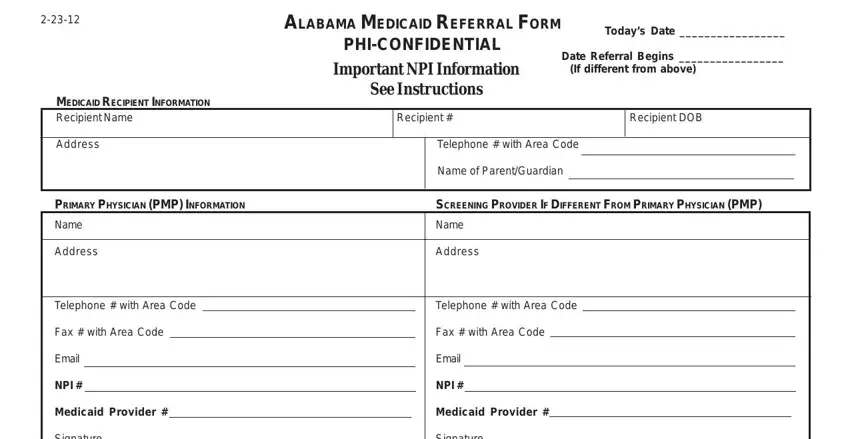 The software will require you to note certain relevant info to instantly fill in the segment TYPE OF REFERRAL, Patient st EPSDT Screening Date, LENGTH OF REFERRAL, Lockin Other, Referral Valid for months or, REFERRAL VALID FOR, Evaluation Only Evaluation and, condition cascading referral, Referral by consultant to other, Treatment Only Hospital Care, Reason for referral by PMP, and Other conditionsdiagnoses.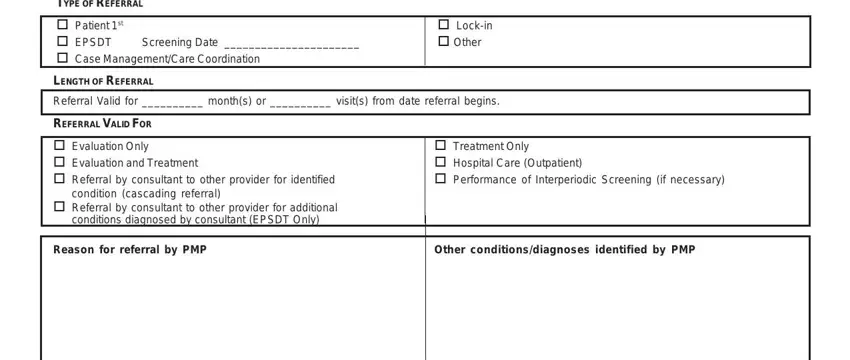 The CONSULTANT INFORMATION, Consultant Name, Address, Consultant Telephone with Area, Note Please submit written report, Findings should be submitted to, Mail, Form Rev, Email, Fax, In addition please telephone, and Alabama Medicaid Agency area will be the place to include the rights and responsibilities of both parties.

Step 3: Click the "Done" button. Now you can transfer the PDF document to your gadget. Besides, you may forward it via email.
Step 4: It may be better to maintain duplicates of your form. There is no doubt that we are not going to publish or see your details.