With the online PDF tool by FormsPal, it is possible to fill out or change al form 40 here. Our team is committed to giving you the ideal experience with our tool by regularly releasing new functions and enhancements. Our tool is now a lot more user-friendly as the result of the latest updates! Now, working with documents is a lot easier and faster than ever. Here is what you'll want to do to start:
Step 1: First, open the pdf tool by clicking the "Get Form Button" above on this webpage.
Step 2: As you open the online editor, there'll be the document all set to be completed. Other than filling out different blank fields, you may as well do some other actions with the PDF, specifically adding any words, modifying the initial textual content, inserting graphics, putting your signature on the form, and much more.
If you want to fill out this PDF form, be certain to provide the required details in each field:
1. Start completing your al form 40 with a selection of essential blank fields. Get all the necessary information and be sure there is nothing omitted!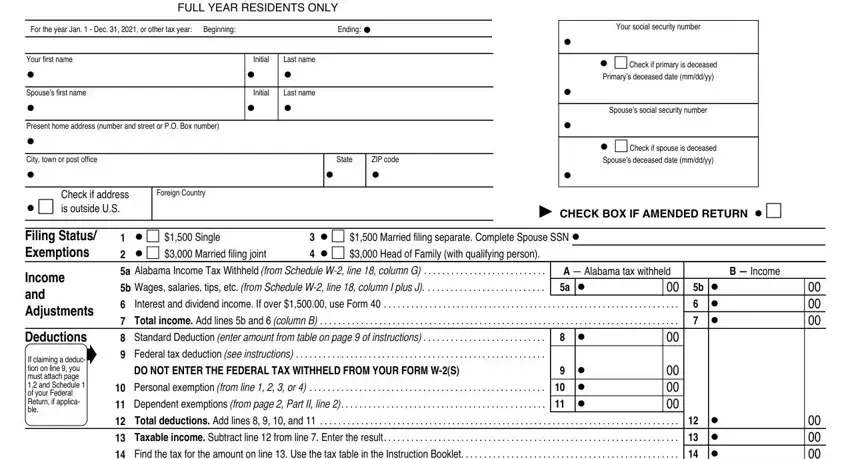 2. The third step is to fill in the next few fields: Find the tax for the amount on, Alabama income tax withheld from, Automatic Extension Payment , Amended Returns Only Previous, Total payments Add lines and , Amended Returns Only Previous, Adjusted Total Payments Subtract, If line is larger than line , Place payment along with Form V, If line is larger than line , Total Donation Checkoffs from page, REFUNDED TO YOU Subtract line , Tax and Payments Staple Forms W WG, AMOUNT YOU OWE OVERPAID Donations, and REFUND.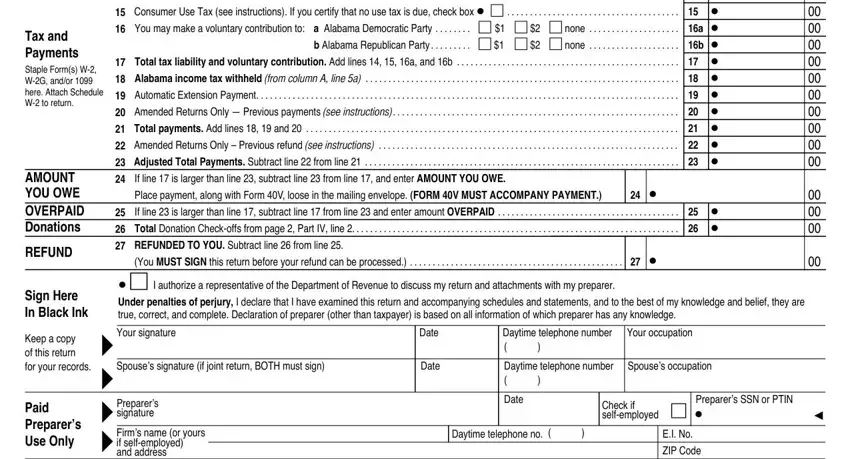 Always be very careful when filling out Amended Returns Only Previous and Total Donation Checkoffs from page, since this is the section in which a lot of people make errors.
3. Completing Form A , Page Were you and your spouse if, PART I, General Information, All Taxpayers Must Complete This, If you checked no DO NOT COMPLETE, Did you file an Alabama income, If you checked no state the reason, Give name and address of your, Yourself, Your Spouse, Your occupation Enter the, Spouses occupation, and Federal Taxable Income , and as reported on your is essential for the next step, make sure to fill them out in their entirety. Don't miss any details!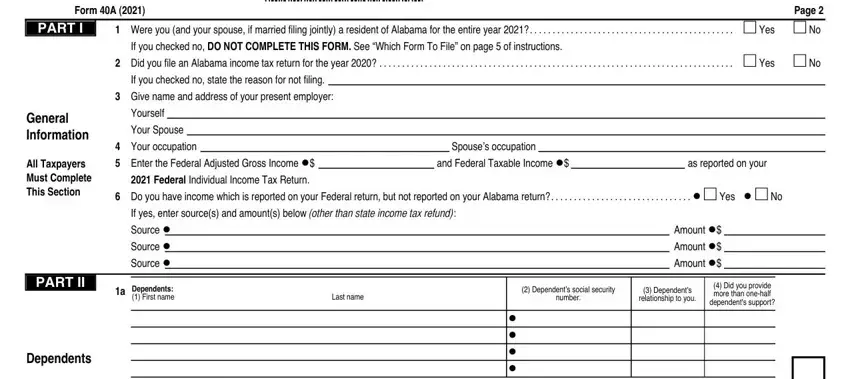 4. All set to fill out this fourth segment! Here you will get these PART III, Federal Tax Liability Deduction, Donation Checkoffs, Over , Enter amount here and on page , Enter the Federal Income Tax, You may donate all or part of, a Senior Services Trust Fund , b Alabama Arts Development Fund , c Alabama Nongame Wildlife Fund , d Child Abuse Trust Fund , e Alabama Veterans Program , f Alabama State Historic, g Alabama State Veterans Cemetery, and Spanish Fort Foundation form blanks to complete.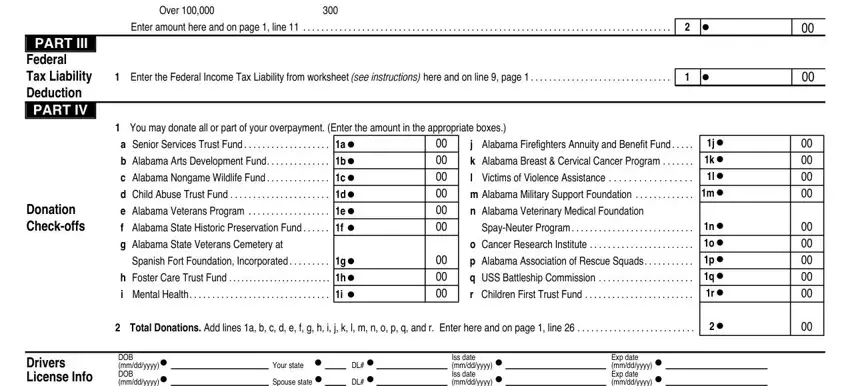 Step 3: Soon after taking one more look at the fields and details, hit "Done" and you are good to go! Download the al form 40 once you sign up for a free trial. Quickly access the pdf file in your FormsPal account page, with any edits and changes automatically synced! When you work with FormsPal, you'll be able to complete documents without the need to be concerned about database breaches or data entries getting shared. Our protected software helps to ensure that your private information is kept safely.