Couple of things can be quicker than managing files making use of our PDF editor. There isn't much you have to do to manage the amway membership form form - only abide by these steps in the following order:
Step 1: Find the button "Get Form Here" and hit it.
Step 2: Now you are on the file editing page. You can edit, add content, highlight certain words or phrases, put crosses or checks, and add images.
Prepare the amway membership form PDF and provide the content for each segment: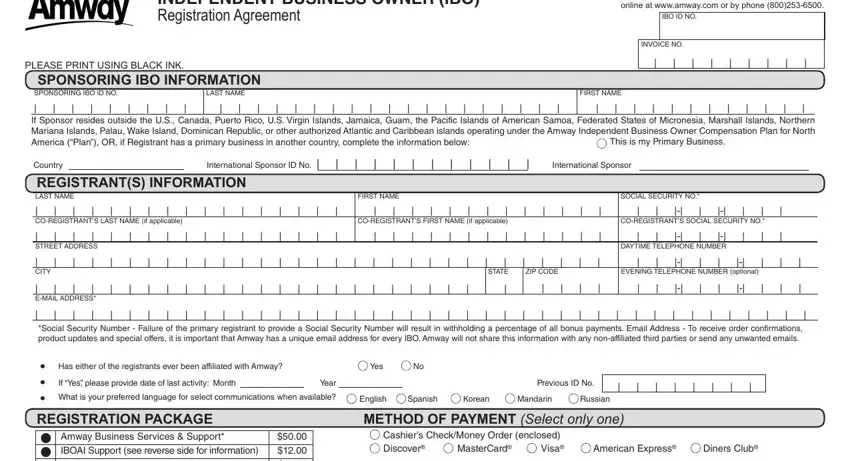 Put down the information in the Welcome Product Kit including, SUBTOTAL Sales Tax as applicable, PLEASE TYPE OR PRINT CARDHOLDERS, CARD NUMBER, EXPIRATION DATE mm yy, The optional Welcome Product Kit, CARDHOLDERS SIGNATURE, AUTHORIZATION AND AGREEMENT, AGREEMENT TO MEDIATE AND ARBITRATE, I agree to submit any dispute I, The Arbitrator and not any federal, BUSINESS SUPPORT MATERIALS Some, REGISTRANTS I certify that all of, X REGISTRANTS SIGNATURE, and DATE area.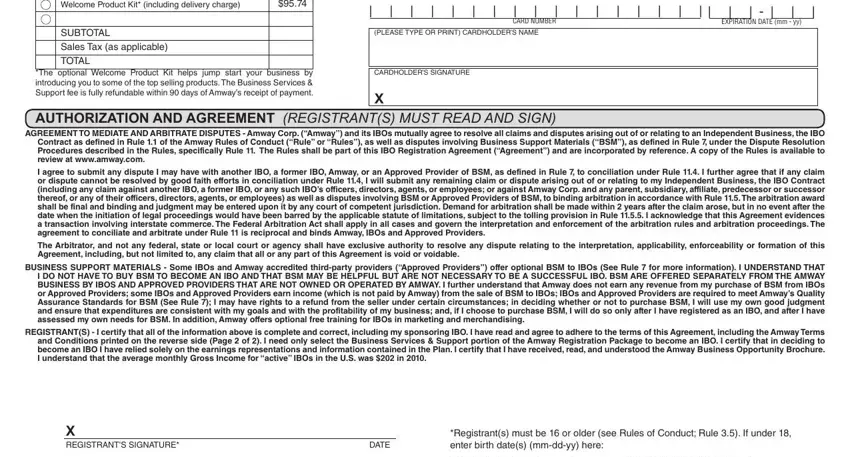 Mention the necessary particulars in X COREGISTRANTS SIGNATURE if, Return Instructions After you have, DATE, REGISTRANTS BIRTH DATE, COREGISTRANTS BIRTH DATE, X PARENT OR GUARDIAN SIGNATURE, IBO Registration Agreement PAGE, DATE, and NN LAZ field.

Step 3: Hit the "Done" button. Finally, you can transfer the PDF document - upload it to your device or forward it by means of electronic mail.
Step 4: You can create duplicates of your file tokeep away from any kind of upcoming difficulties. Don't get worried, we don't distribute or watch your details.