apd provider enrollment can be filled out without any problem. Simply use FormsPal PDF editor to get the job done fast. We at FormsPal are dedicated to providing you with the absolute best experience with our tool by continuously releasing new features and enhancements. Our tool has become much more helpful with the most recent updates! At this point, working with PDF forms is easier and faster than before. With some simple steps, you can begin your PDF editing:
Step 1: First, open the editor by clicking the "Get Form Button" in the top section of this page.
Step 2: Using this handy PDF file editor, you are able to accomplish more than just fill in blanks. Express yourself and make your docs look faultless with customized text incorporated, or fine-tune the file's original input to perfection - all that backed up by the capability to insert any images and sign the PDF off.
This PDF form will require you to provide some specific details; in order to ensure accuracy, be sure to heed the tips further on:
1. It's essential to fill out the apd provider enrollment properly, hence be careful while filling out the segments containing all these blanks: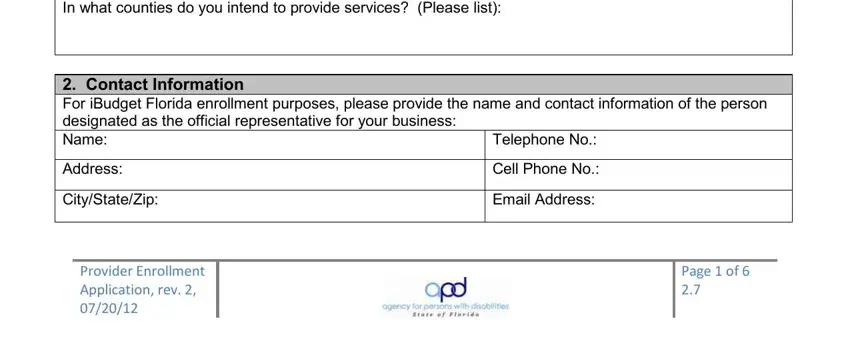 2. The third step is usually to fill out these particular blanks: Provider Application Designation, SOLO Provider Applicant alone will, AGENCY Provider Applicant will be, providing services, others to perform services, NOTE The provider and employees of, FEIN SSN, Treating Provider ID WSC only , Check All iBudget Florida Waiver, Support Coordination, Residential Services, Support Coordination Limited Full, Dental Services, Adult Dental Services, and Life Skills Development.
3. This next part should be fairly simple, Life Skills Development Companion, Personal Supports, Personal Supports, Respite Under , Transportation, Residential Habilitation Standard, Physical Therapy, Supported Living Coaching, Private Duty Nursing, Supplies and Equipment, Residential Nursing, Consumable Medical Supplies, Respiratory Therapy, Skilled Nursing, and Specialized Mental Health - these blanks will have to be completed here.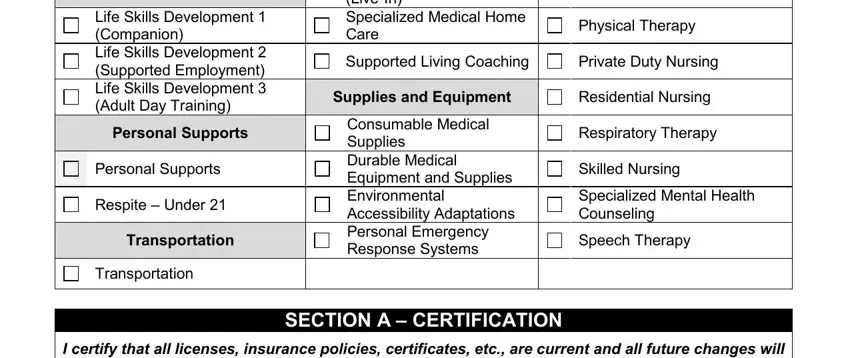 4. You're ready to fill out the next section! In this case you will get all these Print Name, Signature, Date, END OF SECTION A , Provider Enrollment Application, and Page of blanks to do.

5. Finally, the following last segment is what you need to finish prior to closing the form. The blanks here are the following: Degree Obtained, SchoolCollegeUniversity, Date Completed, Other Qualifications List other, Attachments You must attach a, explained , License Registration or, Certification, Number, Effective Date, Expiration Date, State Licensing, and Agency.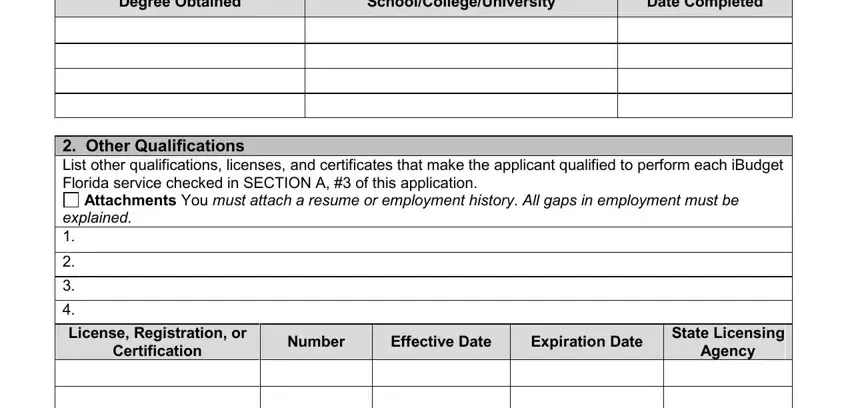 It is possible to make an error while filling out your Expiration Date, so make sure to reread it prior to deciding to finalize the form.
Step 3: Just after taking one more look at your entries, hit "Done" and you're all set! Right after setting up a7-day free trial account here, you'll be able to download apd provider enrollment or send it through email directly. The file will also be readily available in your personal cabinet with all your changes. At FormsPal.com, we strive to ensure that your information is maintained protected.