You are able to work with enrollment application pensions blank effectively using our PDFinity® PDF editor. Our development team is continuously endeavoring to improve the editor and ensure it is even faster for people with its many functions. Take your experience one stage further with continuously improving and amazing opportunities we provide! All it requires is several simple steps:
Step 1: Simply click on the "Get Form Button" at the top of this site to get into our form editor. This way, you will find all that is necessary to work with your document.
Step 2: When you start the editor, there'll be the form made ready to be filled out. Besides filling in various fields, you could also perform some other actions with the Document, including writing any words, editing the original textual content, adding images, placing your signature to the document, and much more.
It will be easy to fill out the pdf using out practical guide! This is what you must do:
1. The enrollment application pensions blank usually requires certain details to be inserted. Be sure the following blanks are filled out:
2. When the previous section is completed, it is time to insert the necessary particulars in TO BE COMPLETED FOR PERS, a Date Employment Began, b Date of Regular or Permanent, Month Day Year, Month Day Year, c Is applicant considered, Is the applicant appointed by, Has the applicant been awarded a, Current Annual Base Salary, Are the work hours fixed at, EMPLOYER CERTIFICATION, Name of Employer Representative, Phone Number Ext, I certify that this employee and, and pursuant to NJSA C Two Signatures so that you can go to the next step.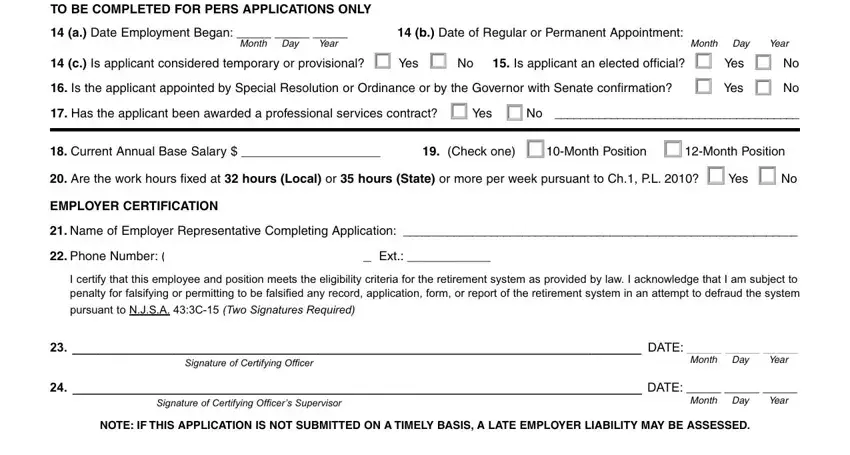 It is easy to get it wrong while filling in the Name of Employer Representative, hence make sure to take another look prior to deciding to submit it.
Step 3: Just after proofreading your fields, click "Done" and you're good to go! After starting a7-day free trial account here, it will be possible to download enrollment application pensions blank or send it via email promptly. The document will also be at your disposal from your personal account with your each and every change. FormsPal offers risk-free form editor without personal data recording or distributing. Rest assured that your data is secure here!