kaiser permanenete incapacitated dependent application can be completed effortlessly. Just open FormsPal PDF editing tool to complete the task promptly. Our team is devoted to making sure you have the perfect experience with our tool by regularly releasing new capabilities and upgrades. With all of these improvements, working with our editor gets easier than ever! It just takes just a few easy steps:
Step 1: Click the orange "Get Form" button above. It is going to open up our tool so you could start filling in your form.
Step 2: Using our state-of-the-art PDF tool, you could do more than merely fill in blank form fields. Edit away and make your documents look perfect with customized textual content put in, or tweak the original input to perfection - all accompanied by an ability to add your own graphics and sign the document off.
This PDF form will involve specific information; in order to guarantee consistency, you need to take note of the subsequent guidelines:
1. The kaiser permanenete incapacitated dependent application usually requires specific information to be typed in. Make certain the following blank fields are completed: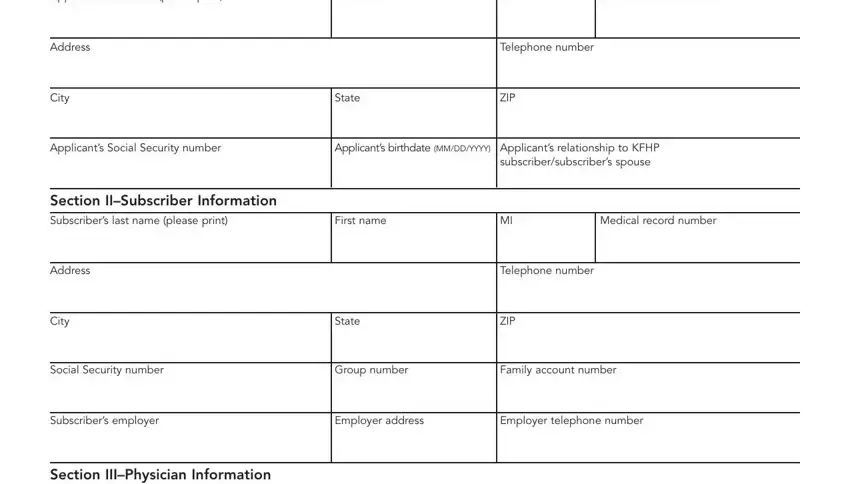 2. After this array of fields is done, you have to add the needed details in Section IIIPhysician Information, KFHP facility or physician, Office telephone number, and r Revised November so you can progress further.

3. This part is generally straightforward - fill in all of the empty fields in Is the applicant currently, dependent on your KFHP plan within, Yes, Yes, Is the applicant dependent upon, Dependent average monthly expense, Expense Type, Other expense type explanation, HousingRent, Transportation, FoodToiletries, Medical Care, Clothing, Other, and Other to conclude this part.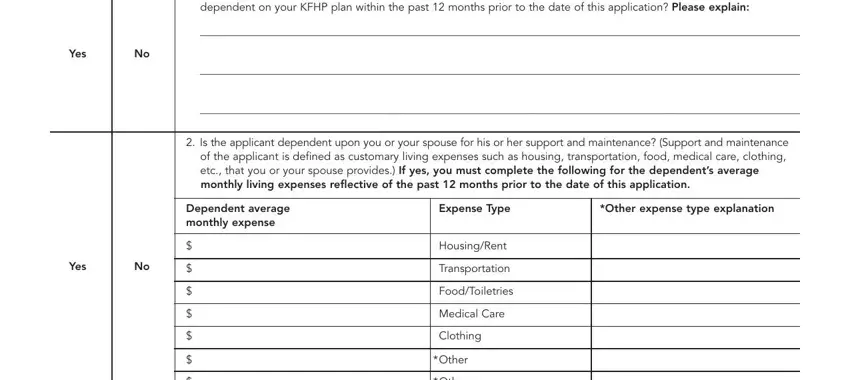 4. The next part requires your input in the following parts: Total Monthly, Expenses, Other, Was the applicant claimed as a, provide a copy of the page of your, Yes, Yes, Does the applicant qualify or, If yes please check all that apply, Type of Aid, Amount of Benefit, Benefit Start Date, Social Security Disability, and r Revised November. Make sure you fill in all needed info to go onward.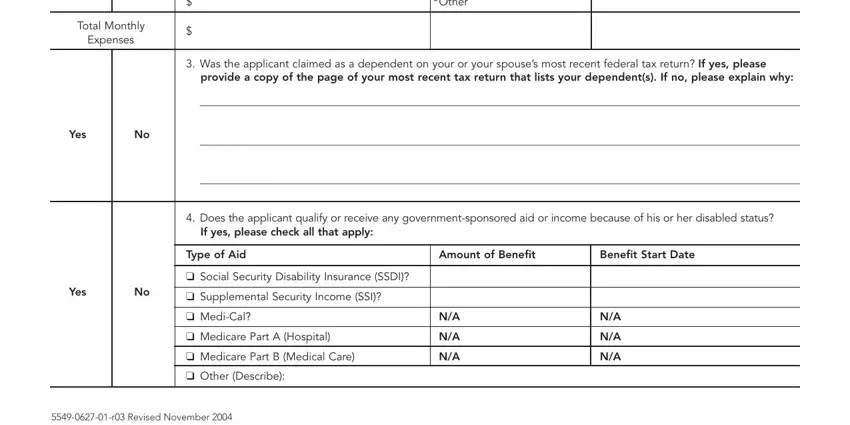 Be extremely attentive while completing r Revised November and Type of Aid, since this is where many people make a few mistakes.
5. The last stage to finish this PDF form is essential. Ensure that you fill in the necessary fields, including Name and address of employer, Yes, Yes, Supervisors name and telephone, Is the applicant currently living, If no please indicate the address, Has the applicant lived in a, date of the application If yes, Name, Yes, and Address, prior to finalizing. Neglecting to do this may lead to an unfinished and probably nonvalid document!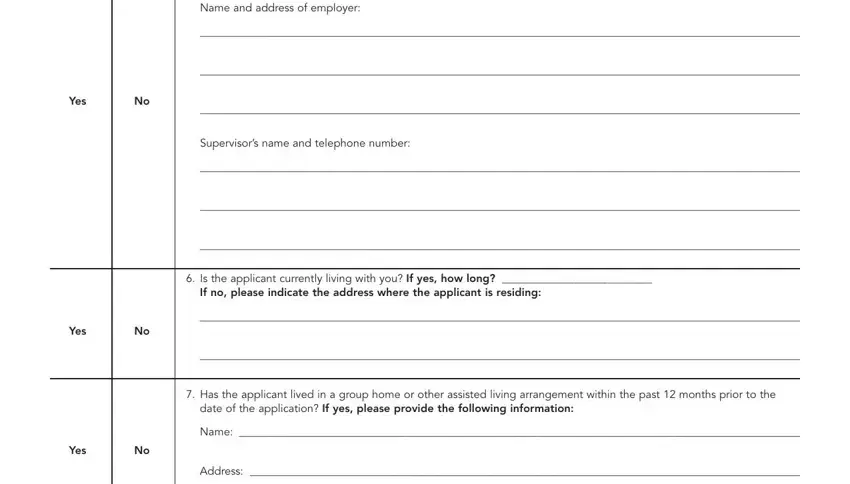 Step 3: Before moving on, ensure that all form fields are filled in as intended. As soon as you're satisfied with it, press "Done." Sign up with us right now and immediately use kaiser permanenete incapacitated dependent application, available for downloading. All adjustments you make are kept , enabling you to modify the document later on anytime. FormsPal guarantees protected document completion with no data record-keeping or sharing. Feel at ease knowing that your details are safe here!