Any time you desire to fill out screening questionnaire suitability online, you won't need to download any sort of applications - just use our PDF editor. Our development team is continuously working to improve the editor and help it become even better for users with its cutting-edge features. Enjoy an ever-evolving experience now! This is what you will need to do to begin:
Step 1: Simply press the "Get Form Button" at the top of this page to see our pdf editor. Here you'll find all that is necessary to fill out your document.
Step 2: Once you launch the tool, you will see the document all set to be completed. Aside from filling out various blank fields, you can also do other things with the form, including adding any words, changing the original textual content, adding graphics, signing the document, and a lot more.
This form will need specific info to be filled in, so you should take your time to provide what is asked:
1. Complete your screening questionnaire suitability online with a number of major blanks. Note all the important information and make sure there's nothing forgotten!
2. After the last part is completed, go to enter the applicable information in all these - The trial court judgment resulted, Jury Trial Court Trial , Summary Judgment Arbitration, Demurrer Administrative Mandamus, What was the judgment, and Length of trial or hearing.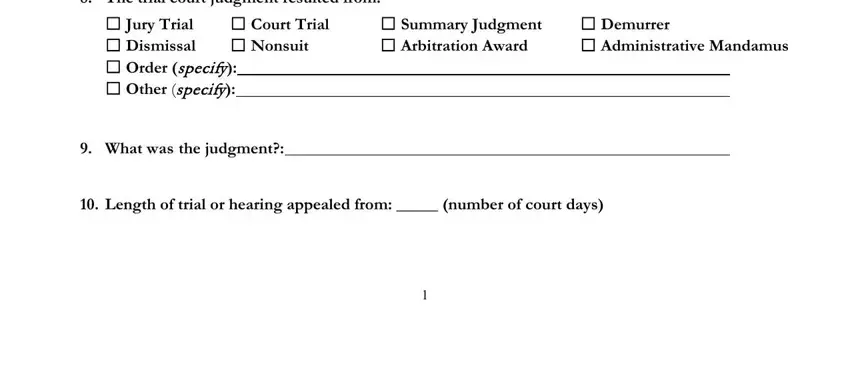 3. This subsequent part is usually relatively uncomplicated, a proxy DLL deployed on each - every one of these form fields has to be filled in here. Concerning a proxy DLL deployed on each and a proxy DLL deployed on each, make sure that you review things in this current part. Those two could be the key ones in this file.
4. This next section requires some additional information. Ensure you complete all the necessary fields - Are there any insurance issues, Are there any liens If so state, State whether you believe this, Yes, and No - to proceed further in your process!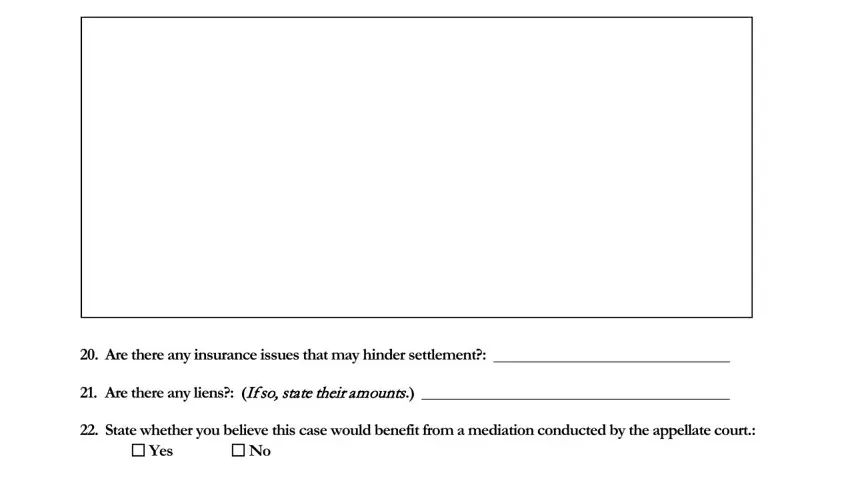 5. Now, the following last subsection is what you should complete before submitting the form. The blanks at issue include the following: If you indicated No explain your, The impediments if any to, Date, Signature, and Print Name of Party or Attorney.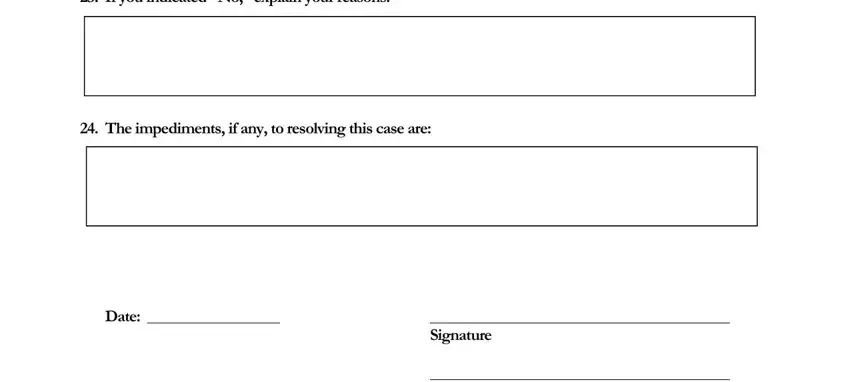 Step 3: Prior to finishing this file, it's a good idea to ensure that all blanks have been filled in the right way. As soon as you think it's all fine, click "Done." Find your screening questionnaire suitability online the instant you join for a free trial. Quickly get access to the pdf document within your FormsPal cabinet, together with any modifications and adjustments being all kept! Whenever you work with FormsPal, you'll be able to complete documents without worrying about personal data breaches or records getting distributed. Our protected platform helps to ensure that your private details are maintained safely.