Handling PDF documents online is definitely surprisingly easy with this PDF editor. Anyone can fill out probate appointment here and use many other functions we offer. FormsPal professional team is ceaselessly endeavoring to develop the editor and make it even faster for clients with its handy functions. Make the most of today's revolutionary possibilities, and find a trove of emerging experiences! To get the ball rolling, take these basic steps:
Step 1: Click the orange "Get Form" button above. It is going to open up our editor so you can start completing your form.
Step 2: Once you access the PDF editor, you will notice the form ready to be filled in. Other than filling out various blanks, you can also do several other actions with the PDF, namely adding custom textual content, changing the original textual content, inserting illustrations or photos, signing the PDF, and much more.
This PDF will require particular info to be typed in, thus make sure to take your time to fill in exactly what is requested:
1. First of all, once filling in the probate appointment, start out with the part that contains the next fields: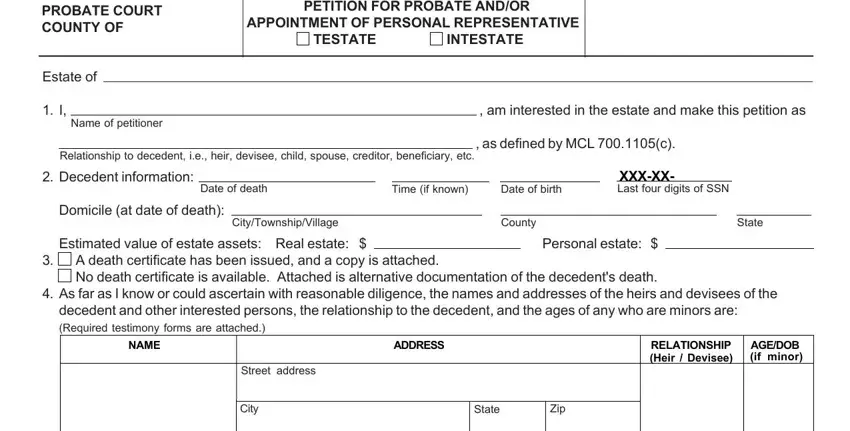 2. Given that the previous array of fields is finished, you'll want to include the needed specifics in Street address, City, State, Zip, Street address, City, State, Zip, Of the interested persons listed, NAME, LEGAL DISABILITY, REPRESENTED BY, Name address and capacity, a Venue is proper in this county, and located in this county at the date in order to move on further.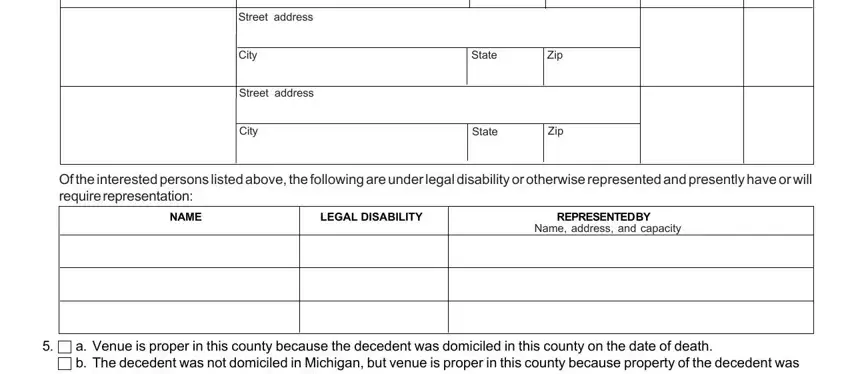 Always be really attentive when completing LEGAL DISABILITY and Of the interested persons listed, since this is the section in which a lot of people make errors.
3. The following part is focused on located in this county at the date, An application was previously, SEE SECOND PAGE, Do not write below this line For, and MCL MCL MCL MCR A MCR MCR B PC - fill in all of these fields.

4. The subsequent part requires your input in the following areas: A personal representative has, County, and the appointment has not been, Name, City, Address, State, State, Zip, a The decedents will dated, with codicils dated, isare offered for probate and isare, attached to this petition, already in the courts possession, and b An authenticated copy of the. Be sure that you give all of the required information to move further.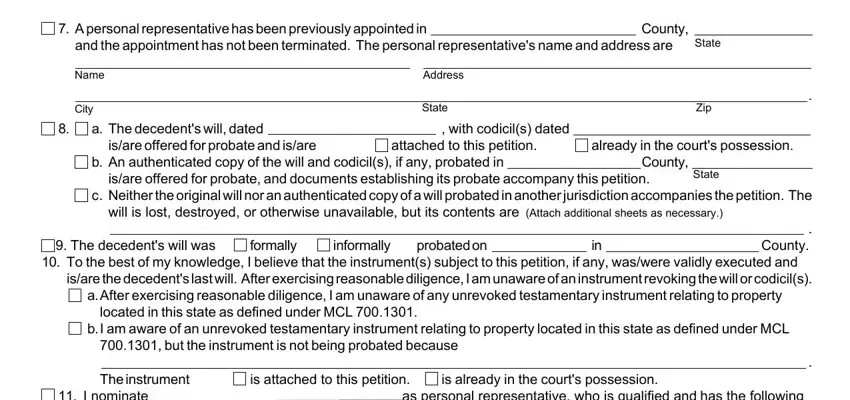 5. This final step to conclude this PDF form is integral. You must fill out the appropriate fields, for instance I nominate as personal, Name, priority for appointment, Hisher address is, Address, City, State, Other persons have prior or equal, Name, Name, Name, Name, Zip, The will expressly requests that, and a The decedent left a will that, before submitting. If you don't, it might result in an incomplete and possibly nonvalid document!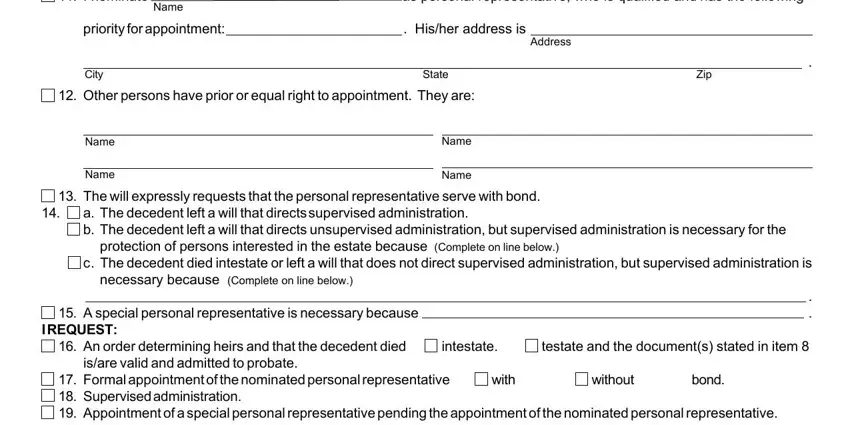 Step 3: Once you've glanced through the information in the fields, simply click "Done" to complete your form at FormsPal. Join us now and instantly access probate appointment, prepared for downloading. All adjustments you make are kept , making it possible to change the document later on anytime. FormsPal is dedicated to the confidentiality of all our users; we make sure all information handled by our tool remains secure.