Should you intend to fill out tulsa ok sales rebate form 2019, it's not necessary to install any sort of programs - just give a try to our online tool. In order to make our tool better and easier to utilize, we continuously develop new features, with our users' feedback in mind. With just a few simple steps, you are able to begin your PDF editing:
Step 1: Click the "Get Form" button above. It's going to open up our pdf editor so you can start filling out your form.
Step 2: With this online PDF editing tool, you're able to do more than simply fill in blanks. Edit away and make your documents look sublime with custom textual content added, or adjust the original content to perfection - all supported by an ability to add any type of images and sign the PDF off.
It really is simple to fill out the form using out helpful tutorial! This is what you should do:
1. First of all, while filling out the tulsa ok sales rebate form 2019, start out with the part with the following blank fields: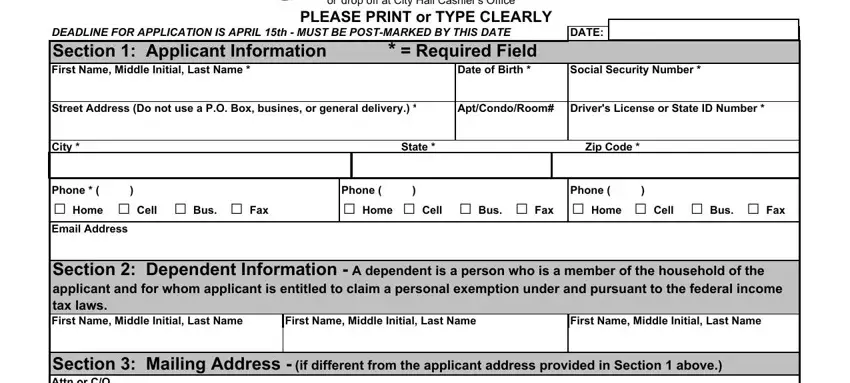 2. Right after the first part is done, proceed to type in the suitable details in these - Section Mailing Address if, Street Address Do not use a Post, City, State, Zip Code, Section Must check only one of, To qualify for the senior rebate, To qualify for the lowincome, and Only one rebate of per household.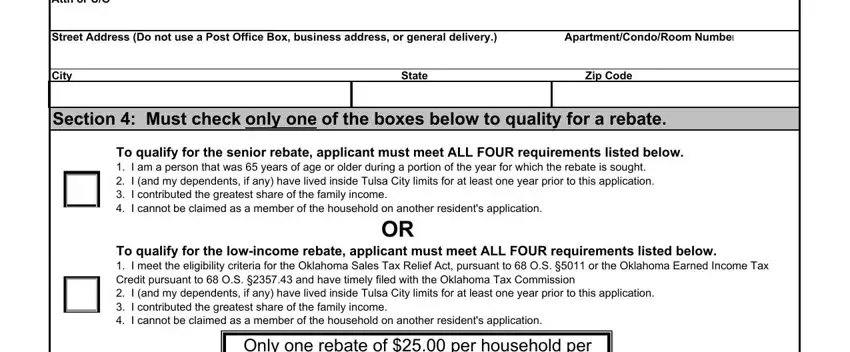 It is possible to make a mistake while filling in your City, hence make sure to reread it before you finalize the form.
Step 3: Check that your information is right and click on "Done" to continue further. Sign up with FormsPal today and instantly gain access to tulsa ok sales rebate form 2019, prepared for downloading. All changes you make are kept , which enables you to customize the pdf later on as needed. FormsPal is dedicated to the privacy of our users; we ensure that all personal information coming through our editor remains confidential.