By using the online PDF tool by FormsPal, you're able to complete or change illinois asbestos license application right here and now. To maintain our tool on the leading edge of efficiency, we work to integrate user-driven capabilities and improvements regularly. We're routinely happy to receive feedback - help us with revolutionizing the way you work with PDF forms. With some basic steps, you'll be able to begin your PDF editing:
Step 1: First of all, access the pdf tool by clicking the "Get Form Button" in the top section of this webpage.
Step 2: When you open the file editor, you will get the document prepared to be filled in. Besides filling in various blanks, you can also perform other things with the form, particularly adding custom text, changing the initial text, adding images, putting your signature on the PDF, and more.
When it comes to fields of this precise form, here's what you should do:
1. To start with, when filling in the illinois asbestos license application, beging with the page with the subsequent fields: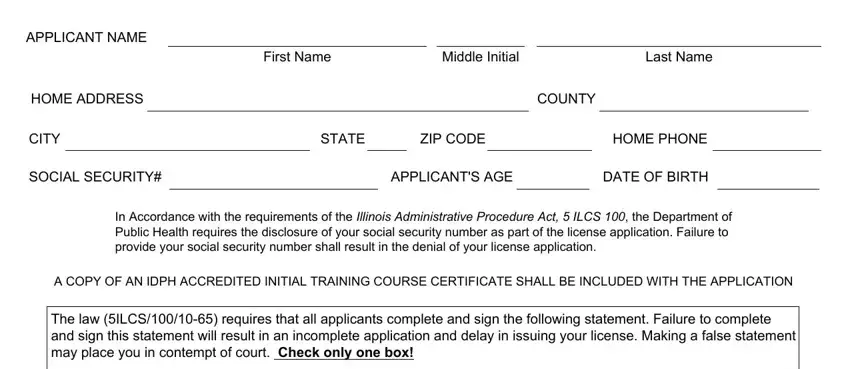 2. After this part is finished, you'll want to put in the required details in I am not more than days, I am more than days delinquent in, This statement does not apply, The Public Information Disclosure, I do not wish to be listed, Personal Information, SUBMIT TWO x PHOTOGRAPHS OF THE, I hereby certify that the, Signature Field, DATE, and IMPORTANT NOTICE THIS STATE AGENCY so that you can go further.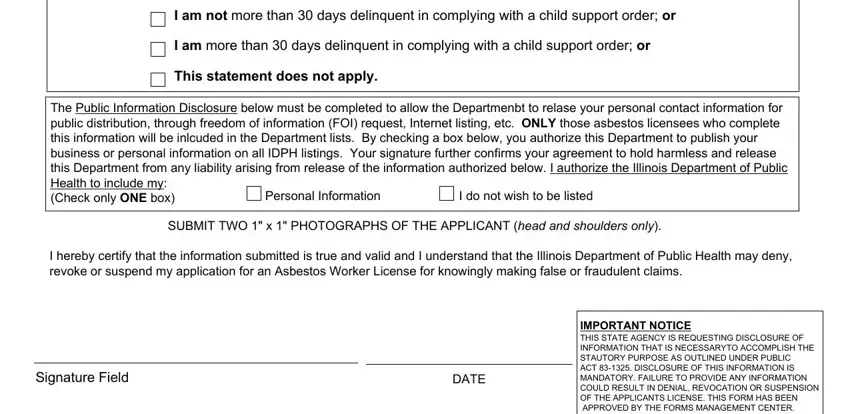 Those who work with this PDF often make some errors while filling in This statement does not apply in this section. Ensure you review whatever you type in right here.
Step 3: Reread the information you've entered into the form fields and click the "Done" button. Make a 7-day free trial account at FormsPal and acquire instant access to illinois asbestos license application - readily available in your FormsPal account. Here at FormsPal, we endeavor to make certain that all your details are stored secure.