Dealing with PDF forms online is actually simple with our PDF tool. You can fill in bahamas visa forms here effortlessly. To maintain our editor on the cutting edge of efficiency, we aim to implement user-driven capabilities and improvements on a regular basis. We're routinely looking for feedback - play a pivotal part in remolding the way you work with PDF forms. This is what you'll need to do to get going:
Step 1: Click the orange "Get Form" button above. It'll open our tool so you could start filling in your form.
Step 2: The editor will allow you to modify your PDF file in a variety of ways. Change it by writing any text, correct what is already in the PDF, and include a signature - all at your convenience!
This PDF will require particular information to be typed in, hence ensure you take whatever time to enter precisely what is expected:
1. When completing the bahamas visa forms, ensure to incorporate all of the needed blanks in their relevant area. This will help facilitate the process, enabling your information to be processed quickly and correctly.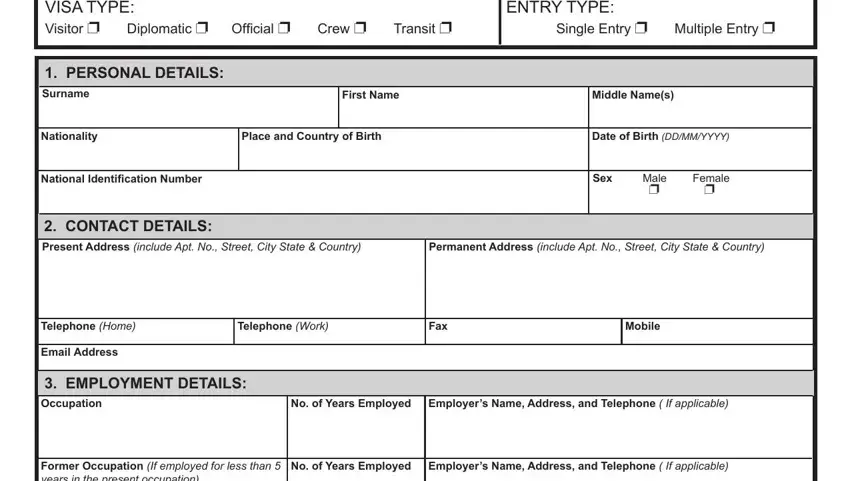 2. Soon after performing this section, go on to the subsequent part and complete all required particulars in these fields - Former Occupation If employed for, FAMILY DETAILS Marital Status, Single p Married p Divorced p, Spouses Name Even if divorced or, Date of Birth DDMMYYYY, Spouses Full Name underline surname, Do you have any children Yes p, No p, Date of Birth DDMMYYYY, List full names of Dependents, Relationship to Applicant, Is Spouse traveling with you Yes p, No p, Are Dependents traveling with you, and Fathers Full Name.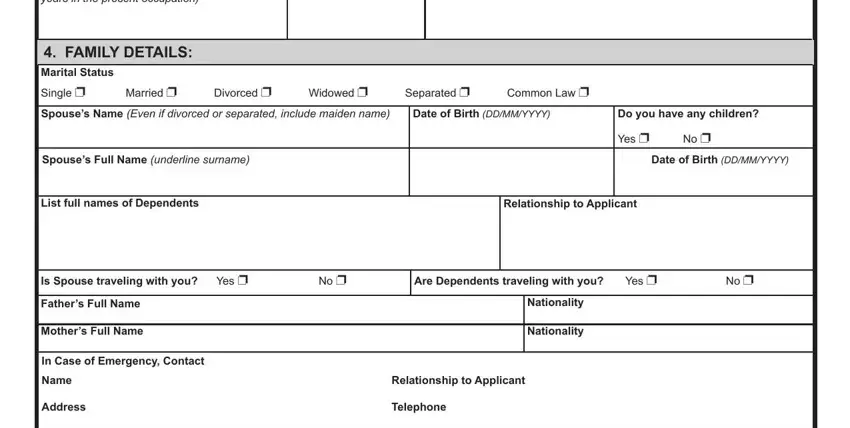 3. The next stage is normally hassle-free - complete every one of the empty fields in PASSPORT DETAILS Passport Number, Date Issued DDMMYYYY, Date Expiry DDMMYYYY, Place Country of Issue, ADDITIONAL DETAILS, Purpose of Visit, Vacation p Business p Diplomatic p, SportsAthletic p Religious p, Other p If other family member, Intended Length of Stay, Date of Arrival DDMMYYYY, Name of PersonHotel, Address of PersonHotel, Telephone No of PersonHotel, and FINANCIAL DETAILS Who is paying to finish this process.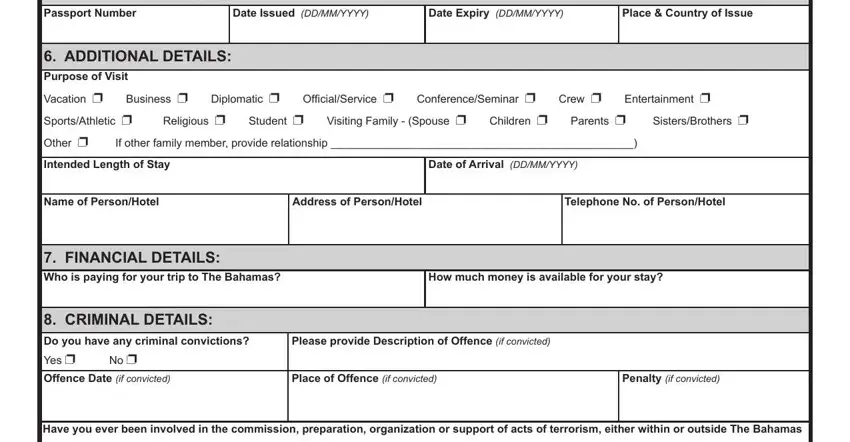 4. All set to fill in this fourth form section! Here you've got all these Have you ever been involved in the, No p If Yes please provide details, ADDITIONAL DETAILS Are any of the, Relative Father p Mother p Spouse, Residential Status Work Permit p, Resident p Resident p Resident p, Home owner p Home owner p Home, Permanent Resident p Permanent, Citizen p Citizen p Citizen p, Have you ever visited The Bahamas, No p If Yes date of last visit, Have you ever applied for a, No p If Yes when and where, DDMMYYYY, and Have you ever been deported fields to fill out.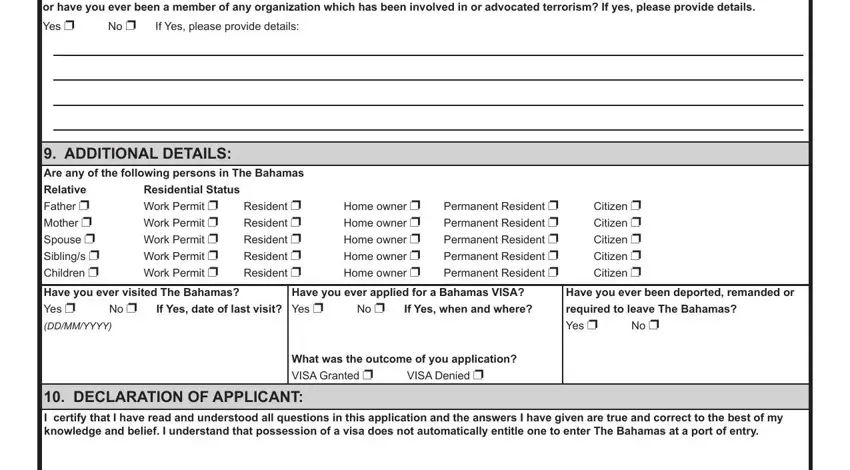 People generally get some things wrong when filling out Relative Father p Mother p Spouse in this part. Ensure that you revise everything you type in here.
5. Last of all, the following final section is what you have to wrap up prior to finalizing the document. The blank fields under consideration are the next: Signature of person preparing form , Date, Signature of applicant , and Date.

Step 3: Prior to finishing your form, you should make sure that all blanks were filled in properly. Once you establish that it's correct, click on "Done." Sign up with FormsPal now and instantly use bahamas visa forms, prepared for downloading. Every change you make is handily preserved , allowing you to edit the document further if required. At FormsPal.com, we endeavor to make certain that your information is stored protected.