The entire process of filling out the beneficiary transamerica change form is rather straightforward. Our team made sure our software is not hard to use and helps fill in virtually any PDF without delay. Below are a couple of simple steps you will have to take:
Step 1: The first task is to choose the orange "Get Form Now" button.
Step 2: So, you can start modifying the beneficiary transamerica change form. Our multifunctional toolbar is at your disposal - add, remove, transform, highlight, and carry out several other commands with the content in the file.
Enter the appropriate data in every area to fill in the PDF beneficiary transamerica change form
Type in the details in the Address (list below), City, Name (list below) Contingent, Relationship Percentage, Address (list below), City, Relationship Percentage, and Name (list below) area.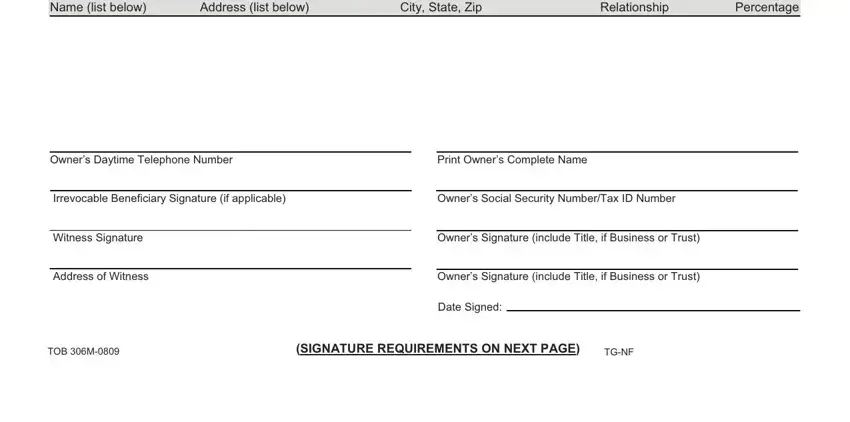 The system will demand you to include some relevant details to instantly fill out the segment Owner, s Daytime Telephone Number, Irrevocable Beneficiary Signature, Witness Signature, Address of Witness, TO, B 306, M, 0809 Print Owner, s Complete Name, Owner, s Social Security Number, Tax Owner, s Signature (include Title, Owner, s Signature (include Title, Date Signed:, (SIGNATURE REQUIREMENTS ON NEXT, and TG, NF

The TRUST: XYZ Trust, SPOUSE OF INSURED, IRREVOCABLE BENEFICIARY: Primary:, CORPORATE CREDITOR: Primary: ABC, INDIVIDUAL CREDITOR: John Doe, TRUSTEE UNDER LAST WILL AND, the Executor or Administrator of, and then box can be used to indicate the rights and responsibilities of both sides.

Step 3: Select the "Done" button. So now, it is possible to transfer your PDF file - upload it to your device or deliver it by means of electronic mail.
Step 4: Get duplicates of your document. This may save you from potential future misunderstandings. We cannot watch or reveal your data, hence feel comfortable knowing it is secure.