Using the online PDF editor by FormsPal, it is easy to fill in or edit keylock here. In order to make our tool better and more convenient to work with, we continuously design new features, with our users' feedback in mind. With just several basic steps, you are able to start your PDF editing:
Step 1: Simply press the "Get Form Button" at the top of this webpage to start up our form editing tool. Here you will find everything that is required to fill out your file.
Step 2: The editor lets you modify PDF files in a variety of ways. Enhance it by writing any text, adjust what is already in the file, and place in a signature - all close at hand!
This PDF will need particular info to be filled in, therefore make sure to take the time to enter precisely what is required:
1. The keylock necessitates specific information to be typed in. Be sure that the following blank fields are completed: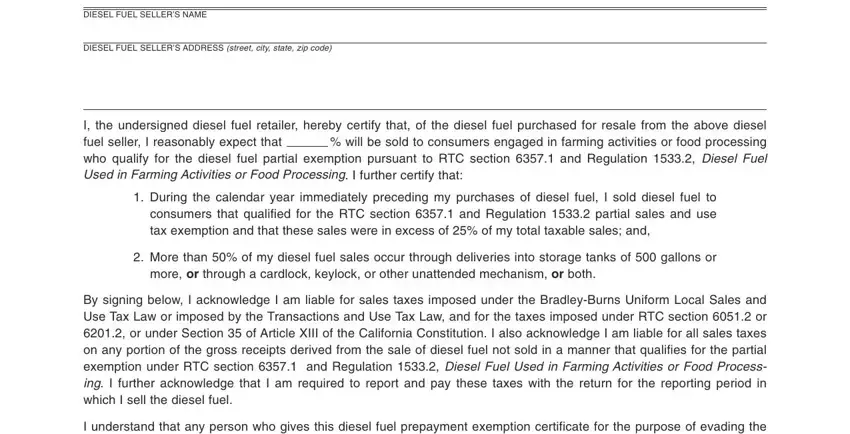 2. Once your current task is complete, take the next step – fill out all of these fields - Important This diesel fuel, RETAILERS NAME OR COMPANY NAME, DATE, SIGNATURE signature of the, TITLE, TELEPHONE NUMBER , PERMIT NUMBER, ADDRESS street city state zip code, and CUSTOMER ACCOUNT NUMBER if with their corresponding information. Make sure to double check that everything has been entered correctly before continuing!

As to Important This diesel fuel and SIGNATURE signature of the, make certain you get them right in this section. The two of these are definitely the most significant ones in this document.
Step 3: After you have reviewed the information in the fields, press "Done" to finalize your FormsPal process. Get your keylock as soon as you join for a free trial. Quickly view the pdf from your FormsPal account page, together with any edits and changes being all kept! FormsPal guarantees safe document tools devoid of personal data record-keeping or sharing. Be assured that your information is in good hands here!