Through the online PDF editor by FormsPal, it is easy to fill out or modify wh 380 here and now. FormsPal team is devoted to making sure you have the absolute best experience with our editor by consistently presenting new functions and upgrades. With all of these improvements, using our tool becomes better than ever! This is what you'll need to do to get started:
Step 1: Simply hit the "Get Form Button" at the top of this page to launch our pdf file editing tool. Here you will find everything that is needed to fill out your file.
Step 2: After you access the editor, you will find the document all set to be completed. Other than filling in different blanks, you could also do other sorts of things with the Document, namely writing your own text, changing the original text, inserting graphics, placing your signature to the PDF, and more.
As a way to fill out this PDF form, make sure that you enter the information you need in each and every field:
1. The wh 380 usually requires specific information to be entered. Ensure the subsequent blank fields are completed: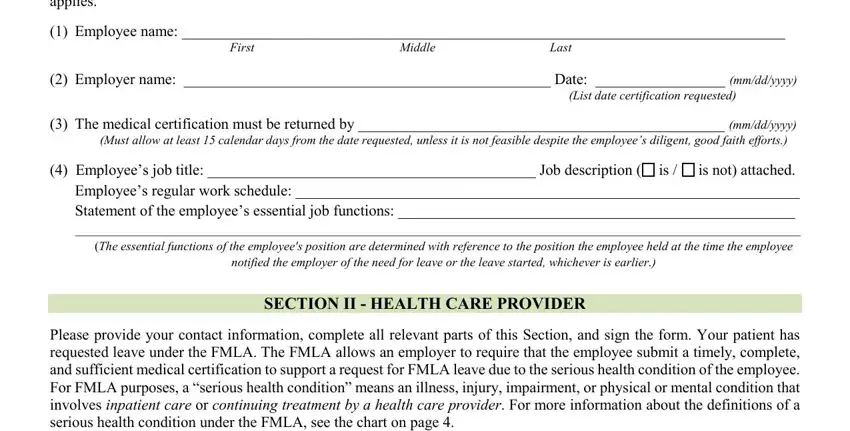 2. Once your current task is complete, take the next step – fill out all of these fields - Employee Name, Health Care Providers name Print, Health Care Providers business, Type of practice Medical, Telephone Fax Email, PART A Medical Information Limit, State the approximate date the, and Provide your best estimate of how with their corresponding information. Make sure to double check that everything has been entered correctly before continuing!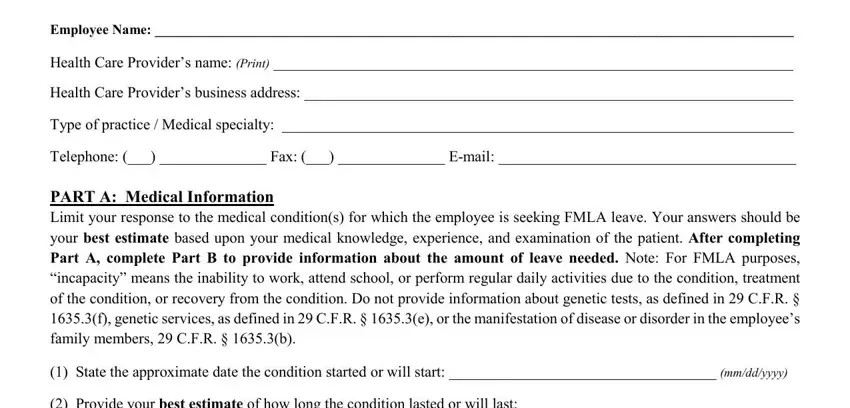 3. Completing provided in Part B, Inpatient Care The patient has, Incapacity plus Treatment eg, Due to the condition the patient, The patient was will be seen on, The condition has has not also, Pregnancy The condition is, Chronic Conditions eg asthma, to have treatment visits at least, Permanent or Long Term Conditions, Conditions requiring Multiple, and it is medically necessary for the is essential for the next step, make sure to fill them out in their entirety. Don't miss any details!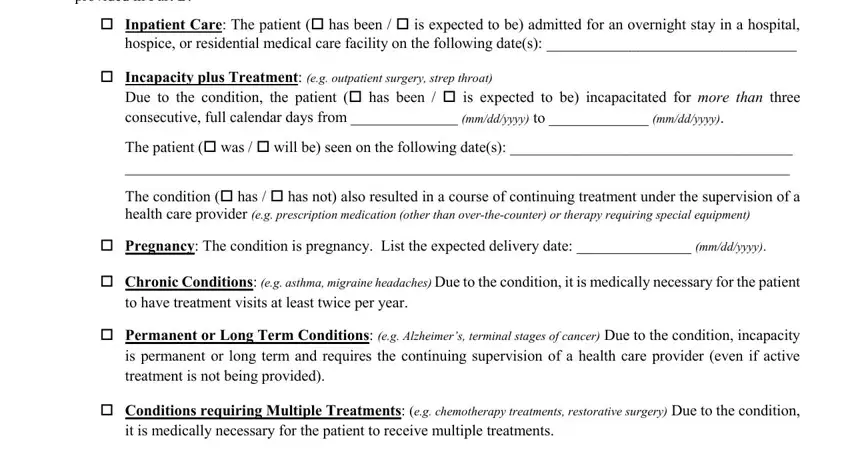 Regarding it is medically necessary for the and Chronic Conditions eg asthma, be certain you review things in this current part. The two of these are thought to be the most important fields in this form.
4. The fourth part comes with all of the following empty form fields to complete: None of the above If none of the, no additional information is, Page of, and Form WHE Revised June.

5. This last section to finalize this PDF form is integral. Make certain to fill out the appropriate form fields, such as Employee Name, If needed briefly describe other, PART B Amount of Leave Needed For, Due to the condition the patient, eg psychotherapy prenatal, Due to the condition the patient, treatments, and State the nature of such, prior to using the form. In any other case, it can end up in an unfinished and potentially unacceptable paper!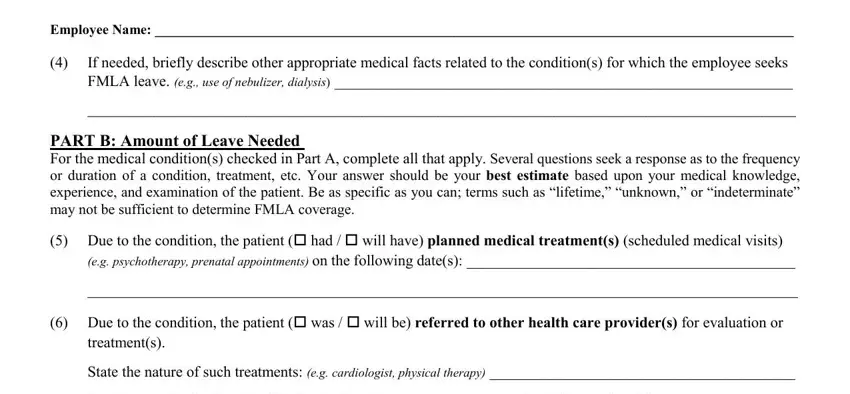 Step 3: Before moving forward, it's a good idea to ensure that blanks were filled out correctly. The moment you think it's all fine, click on "Done." Join us today and instantly get access to wh 380, available for download. Every last change made is handily kept , letting you change the form at a later stage when necessary. FormsPal is focused on the personal privacy of our users; we make sure that all personal data handled by our system is confidential.