Working with PDF files online is certainly quite easy with this PDF tool. Anyone can fill in embalming report template here and try out a number of other functions we offer. To maintain our tool on the forefront of efficiency, we work to put into practice user-driven features and improvements on a regular basis. We are at all times grateful for any feedback - join us in revampimg how we work with PDF files. All it takes is a few easy steps:
Step 1: First, access the pdf tool by pressing the "Get Form Button" above on this page.
Step 2: With the help of this state-of-the-art PDF file editor, you are able to do more than merely fill in blank form fields. Edit away and make your docs seem professional with customized text added, or adjust the file's original input to excellence - all that accompanied by an ability to add stunning photos and sign the document off.
For you to complete this PDF document, make certain you provide the right information in every single blank:
1. For starters, while filling in the embalming report template, start in the area containing following blanks: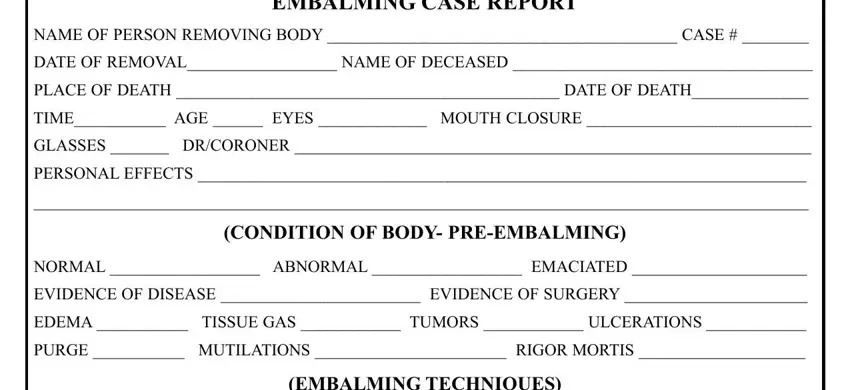 2. Once the previous section is completed, you should insert the essential details in EMBALMING TECHNIQUES, INJECTION ARTERIES INJECTION VEINS, INJECTION CHEMICAL, INDEX OZ GAL HO TOTAL VOLUME, PREINJ, INJ, INJ, INJ, INJ, CHEMICAL INDEX OZ, CAVITY TREATMENT, AUTOPSY CAVITY TREATMENT, WAS VISCERA RETURNED YES NO, CHEMICAL POWDER HYPO HARD, and EMBALMING RESULTS so you're able to progress to the 3rd step.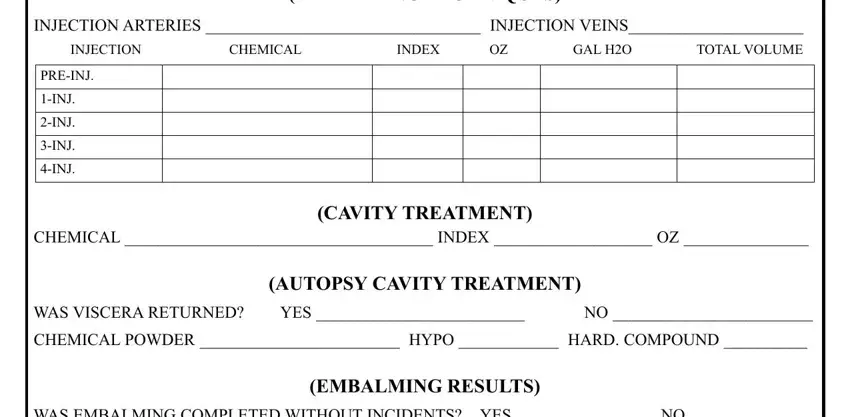 Always be very attentive while filling in INJ and INJ, since this is where most users make some mistakes.
3. Completing WAS EMBALMING COMPLETED WITHOUT, REMARKS, TIME EMBALMING BEGAN TIME, EMBALMERS NAME Please Print, and EMBALMERS SIGNATURE LIC is essential for the next step, make sure to fill them out in their entirety. Don't miss any details!

Step 3: Immediately after taking one more look at the entries, hit "Done" and you're all set! Join FormsPal today and instantly get embalming report template, available for download. All adjustments you make are preserved , letting you modify the pdf further as needed. With FormsPal, you can easily complete documents without needing to worry about data breaches or data entries getting shared. Our protected software helps to ensure that your private data is maintained safe.