Making use of the online PDF tool by FormsPal, you can easily fill in or modify cbp form 3124 here. We are devoted to giving you the ideal experience with our tool by consistently presenting new capabilities and upgrades. Our tool is now even more helpful as the result of the most recent updates! Currently, editing documents is a lot easier and faster than ever before. If you're looking to get going, here is what it takes:
Step 1: Click on the "Get Form" button in the top part of this webpage to open our PDF tool.
Step 2: After you launch the file editor, you'll see the document prepared to be completed. Other than filling out various fields, it's also possible to perform many other things with the file, that is writing your own words, modifying the initial text, adding graphics, putting your signature on the PDF, and a lot more.
Completing this form needs focus on details. Make sure each and every field is filled out correctly.
1. The cbp form 3124 involves particular information to be entered. Be sure the subsequent blank fields are complete: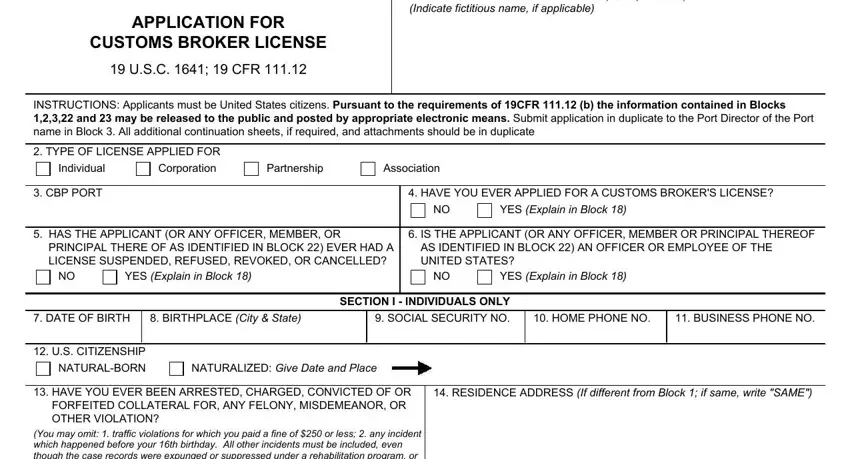 2. When this part is filled out, proceed to type in the applicable information in all these: HAVE YOU EVER BEEN ARRESTED, YES Explain in Block, IN THE LAST YEARS HAVE YOU OR A, YES Explain in Block, DO YOU PROPOSE TO ENGAGE IN THE, ON YOUR OWN INDIVIDUAL ACCOUNT, AS A MEMBER OF A PARTNERSHIP State, AS AN OFFICER OF AN ASSOCIATION, AS AN OFFICER OF A CORPORATION, AS AN EMPLOYEE State name and, LIST THE NAMES ADDRESSES AND, and REMARKS In responding to.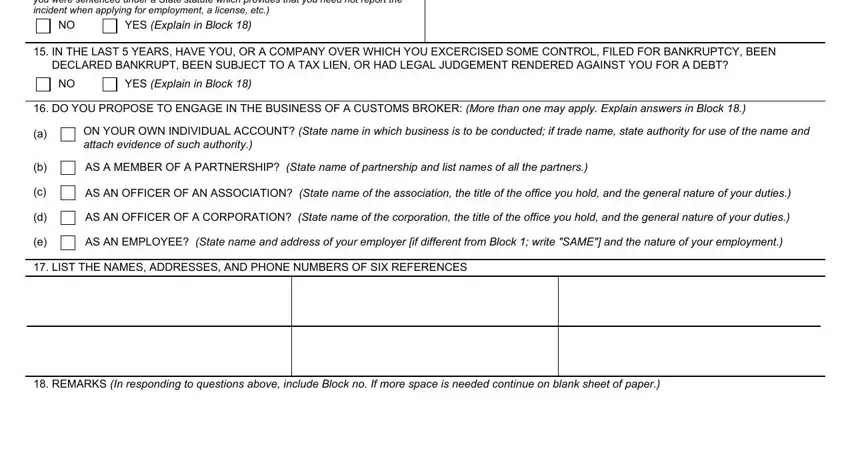 Always be very careful when filling out REMARKS In responding to and YES Explain in Block, because this is where a lot of people make errors.
3. In this particular stage, check out DATE APPLICANT WAS ORGANIZED, STATE WHERE ORGANIZED, ATTACHMENTS Copy of articles of, Evidence of the partnership copy, LIST THE NAMES ADDRESSES TITLES, and LIST THE NAMES ADDRESSES TITLES. All of these will have to be taken care of with utmost attention to detail.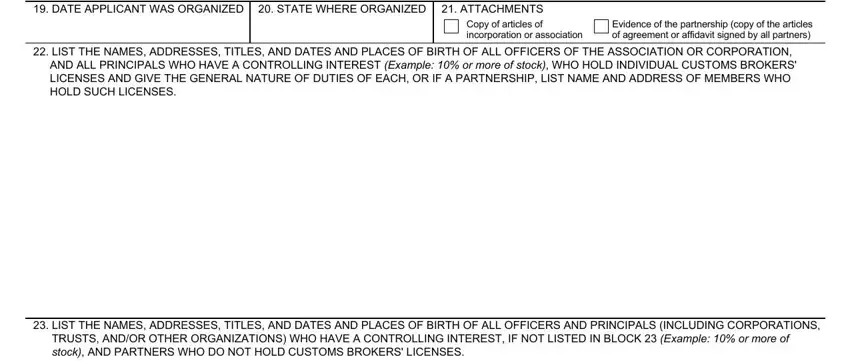 4. Filling in WARNING Any misstatement of, SECTION III CERTIFICATION ALL, INDIVIDUAL, ASSOCIATION CORPORATION OR, I certify that the statements, and I certify that I am an officer or is essential in the fourth step - you should definitely be patient and be mindful with each field!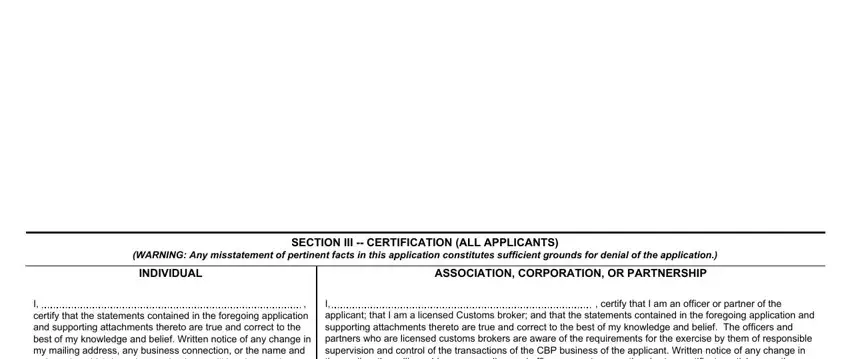 5. And finally, the following final section is what you will need to finish before submitting the form. The blanks in question are the next: I certify that the statements, I certify that I am an officer or, SIGNATURE, DATE, Privacy Act Notice Pursuant to the, Disclosure of the requested, Paperwork Reduction Act Statement, CBP Form, and Page of.

Step 3: Proofread all the information you've inserted in the form fields and then press the "Done" button. Make a free trial account with us and get immediate access to cbp form 3124 - available in your FormsPal cabinet. At FormsPal, we do everything we can to make certain that all your information is maintained secure.