Whenever you would like to fill out Cbp Form 3347, you won't have to download any kind of applications - just try using our online tool. We are focused on providing you with the ideal experience with our tool by constantly introducing new capabilities and improvements. Our tool has become much more user-friendly as the result of the latest updates! So now, filling out PDF files is a lot easier and faster than ever. With some easy steps, you may start your PDF journey:
Step 1: Just press the "Get Form Button" above on this site to access our pdf file editing tool. Here you will find all that is necessary to fill out your document.
Step 2: After you start the PDF editor, you'll notice the document all set to be filled out. Aside from filling out different fields, you could also do many other actions with the PDF, namely adding custom textual content, modifying the original textual content, adding images, putting your signature on the PDF, and more.
Pay attention when filling out this pdf. Make certain every single field is filled out properly.
1. The Cbp Form 3347 needs certain information to be entered. Be sure the following fields are completed: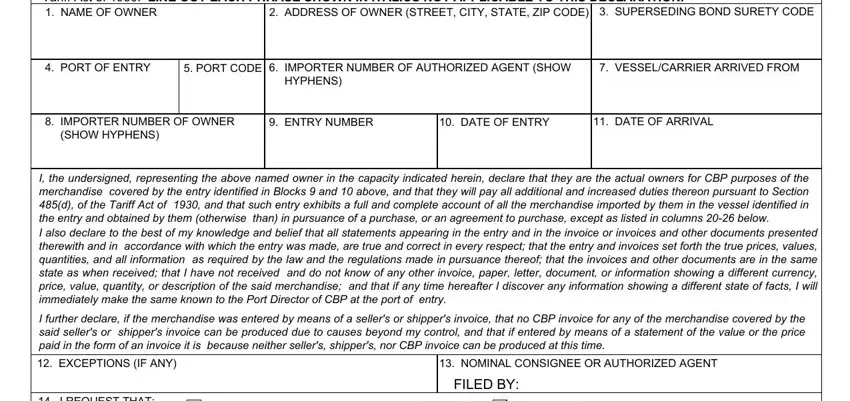 2. Once your current task is complete, take the next step – fill out all of these fields - I REQUEST THAT, BILLS REFUNDS AND NOTICES OF, BILLS ONLY, CHECKS FOR REFUNDS ONLY, NOTICES OF LIQUIDATION ONLY, BE ADDRESSED TO ME IN CARE OF THE, SIGNATURE OF PRINCIPAL MEMBER OF, TITLE, ADDRESS OF PRINCIPAL MEMBER OF, EXECUTE THIS PORTION ONLY IF, SUFFIX, NAME, OR IF NO EMPLOYER NUMBER SSN OF, ADDRESS STREET CITY STATE ZIP CODE, and OR IF NEITHER OF THE ABOVE NUMBERS with their corresponding information. Make sure to double check that everything has been entered correctly before continuing!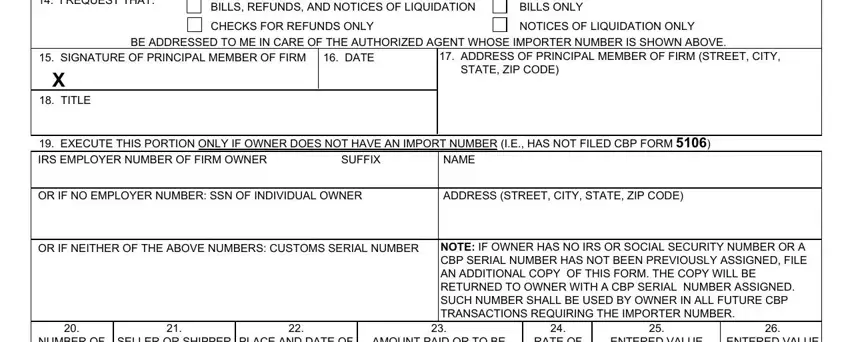 Always be extremely attentive while filling in SIGNATURE OF PRINCIPAL MEMBER OF and ADDRESS OF PRINCIPAL MEMBER OF, as this is the section in which most people make errors.
3. In this particular part, review NUMBER OF PACKAGES, SELLER OR SHIPPER, PLACE AND DATE OF, AMOUNT PAID OR TO BE, INVOICE, PAID IN FOREIGN CURRENCY, RATE OF EXCHANGE, ENTERED VALUE, FOREIGN CURRENCY, ENTERED VALUE US DOLLARS, and CBP Form. Every one of these should be taken care of with highest focus on detail.

Step 3: Prior to submitting this form, ensure that all blank fields are filled out properly. The moment you determine that it's good, click on "Done." Try a free trial account with us and gain immediate access to Cbp Form 3347 - with all transformations saved and accessible from your personal cabinet. We don't sell or share any details that you enter when completing forms at our site.