Using PDF forms online is always super easy with this PDF tool. Anyone can fill out Cbp Form 3461 here and try out various other functions we provide. The tool is constantly maintained by our team, getting new functions and growing to be greater. For anyone who is looking to get going, here is what it will require:
Step 1: Click on the "Get Form" button above. It will open up our pdf tool so that you could start filling out your form.
Step 2: After you launch the editor, you will find the form made ready to be filled in. Aside from filling in various blanks, you might also do some other actions with the Document, that is putting on your own textual content, modifying the initial text, adding images, signing the form, and more.
With regards to the blank fields of this specific document, here's what you need to do:
1. Begin filling out the Cbp Form 3461 with a group of essential blank fields. Gather all of the information you need and be sure there's nothing left out!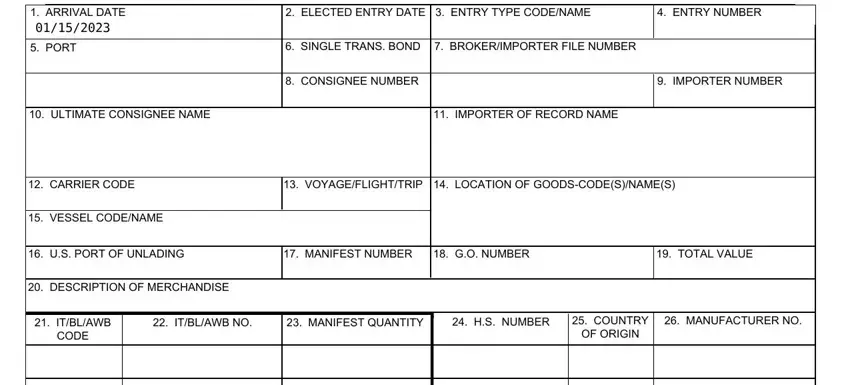 2. After completing this step, head on to the subsequent part and complete the necessary particulars in these fields - CERTIFICATION, CBP USE ONLY, I hereby make application for, SIGNATURE OF APPLICANT, OTHER AGENCY ACTION REQUIRED NAMELY, PHONE NO, DATE, CBP EXAMINATION REQUIRED, BROKER OR OTHER GOVT AGENCY USE, ENTRY REJECTED BECAUSE, DELIVERY, SIGNATURE, AUTHORIZED, and DATE.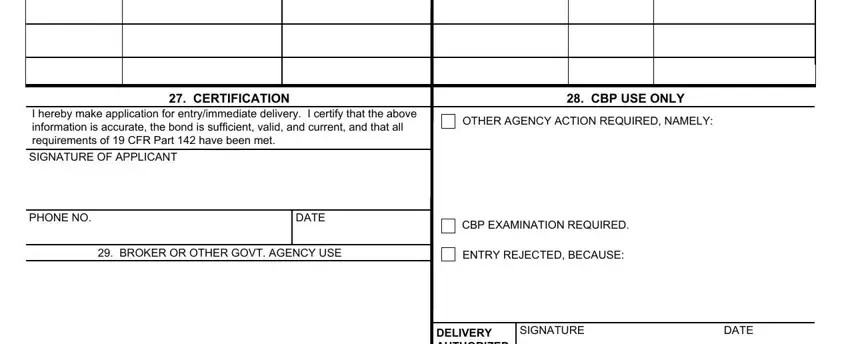 Be really attentive while completing CBP EXAMINATION REQUIRED and ENTRY REJECTED BECAUSE, as this is where a lot of people make errors.
Step 3: Prior to finishing the file, make certain that blanks were filled in properly. When you think it's all fine, click "Done." Sign up with us today and instantly get Cbp Form 3461, ready for downloading. All changes you make are preserved , letting you customize the file further as needed. At FormsPal, we do everything we can to be certain that all of your information is stored secure.