Working with PDF forms online is certainly super easy with this PDF editor. You can fill out Cbp Form 400 here and use several other functions we offer. To retain our tool on the forefront of efficiency, we strive to put into practice user-driven capabilities and improvements regularly. We're routinely thankful for any suggestions - join us in remolding the way you work with PDF docs. With just a few easy steps, you'll be able to start your PDF editing:
Step 1: Firstly, open the tool by pressing the "Get Form Button" in the top section of this webpage.
Step 2: After you launch the tool, you'll see the document made ready to be completed. Aside from filling in various blank fields, you can also perform several other things with the form, that is writing custom words, changing the initial text, adding images, signing the form, and more.
In an effort to finalize this document, be certain to provide the required details in every blank:
1. Complete the Cbp Form 400 with a group of essential fields. Gather all of the information you need and make sure there is nothing omitted!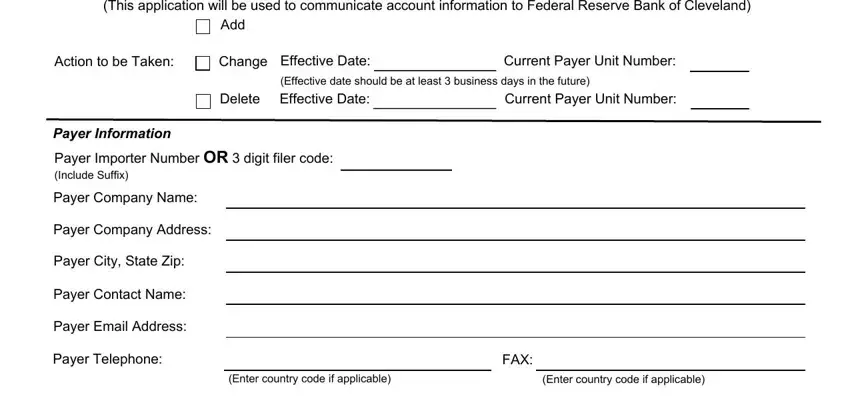 2. Right after this selection of blank fields is done, go on to type in the relevant details in these: Name of Authorizing Company, Please type or print, Signature of Authorizing Company, Banking Information, Bank must be a National Automated, Bank Name, ACH Bank Transit Routing Number, Address, ACH Bank Account Number, To ensure the accuracy of the, BrokerFiler Information, Name of CBP BrokerFiler, digit filer code, Contact Name, and Telephone.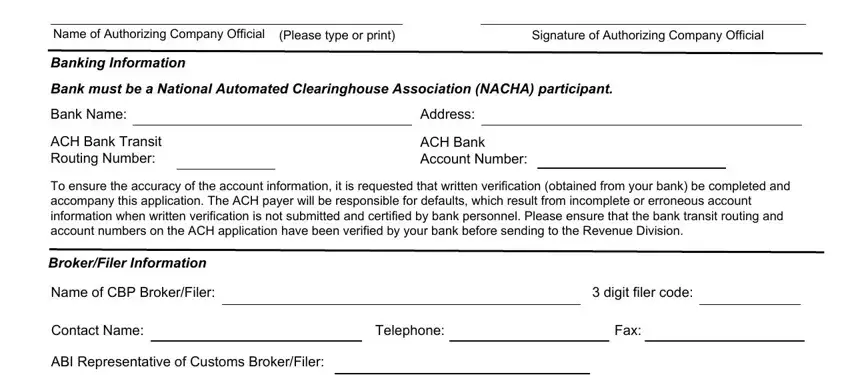 As to Bank Name and Name of CBP BrokerFiler, be sure that you do everything right in this current part. These are viewed as the most significant ones in this form.
Step 3: Right after double-checking the fields you have filled out, click "Done" and you're good to go! Try a 7-day free trial account with us and gain instant access to Cbp Form 400 - downloadable, emailable, and editable inside your personal account. FormsPal is invested in the personal privacy of our users; we ensure that all personal data going through our tool remains secure.