Once you open the online tool for PDF editing by FormsPal, it is possible to fill in or edit exemption overflight here. We are committed to making sure you have the absolute best experience with our tool by constantly releasing new functions and upgrades. Our tool is now much more helpful with the most recent updates! At this point, working with PDF files is simpler and faster than ever before. Getting underway is effortless! All you need to do is take the next simple steps down below:
Step 1: First of all, access the pdf tool by pressing the "Get Form Button" at the top of this webpage.
Step 2: As you start the tool, there'll be the form made ready to be filled in. Aside from filling out different blank fields, you may also do many other things with the form, namely putting on custom textual content, changing the original textual content, adding graphics, putting your signature on the document, and more.
It will be straightforward to complete the form following this helpful tutorial! Here's what you want to do:
1. The exemption overflight requires specific information to be typed in. Make certain the next blanks are filled out: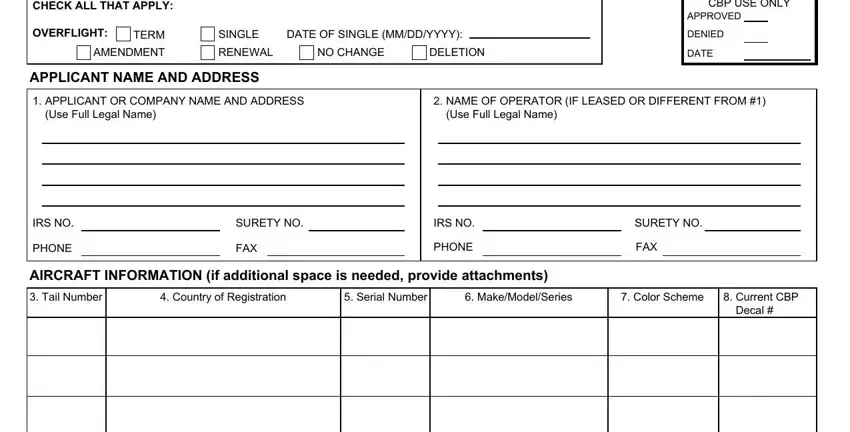 2. Right after completing the last step, head on to the next part and fill out the essential particulars in these fields - INTENDED AIRPORTS OF USE NAME, Arrival Airports Name CityState, Arrival Airport, Foreign Airports Departure Name, Code, and Foreign Airports Departure Code.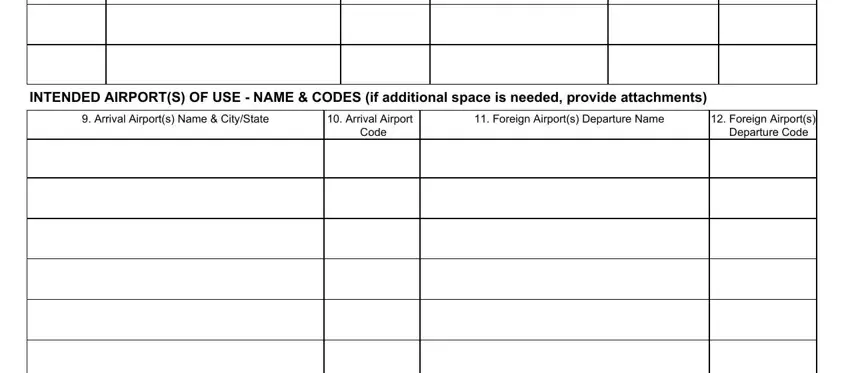 3. In this stage, check out CBP Form. These will need to be filled in with highest focus on detail.

4. This next section requires some additional information. Ensure you complete all the necessary fields - PilotCrew Name Address, Use Full Legal Name, DOB mmddyyyy, SEX, Citizenship, Place of Birth, Passport and or Doc, Social Security optional, Pilot License, USUAL OR ANTICIPATED PASSENGERS if, Name Address Use Full Legal Name, DOB mmddyyyy, SEX, Citizenship Place of Birth, and Passport and or Doc - to proceed further in your process!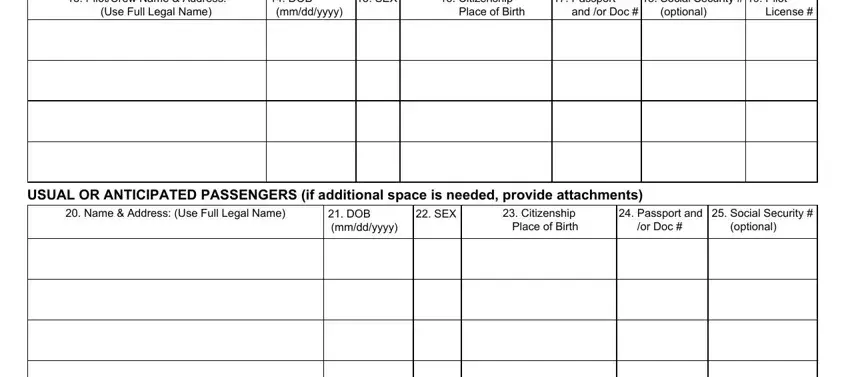 5. While you approach the conclusion of the file, you'll notice a couple more requirements that need to be satisfied. Particularly, USUAL OR ANTICIPATED CARGO if, List Usual Cargo or Baggage, SIGNATURE AND STATEMENT OF, I hereby certify that all the, To the best of your knowledge has, YES Attach Explanation, and This aircraft used with this must be done.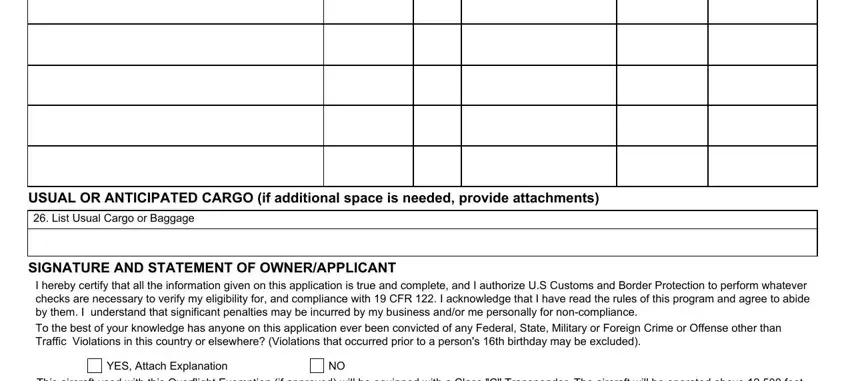 It's easy to make an error when filling out your This aircraft used with this, so you'll want to reread it before you finalize the form.
Step 3: Just after double-checking the completed blanks, hit "Done" and you're done and dusted! Right after registering afree trial account here, you'll be able to download exemption overflight or send it through email immediately. The document will also be available through your personal account page with all your edits. FormsPal is committed to the personal privacy of our users; we make sure that all information put into our system continues to be secure.