Cbp Form 4630 can be filled in online with ease. Just try FormsPal PDF editor to get it done without delay. The tool is continually updated by us, receiving new awesome functions and growing to be a lot more convenient. Starting is effortless! Everything you need to do is follow these basic steps down below:
Step 1: Press the "Get Form" button above. It will open our pdf tool so you could begin filling in your form.
Step 2: After you access the file editor, you will notice the document prepared to be filled in. Other than filling in different fields, you may as well do many other things with the Document, such as adding your own words, changing the initial text, adding graphics, affixing your signature to the PDF, and more.
This form requires particular info to be filled out, so ensure you take your time to fill in what's expected:
1. Complete your Cbp Form 4630 with a selection of major fields. Get all the important information and make sure absolutely nothing is neglected!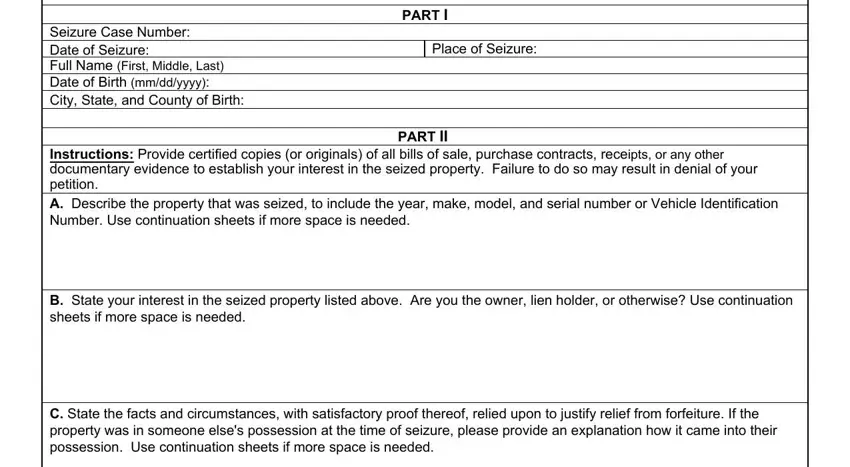 2. The subsequent step is usually to submit the next few blanks: I swear under penalty of perjury, Signature, Date, PART IV Notary Public, STATE OF COUNTY OF, SIGNED AND SWORN TO BEFORE ME ON, DAY OF, NOTARY PUBLIC COUNTY MY COMMISSION, and CBP Form.

You can potentially make errors while completing your Signature, consequently you'll want to take a second look before you'll send it in.
3. This next section is focused on Seizure Case Number, and Full Name First Middle Last - fill out all of these blanks.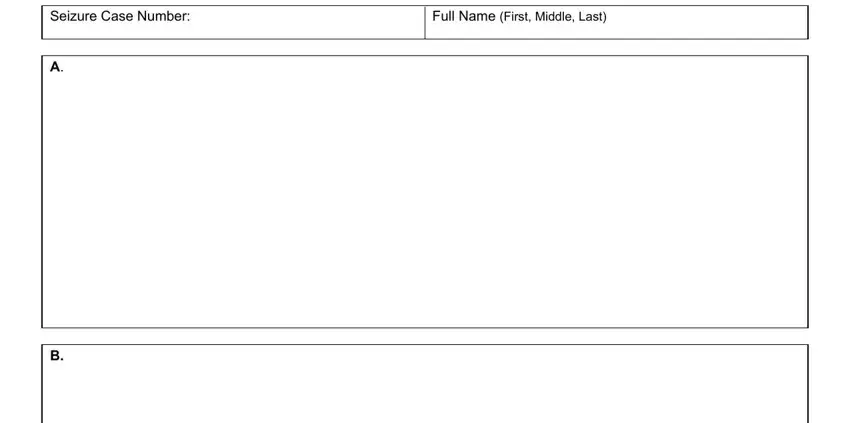 4. The fourth section comes next with these empty form fields to look at: CBP Form.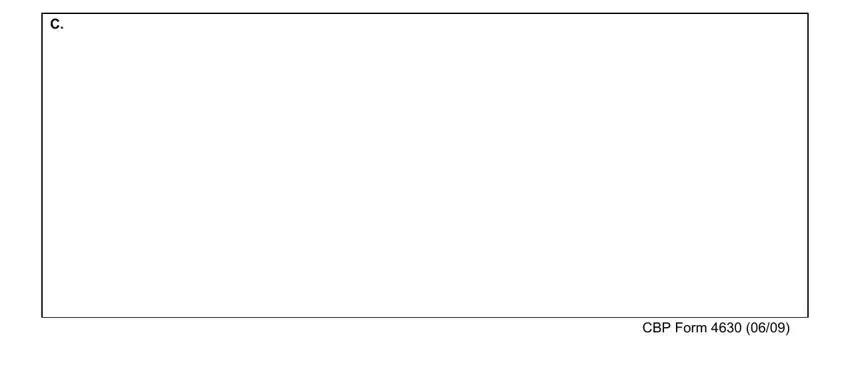 Step 3: Once you've reread the details you filled in, press "Done" to finalize your form at FormsPal. After registering afree trial account with us, it will be possible to download Cbp Form 4630 or email it immediately. The PDF document will also be readily available via your personal account menu with your modifications. With FormsPal, it is simple to complete documents without having to be concerned about personal data incidents or entries being shared. Our protected platform makes sure that your private data is stored safely.