Working with PDF forms online is very easy with our PDF tool. Anyone can fill out illinois child care application pdf here with no trouble. FormsPal expert team is ceaselessly working to expand the editor and help it become much better for clients with its many features. Bring your experience to the next level with continually growing and interesting opportunities we provide! Starting is simple! All you should do is take the next simple steps down below:
Step 1: Simply click on the "Get Form Button" at the top of this page to open our pdf editor. This way, you'll find all that is necessary to work with your document.
Step 2: As soon as you open the tool, you'll notice the form ready to be filled out. In addition to filling out different blanks, you may as well do other actions with the PDF, such as putting on custom text, changing the original textual content, adding illustrations or photos, putting your signature on the form, and a lot more.
This PDF doc requires specific details; to guarantee accuracy, don't hesitate to take into account the following steps:
1. When completing the illinois child care application pdf, be certain to incorporate all of the essential blank fields in their associated part. It will help facilitate the process, enabling your information to be processed swiftly and appropriately.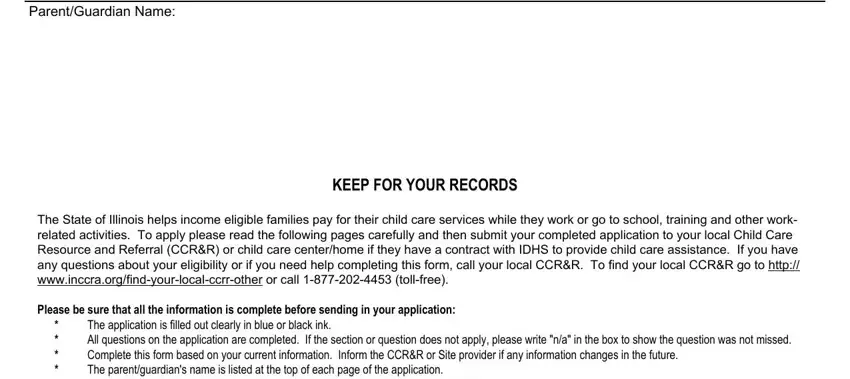 2. Immediately after this part is completed, go to enter the relevant information in all these - CHILD CARE APPLICATION Important, Return your completed application, ParentGuardian Name, PLEASE TYPE OR PRINT CLEARLY IN, SECTION I PARENTGUARDIAN, ParentGuardian First Name, Last Name, Social Security Number Optional, TANF Food Stamps SNAP or Medical, County, Home Address required, Apt, City, State, and Zip Code.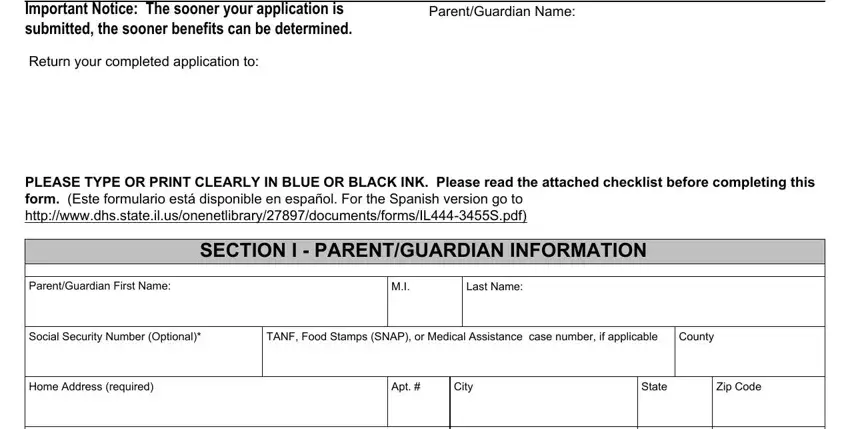 Be really attentive when filling out Zip Code and Social Security Number Optional, since this is where a lot of people make errors.
3. This next part should be fairly simple, Mailing address if different than, City, State, Zip Code, Home Telephone Number, Mobile Telephone Number, Best time to call, Another number where you can be, Email Address, ParentGuardian Date of Birth, Check one, Male OR, Female, Language, and English - all these empty fields needs to be completed here.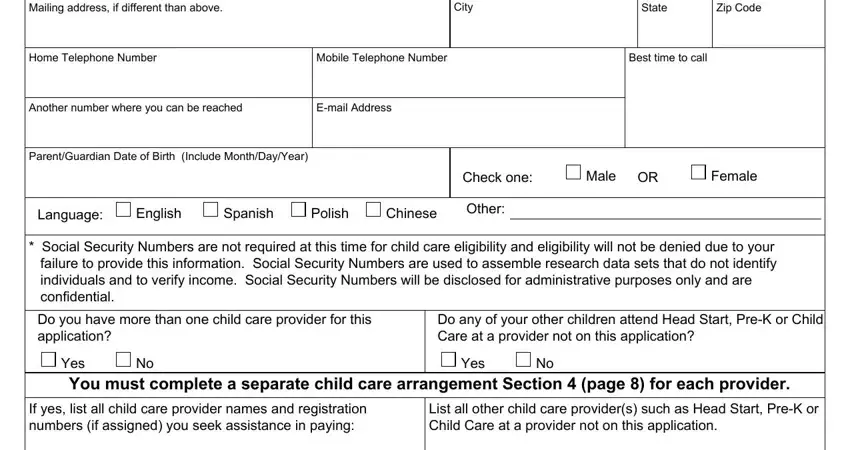 4. The fourth section arrives with the following form blanks to complete: ParentGuardian Name, WORK INFORMATION If you are, Number of jobs currently working, First EmployerCompany Name, Job Title, Address, City, State, Zip Code, Work Telephone Number Ext, Date you started this job, I earn before deductions complete, per hour OR, per month OR, and per year.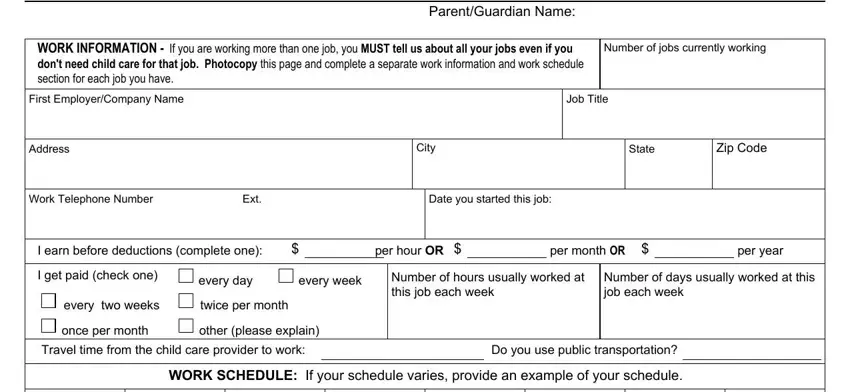 5. When you near the finalization of this document, you'll notice just a few extra points to do. Particularly, MON, TUES, WED, THURS, FRI, SAT, SUN, FROM, AM PM, AM PM, AM PM, AM PM, AM PM, AM PM, and AM PM must be done.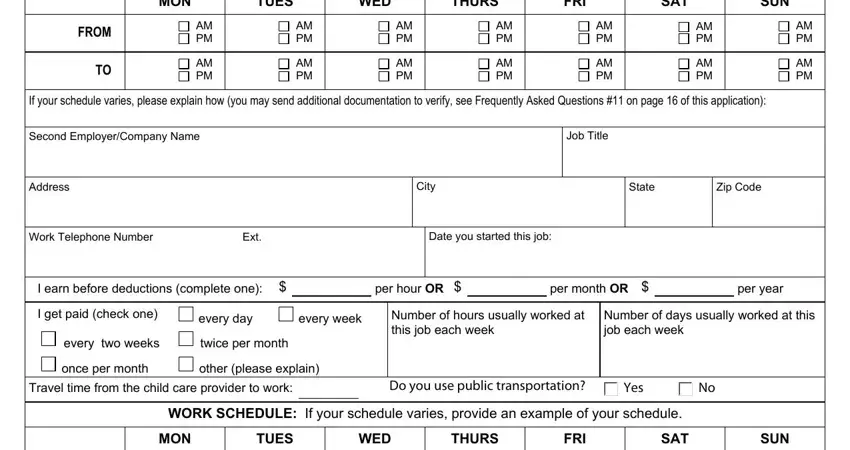 Step 3: Always make sure that your information is right and just click "Done" to progress further. Get hold of your illinois child care application pdf as soon as you subscribe to a 7-day free trial. Instantly use the pdf file from your FormsPal account, with any modifications and changes conveniently saved! When using FormsPal, you can complete forms without worrying about database incidents or data entries getting distributed. Our secure software helps to ensure that your private data is kept safely.