When working in the online editor for PDFs by FormsPal, you are able to fill out or modify sf95 form here and now. Our team is dedicated to providing you with the best possible experience with our editor by consistently adding new capabilities and enhancements. With all of these updates, using our tool gets easier than ever! In case you are seeking to get started, this is what it will take:
Step 1: Access the form inside our tool by pressing the "Get Form Button" at the top of this page.
Step 2: As soon as you launch the file editor, you'll see the document prepared to be filled in. Apart from filling out different blanks, you can also perform some other things with the Document, such as writing custom textual content, editing the initial text, adding graphics, putting your signature on the PDF, and more.
As a way to complete this PDF document, ensure that you type in the information you need in every single blank:
1. Fill out the sf95 form with a number of essential blanks. Get all the important information and make sure there is nothing left out!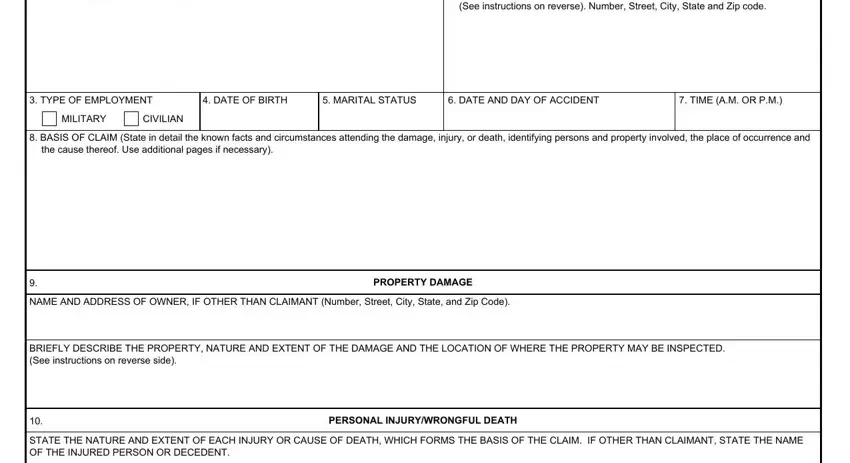 2. When the last section is done, you have to include the needed specifics in WITNESSES, NAME, ADDRESS Number Street City State, See instructions on reverse, AMOUNT OF CLAIM in dollars, a PROPERTY DAMAGE, b PERSONAL INJURY, c WRONGFUL DEATH, d TOTAL Failure to specify may, forfeiture of your rights, I CERTIFY THAT THE AMOUNT OF CLAIM, a SIGNATURE OF CLAIMANT See, b PHONE NUMBER OF PERSON SIGNING, CIVIL PENALTY FOR PRESENTING, and FRAUDULENT CLAIM so that you can move forward further.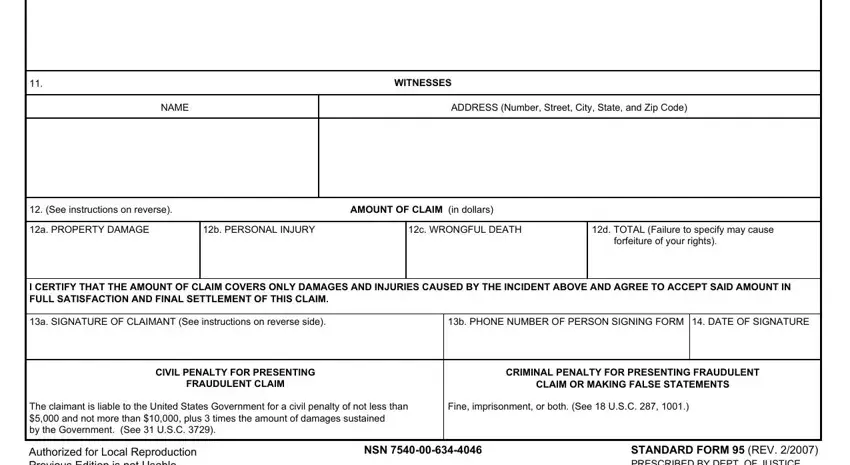 It's easy to make a mistake while filling in your I CERTIFY THAT THE AMOUNT OF CLAIM, and so you'll want to reread it before you finalize the form.
3. This next section should be pretty simple, In order that subrogation claims, Do you carry accident Insurance, Yes, If yes give name and address of, INSURANCE COVERAGE, Have you filed a claim with your, Yes, If deductible state amount, If a claim has been filed with, Do you carry public liability and, Yes, If yes give name and address of, Claims presented under the Federal, and INSTRUCTIONS - all these fields is required to be filled in here.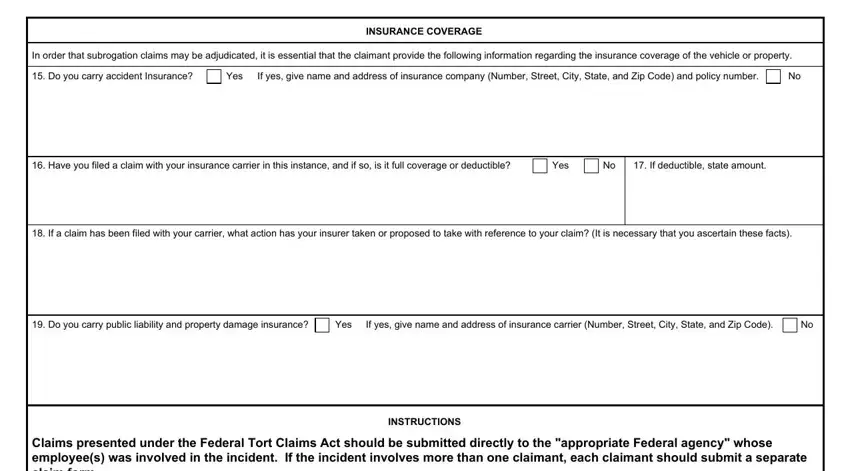 Step 3: Look through what you have inserted in the blank fields and then hit the "Done" button. Create a 7-day free trial subscription with us and get instant access to sf95 form - which you can then work with as you would like from your FormsPal cabinet. FormsPal guarantees your information confidentiality by using a protected method that in no way records or distributes any sensitive information involved. Be confident knowing your paperwork are kept confidential every time you use our tools!