It is possible to work with form 945 instructions without difficulty using our PDFinity® PDF editor. FormsPal team is devoted to providing you with the perfect experience with our editor by continuously introducing new functions and improvements. Our tool is now much more user-friendly thanks to the latest updates! Currently, working with PDF forms is simpler and faster than ever. This is what you'd need to do to start:
Step 1: Press the "Get Form" button above on this webpage to get into our editor.
Step 2: When you launch the tool, there'll be the form prepared to be completed. Besides filling out various fields, you can also perform other sorts of things with the file, including adding custom text, modifying the original textual content, inserting illustrations or photos, affixing your signature to the PDF, and a lot more.
This form will require particular information to be typed in, therefore be sure to take the time to enter what is requested:
1. It is important to fill out the form 945 instructions correctly, thus take care while filling out the parts that contain these fields: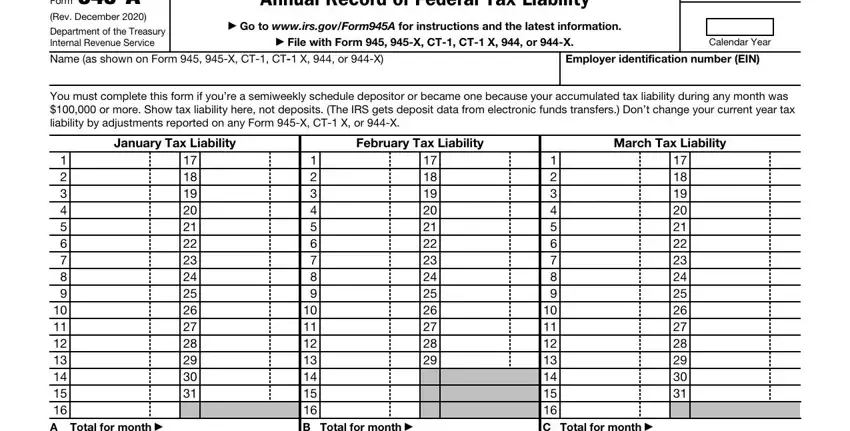 2. Soon after the previous section is done, go on to enter the suitable information in these - A Total for month, B Total for month, C Total for month, April Tax Liability, May Tax Liability, June Tax Liability, D Total for month, E Total for month, F Total for month, For Paperwork Reduction Act Notice, Cat No M, and Form A Rev.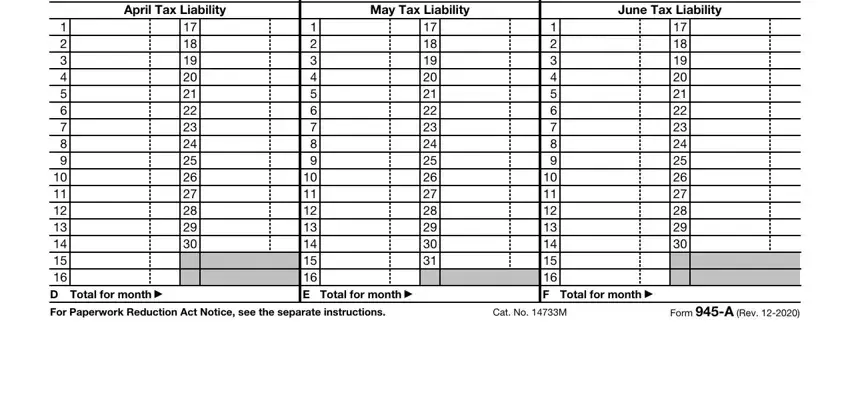 3. The following section is mostly about July Tax Liability, August Tax Liability, September Tax Liability, G Total for month, H Total for month, I Total for month, October Tax Liability, November Tax Liability, December Tax Liability, J Total for month, K Total for month, and L Total for month - complete all of these fields.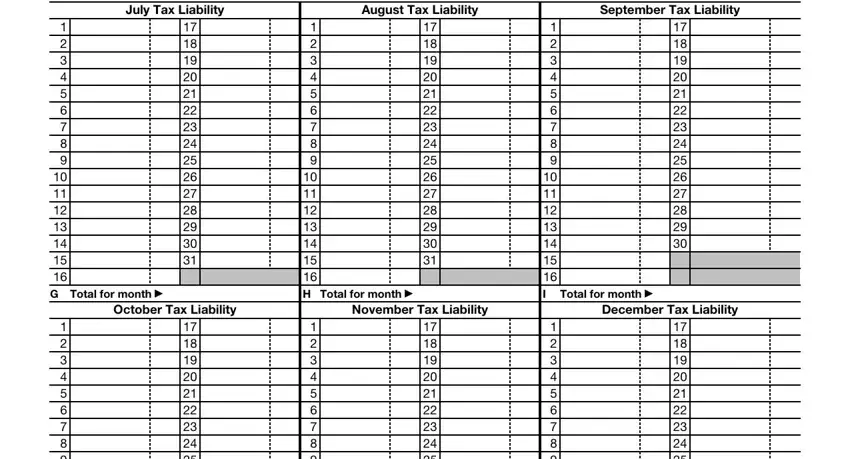 Always be very attentive while filling in August Tax Liability and H Total for month, because this is the section in which a lot of people make a few mistakes.
4. The form's fourth subsection arrives with these blank fields to enter your information in: J Total for month, K Total for month, L Total for month, on Form CT line on Form, and Form A Rev.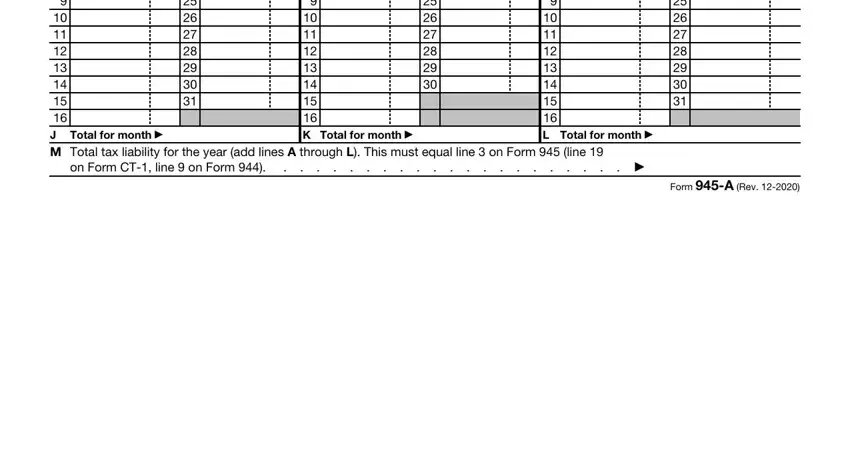 Step 3: You should make sure your information is correct and then press "Done" to finish the process. Get the form 945 instructions when you join for a 7-day free trial. Instantly gain access to the pdf from your FormsPal cabinet, with any edits and adjustments being all preserved! FormsPal provides secure document editing with no personal information record-keeping or distributing. Rest assured that your details are safe here!