It is possible to prepare the form d1 form with this PDF editor. The next actions can help you quickly get your document ready.
Step 1: Choose the "Get Form Now" button to get going.
Step 2: Now you will be on the file edit page. It's possible to add, modify, highlight, check, cross, add or delete areas or phrases.
Provide the necessary information in every part to fill in the PDF form d, 1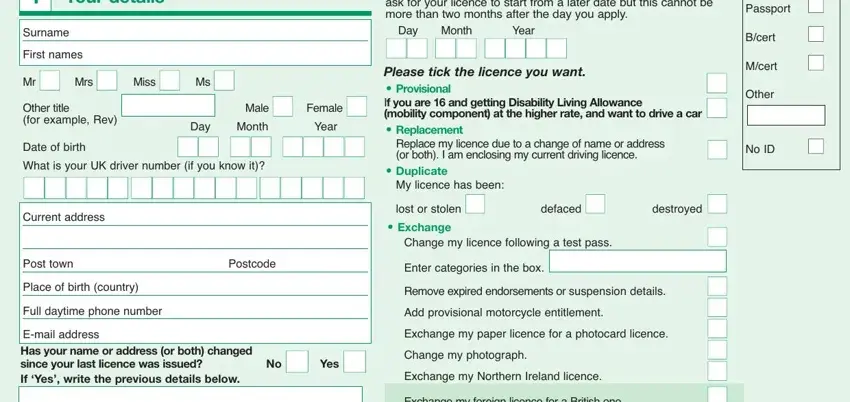 Put the essential data in the Has your name or address (or both), No ■■ Yes ■■, Residency, Have you lived in another EC or, Day, Month, Year, What date did you come to ■■■■, Your eyesight, Enter categories in the box, Exchange my Northern Ireland, Exchange my foreign licence for a, Which country issued it, Did you pass your test in that, Yes ■■ No ■■, If 'No', • Renew, At age 70 or over, ■■ ■■ For medical reasons Revoked, You must fill in both questions 2, a Organ donation, or corrective lenses if necessary), Yes ■■ No ■■ Yes ■■ No ■■, and I want to donate an organ to help box.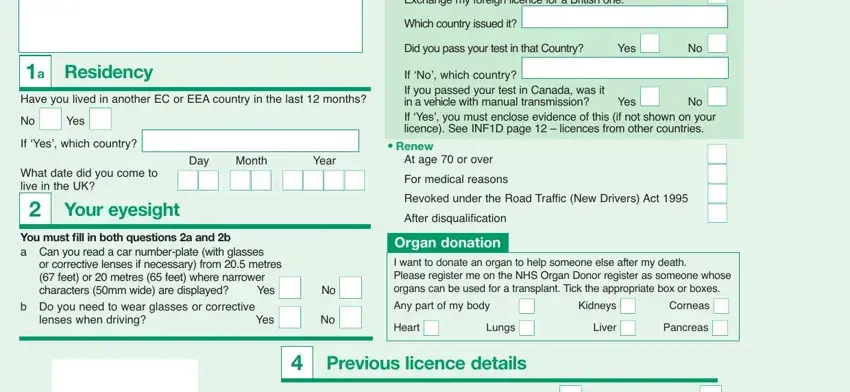 In the Back of photograph, Was your last licence a: If you, Day Month, Year, Are you currently d, is, qu, ali, ed in, If 'Yes', No ■■ Yes ■■, What is the expiry date shown on, Day, Month, Year, An executive agency of the, and Department for Transport box, highlight the relevant information.

The Tick the documents you are, Tick the documents you are also, Signing your photograph, If you are providing identity, TO BE FILLED IN BY THE PERSON, 3 Repeated attacks of sudden, No ■■ Yes ■■ If you have answered, 12 Narcolepsy or sleep ap, no, ea 10 Persistent drug misuse or, 6 An implanted cardiac pacemaker, 5 Diabetes controlled by tablets, 4 Diabetes controlled by insulin, 11 Parkinson, s disease, 13 Stroke, one month, 14 Any type of brain surgery, ■■ ■■ 15 Any other chronic, 18 Serious psychiatric illness or, 19 Total loss of sight in one eye, and 20 Any condition affecting both field needs to be applied to record the rights or responsibilities of both sides.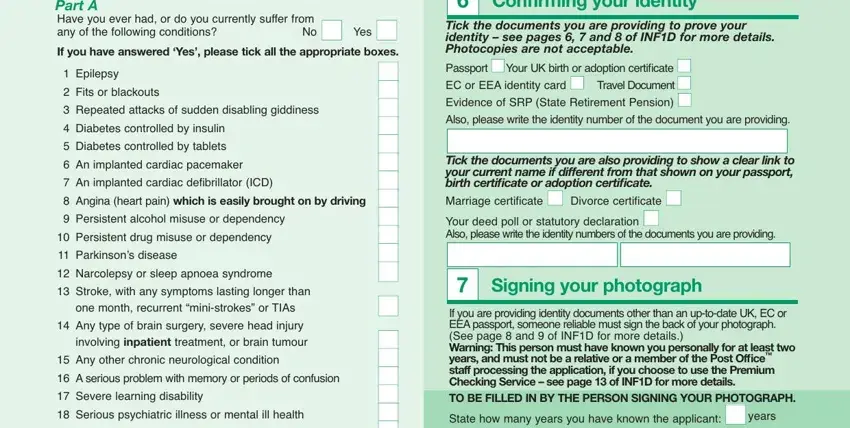 Terminate by reading the next fields and preparing them as required: TO BE FILLED IN BY THE PERSON, Signature, Full name, Business or home address, Date, Postcode, Full daytime phone number, Profession Warning: We will make, Qu, ali, cations Post Of, ce date stamp, 20 Any condition affecting both, if you only have one eye (not, 21 Any condition affecting your, 22 Any persisting limb problem, driving to be restricted to, If you have answered YES to one of, Part B Only fill in this part if, What is the condition, and Your signature.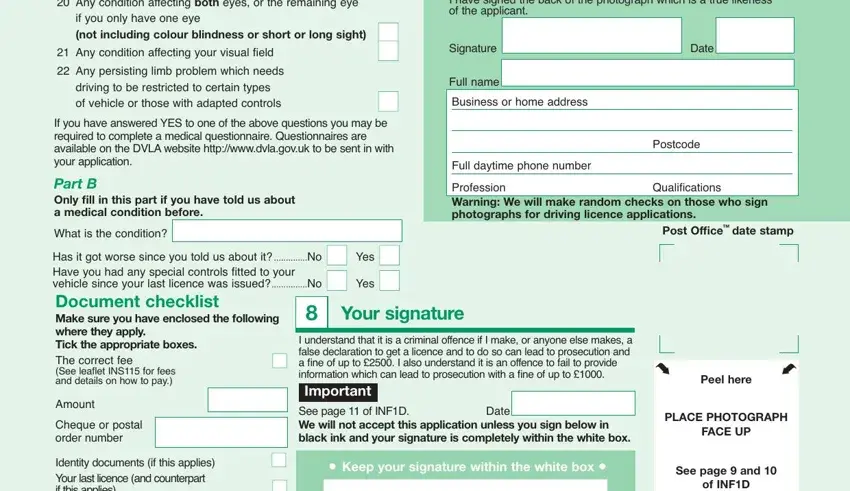 Step 3: The moment you pick the Done button, your final document is conveniently transferable to all of your gadgets. Or, it is possible to deliver it by using email.
Step 4: Make sure to stay away from future difficulties by having minimally a pair of duplicates of your document.