dd 1081 can be filled in online effortlessly. Simply open FormsPal PDF tool to get it done right away. FormsPal team is committed to making sure you have the perfect experience with our tool by regularly presenting new features and upgrades. With these improvements, working with our tool gets better than ever before! To get started on your journey, go through these simple steps:
Step 1: Just click the "Get Form Button" at the top of this site to open our pdf form editor. This way, you will find all that is needed to fill out your document.
Step 2: This editor will allow you to change PDF forms in a range of ways. Enhance it by writing personalized text, adjust existing content, and add a signature - all at your convenience!
This PDF form will involve specific details; in order to guarantee accuracy, you need to take into account the following suggestions:
1. Begin filling out the dd 1081 with a group of necessary blanks. Get all the required information and make sure there's nothing omitted!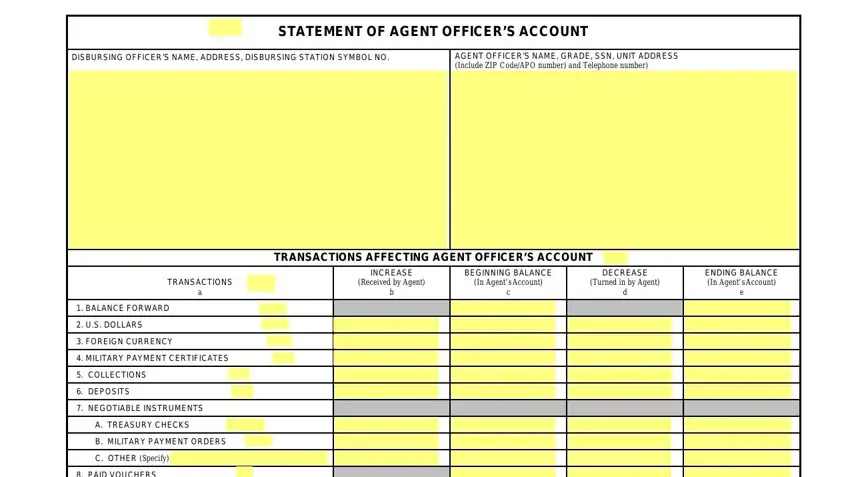 2. Right after performing the previous step, head on to the subsequent part and enter the necessary particulars in all these fields - PAID VOUCHERS, INCORRECT VOUCHERS RETURNED, TOTAL FUNDS IN HANDS OF AGENT, DISBURSING OFFICER, AGENT OFFICER, STATEMENTS, ON ADVANCE I HAVE INTRUSTED FUNDS, ON ADVANCE I AS AGENT OFFICER HAVE, FUNDS ANDOR OTHER ITEMS AS, DATE, SIGNATURE OF DISBURSING OFFICER, DATE, SIGNATURE OF AGENT OFFICER, ON RETURN I HAVE RECEIVED FUNDS, and ON RETURN THE ABOVE STATEMENT OF.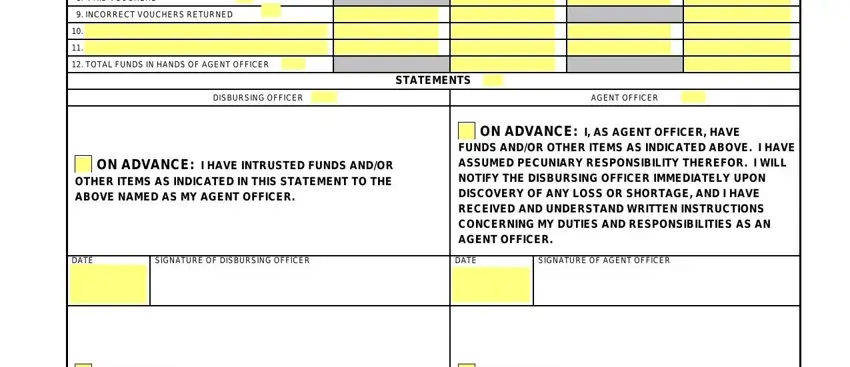 In terms of FUNDS ANDOR OTHER ITEMS AS and ON ADVANCE I AS AGENT OFFICER HAVE, ensure you get them right here. Those two could be the most significant fields in this page.
3. Completing DATE, SIGNATURE OF DISBURSING OFFICER, DATE, SIGNATURE OF AGENT OFFICER, DD Form MAY EG, PREVIOUS EDITION IS OBSOLETE, and Designed using Perform Pro WHSDIOR is essential for the next step, make sure to fill them out in their entirety. Don't miss any details!

Step 3: Go through the information you have entered into the form fields and press the "Done" button. Create a 7-day free trial option with us and acquire instant access to dd 1081 - download or modify inside your personal account page. FormsPal ensures your data privacy by using a secure method that never saves or distributes any sort of private data involved in the process. Rest assured knowing your documents are kept protected whenever you work with our tools!