Making use of the online PDF tool by FormsPal, you're able to fill out or alter FALSE right here and now. The tool is continually upgraded by our staff, getting new awesome functions and growing to be better. For anyone who is seeking to get started, here is what it requires:
Step 1: Simply press the "Get Form Button" in the top section of this site to start up our form editing tool. Here you will find everything that is needed to fill out your document.
Step 2: This editor helps you work with the majority of PDF forms in various ways. Improve it by writing customized text, adjust what is originally in the file, and place in a signature - all at your fingertips!
This PDF form requires particular details to be entered, so you should take whatever time to provide exactly what is requested:
1. Begin filling out the FALSE with a number of major fields. Note all of the necessary information and ensure there is nothing omitted!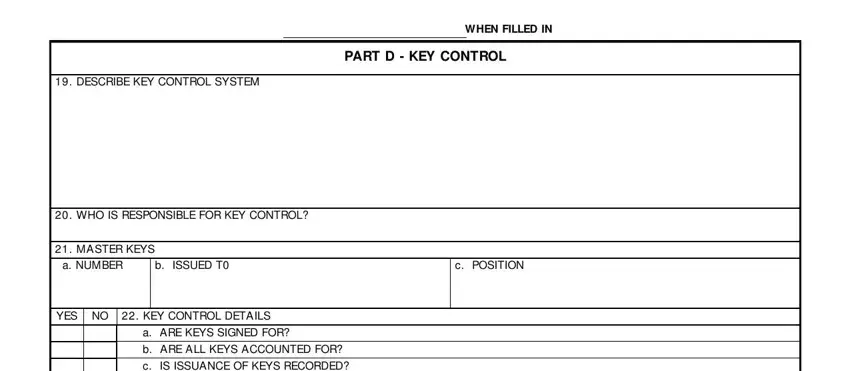 2. After filling out the previous part, go on to the next part and fill out the necessary particulars in all these blank fields - c IS ISSUANCE OF KEYS RECORDED, d IF YES IS REPORT KEPT UP TO DATE, e ARE KEYS REMOVED FROM VEHICLES, f DESCRIBE THE PROCEDURE FOR, ADDITIONAL COMMENTS ON KEY CONTROL, PERIMETER ALARM SYSTEM, YES NO, X and complete as applicable, PART E PERIM ETER ALARM SYSTEM, ARE PERIMETER ALARMS EMPLOYED IF, and a NAME OF MANUFACTURER.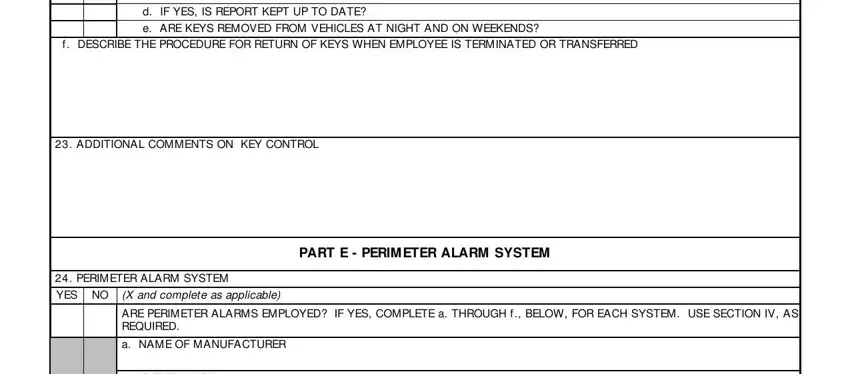 3. Completing b IS THE ALARM, LOCAL, CENTRAL STATION, SILENT, DIRECT POLICE, c INSTALLATION DATE YYMMDD, d HOW MANY POINTS ARE ALARMED, e LOCATION OF MASTER CONTROL BOX, f LOCATION OF EACH ALARM CONTACT, DD Form JAN, Page of, Pages, and WHEN FILLED IN is essential for the next step, make sure to fill them out in their entirety. Don't miss any details!

4. The next section will require your input in the following places: INSPECTION AND MAINTENANCE For, b INSPECTED BY NAME Last First, TITLE, WHEN FILLED IN, c DATE OF LAST SERVICE YYMMDD, d SERVICED BY NAME Last First, TITLE, e IS THERE A MAINTENANCE CONTRACT, f MAINTENANCE COST, WHAT ARE THE LOCAL POLICIESLAWS, WHAT IS THE RESPONSE TIME TO AN, ALARM SYSTEM DETAILS, YES NO, X as appropriate and add any, and a ARE WIRES GOING TO THE LOCAL. It is important to type in all of the requested information to go forward.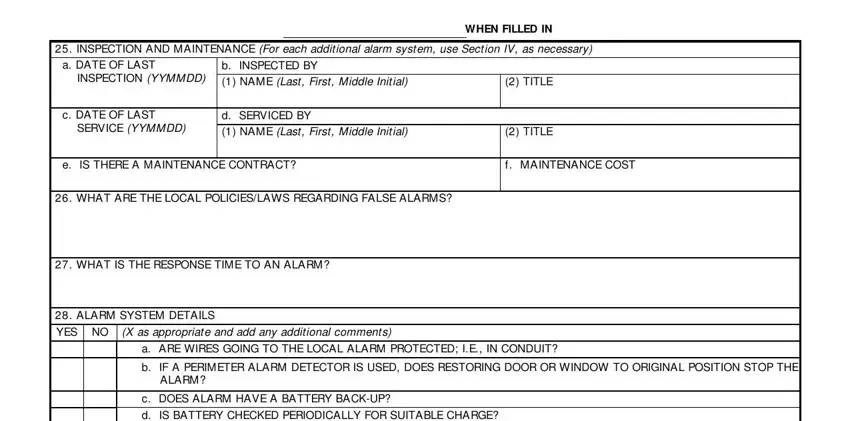 5. As you near the conclusion of the document, there are actually several more requirements that need to be met. Notably, d IS BATTERY CHECKED PERIODICALLY, e ARE DURESS ALARMS USED AT ANY, ADDITIONAL COMMENTS ON ALARM, YES NO, PERIMETER LIGHTING X and complete, ARE ALL PERIMETER AREAS LIGHTED, a IF YES WHAT TYPE OF LIGHTING IS, PART F PERIM ETER LIGHTING, b IF NO EXPLAIN, LIGHTING SYSTEM DETAILS, a IS LIGHTING, MANUAL, AUTOMATIC, b ARE ALL ENTRANCE AND EXIT GATES, and c DOES PERIMETER LIGHTING ALSO must all be filled in.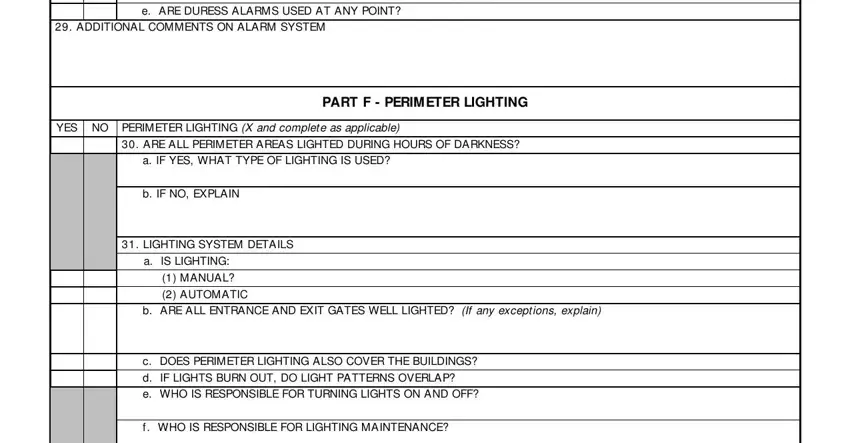 It's very easy to get it wrong when completing the d IS BATTERY CHECKED PERIODICALLY, therefore ensure that you go through it again prior to deciding to submit it.
Step 3: Right after going through the filled in blanks, hit "Done" and you're all set! Join us right now and easily get access to FALSE, available for downloading. All alterations you make are saved , enabling you to change the pdf later if needed. FormsPal guarantees your information privacy by having a secure system that never saves or shares any kind of personal data typed in. Be confident knowing your documents are kept safe whenever you work with our editor!