Using the online tool for PDF editing by FormsPal, it is easy to complete or change dd form 2652 right here and now. The tool is consistently updated by our staff, receiving powerful features and growing to be better. With just a few simple steps, you'll be able to begin your PDF editing:
Step 1: Click on the "Get Form" button above on this page to open our PDF editor.
Step 2: This editor allows you to modify PDF files in various ways. Modify it with your own text, correct what's originally in the document, and place in a signature - all readily available!
Completing this PDF demands care for details. Ensure that each and every blank field is filled in properly.
1. Begin filling out the dd form 2652 with a selection of essential blank fields. Gather all the important information and be sure nothing is neglected!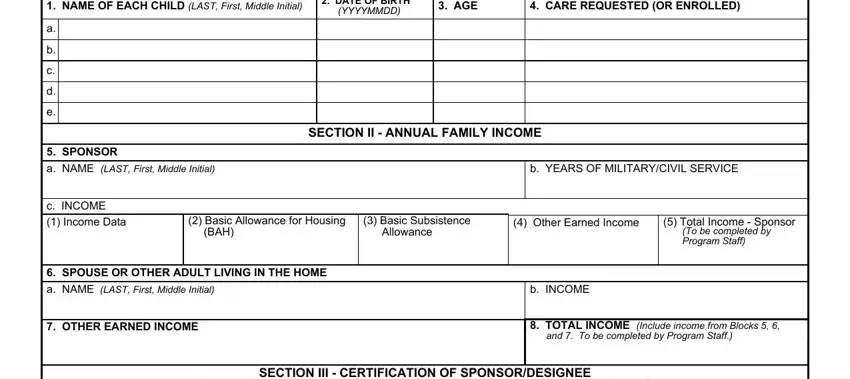 2. After filling in this section, go to the next step and fill in all required details in all these blank fields - SIGNATURE OF SPONSOR, SIGNATURE OF SPOUSE, DATE SIGNED YYYYMMDD, CATEGORY OF APPROVAL, AUTHORIZED FEES, DATE OF APPROVAL YYYYMMDD, NAME OF CHILD DEVELOPMENT PROGRAM, SECTION IV FOR CHILD DEVELOPMENT, DD FORM MAY, PREVIOUS EDITION IS OBSOLETE, and Adobe Designer.

As for PREVIOUS EDITION IS OBSOLETE and Adobe Designer, be sure you review things in this section. These are the key ones in the document.
Step 3: Ensure the details are right and just click "Done" to conclude the process. Go for a free trial subscription with us and get direct access to dd form 2652 - which you can then make use of as you would like from your personal account page. With FormsPal, it is simple to fill out forms without stressing about personal information breaches or entries being distributed. Our secure system makes sure that your personal data is stored safe.