It really is quite simple to fill out the form special compensation. Our software was created to be easy-to-use and allow you to complete any document fast. These are the basic actions to take:
Step 1: Hit the "Get Form Now" button to start out.
Step 2: You can now enhance the form special compensation. You can use the multifunctional toolbar to include, eliminate, and adjust the text of the form.
If you want to prepare the form special compensation PDF, enter the information for all of the sections: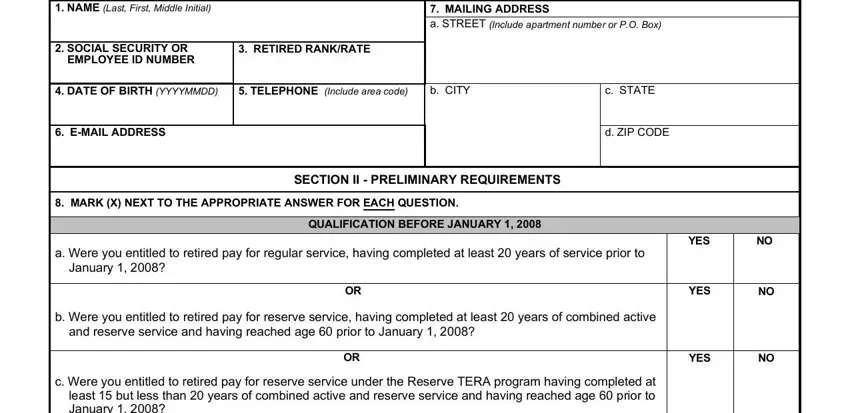 Remember to type in your data in the box QUALIFICATION ON OR AFTER JANUARY, YES, d Are you currently entitled to, physical disabilities not incurred, NOTE If you answered NO to all, SECTION III SERVICE HISTORY You, FROM WHICH SERVICE DID YOU RETIRE, ARMY, NAVYUSMC, AIR FORCE, NOAA CORPS, COAST GUARD, PUBLIC HEALTH, DID YOU SERVE IN ANY OF THE, and WWI.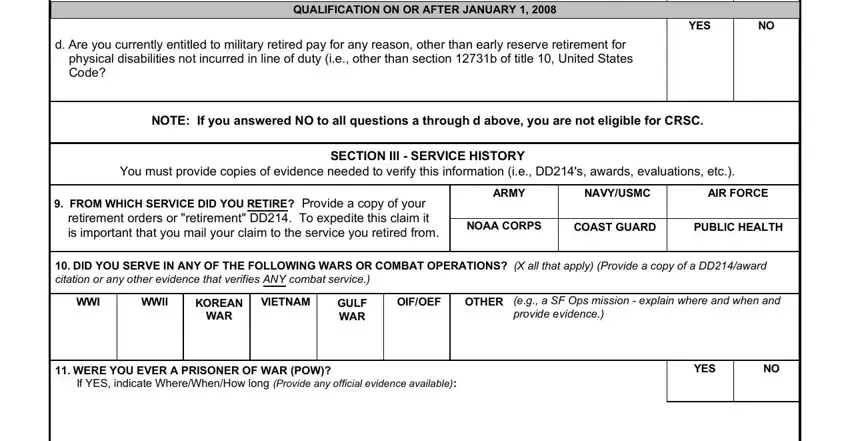 Put down any particulars you are required inside the box NAME Last First Middle Initial, SOCIAL SECURITY OR EMPLOYEE ID, NOTE To ensure the review of all, VA FILE NUMBER If known, SECTION IV REQUEST FOR, DISABILITY DESCRIPTION a TITLE OF, b BODY PART AFFECTED eg right knee, c VA DISABILITY CODE If known, d DATE AWARDED BY VA, e INITIAL RATING BY THE VA, YYYYMMDD, f CURRENT RATING BY, THE VA, g COMBATRELATED CODE Mark X the, and PH PURPLE HEART.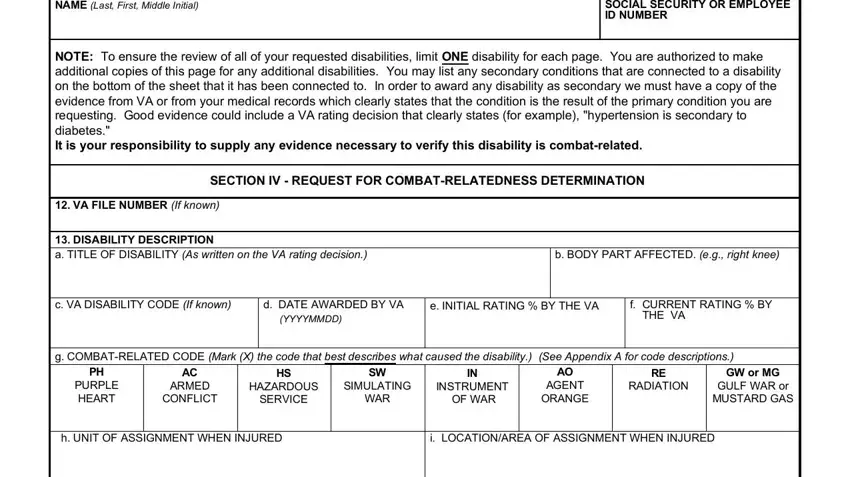 In the section IN YOUR OWN WORDS DESCRIBE THE, k DID YOU RECEIVE A PURPLE HEART, you were awarded a PH and any, l DID VA EVER DOCUMENT THAT THIS, YES, YES, m VA DETERMINED THAT THE FOLLOWING, a above, DISABILITY CODE, DESCRIPTION, AWARDED BY VA, and DATE AWARDED YYYYMMDD, place the rights and responsibilities of the parties.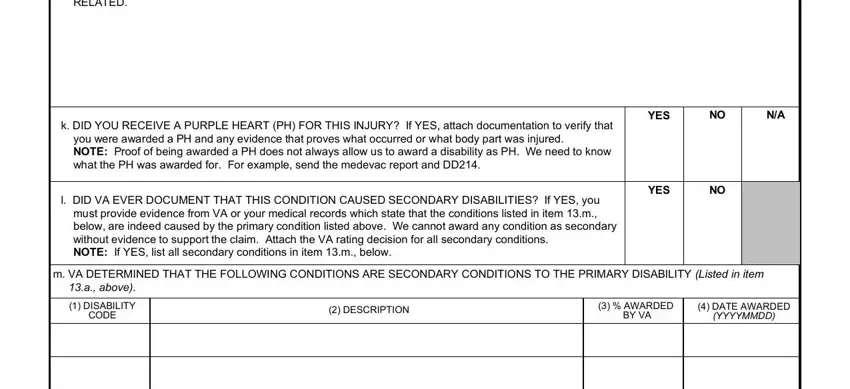 End by looking at the next sections and completing them accordingly: DD FORM JUL, and Page Sheet.

Step 3: When you hit the Done button, your completed document is conveniently exportable to all of your devices. Or alternatively, you might deliver it through email.
Step 4: To avoid possible future problems, take the time to have at the very least two or three duplicates of each separate file.