Our top developers worked hard to develop the PDF editor we are now delighted to present to you. The app will allow you to quickly prepare michigan dhs employment verification form and will save you precious time. You need to simply stick to this specific guide.
Step 1: Hit the "Get Form Now" button to get started on.
Step 2: The document editing page is presently open. Include text or modify existing details.
In order to prepare the form, enter the content the platform will ask you to for each of the appropriate areas: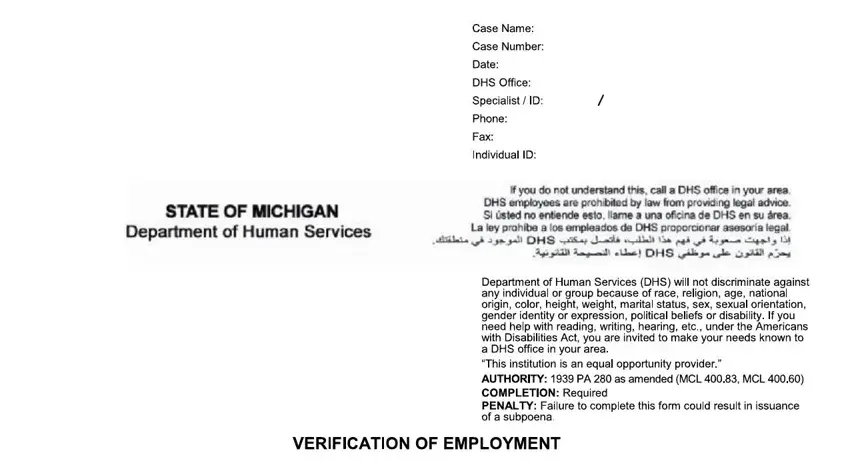 Remember to prepare the EMPLOYER—Please provide the, Please return in the enclosed, Employee Name Address (Number and, Social Security Number City, Zip Code, State, SECTION 1 - EMPLOYMENT INFORMATION, Occupation Date Employment Began, First Check Full First Check, per week, per pay period, Number of Hours Expected to Work, Hour Piece Salary, Differential Pay Day of Week $, Shift Are tips/bonus/commission, Weekly, Yes, Twice monthly, Are they included in gross, Date Employment Ended or Is, Every 2 weeks, Yes, Expected to End, Monthly Other, Average Amount $, No per week per pay period, Employment Status, Employed Previously employed Never, Laid off Quit Fired Other (explain), and Type of Employment Date of Last space with the essential particulars.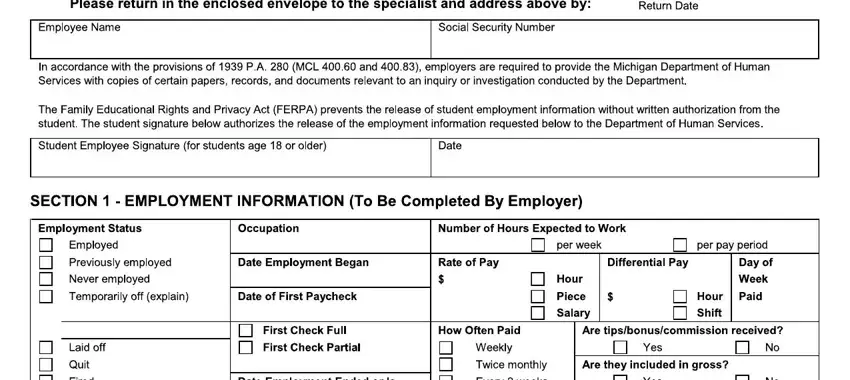 Put down the necessary information when you are on the Estimated Work Schedule (example 9, Tues, Wed, Mon, Thurs, Fri, Sat, Permanent Temporary, Yes, Yes, Does employer offer health plan, Yes, DHS-38 (Rev, SECTION 2 - INSURANCE / RETIREMENT, Is health plan available to, Yes, Health Plan Premium (even if not, per pay, Yes, Does employee have cafeteria-style, other, No If Yes, Hospital Medical Dental Vision None, and Name(s) of Insurance Company(s) field.

Within the part Name Does employee have 401K or, Case Number, Yes SECTION 3 - INCOME INFORMATION, Yes - If Yes, Type, Does / did employee participate in, Amount of Deduction $, Specialist, Employer: Please complete the, From:, To:, Date, Received, Gross Income, Amount of Tip, Included in Gross, Hours Worked, Date, Received, Gross Income, Amount of Tip, Included in Gross, and Hours Worked, describe the rights and obligations of the sides.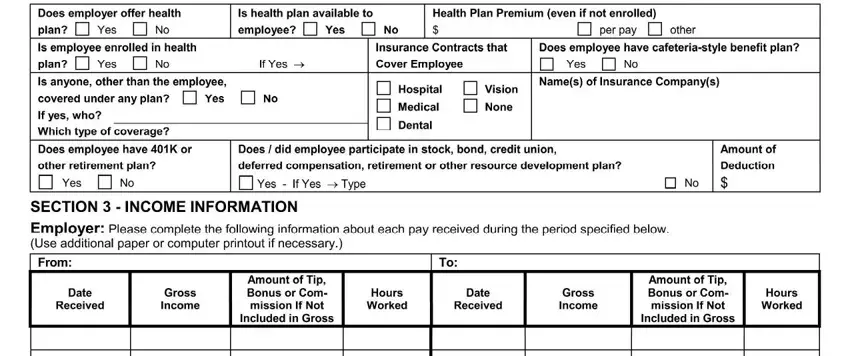 End up by looking at all these fields and filling them out as required: SECTION 4 - DISABILITY / WORKERS, Were medical or disability, Yes, From:, To: Was Worker's Compensation paid, Yes, From: To:, Name of Insurer Who Paid These, Address (Number and Street Name), City, Date Awarded, Is Worker's Compensation claim, Date Filed, SECTION 5 - ADDITIONAL, Zip Code, Weekly Monthly, State, Amount Awarded, Yes, and Next Court Date.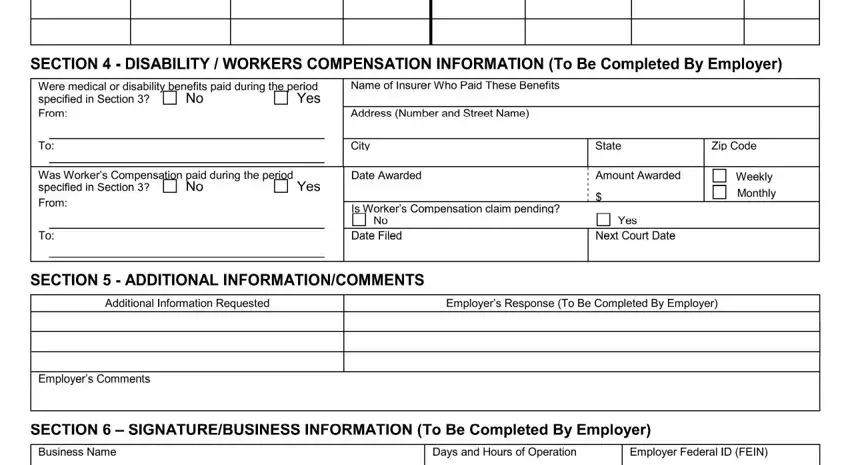 Step 3: If you are done, select the "Done" button to export the PDF file.
Step 4: Generate duplicates of the file - it will help you remain away from potential future problems. And don't worry - we cannot distribute or read the information you have.