You can fill in Dmna Form 1041 effortlessly with our PDF editor online. Our tool is continually evolving to give the very best user experience attainable, and that is thanks to our dedication to continuous development and listening closely to comments from users. Getting underway is effortless! All you should do is stick to the next easy steps down below:
Step 1: Just click the "Get Form Button" at the top of this site to open our pdf file editing tool. There you will find all that is required to work with your file.
Step 2: This tool enables you to change your PDF file in a range of ways. Enhance it with customized text, adjust original content, and place in a signature - all at your disposal!
This document requires specific information; in order to ensure accuracy and reliability, take the time to consider the next suggestions:
1. The Dmna Form 1041 involves specific details to be entered. Make certain the following blanks are filled out: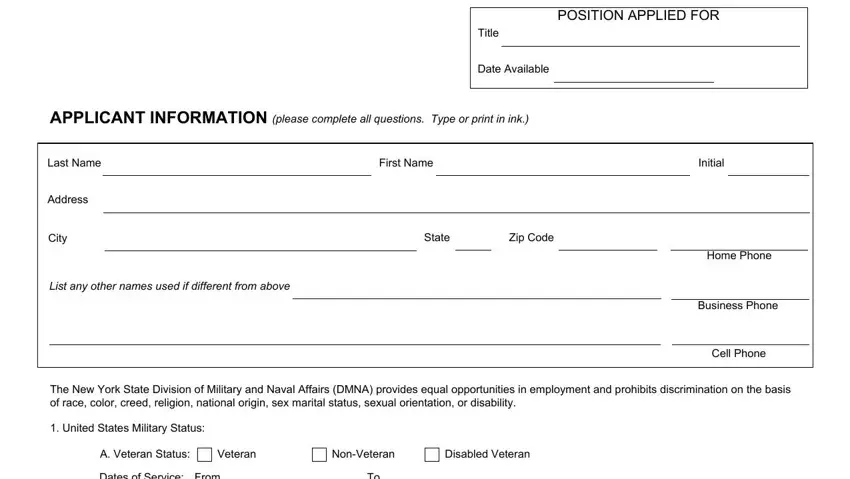 2. Once your current task is complete, take the next step – fill out all of these fields - B ReserveGuard Status, Active, Inactive, None, Branch, Type of Discharge, Do you participate in any, Do you have legal right to accept, Are you able to perform duties of, Are you presently a member of the, Do you have a valid drivers, Have you ever had your drivers, Are you presently receiving a, Have you ever been dismissed from, and Have you ever been convicted of a with their corresponding information. Make sure to double check that everything has been entered correctly before continuing!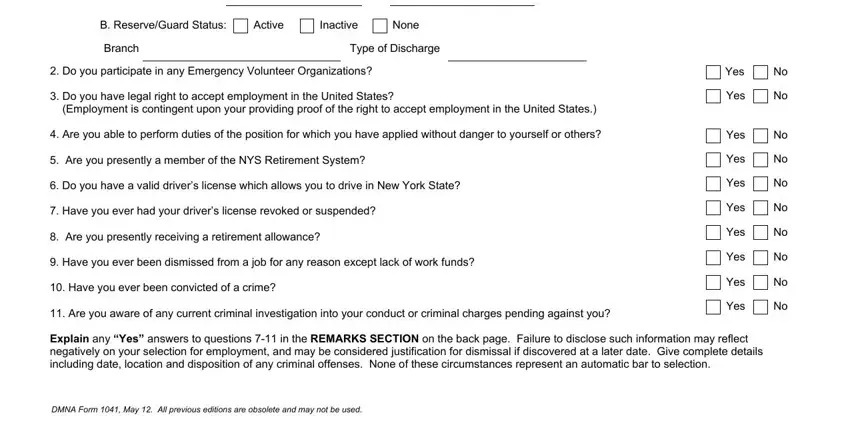 3. This next step is focused on Please indentify any individual, Name Location, Acquaintance, Relative, Name Location, Acquaintance, Relative, Name Location, Acquaintance, Relative, If offered a position with the, Yes, If Yes please indentify other, Name of Organization, and Address Street City State Zip Code - fill in each one of these blanks.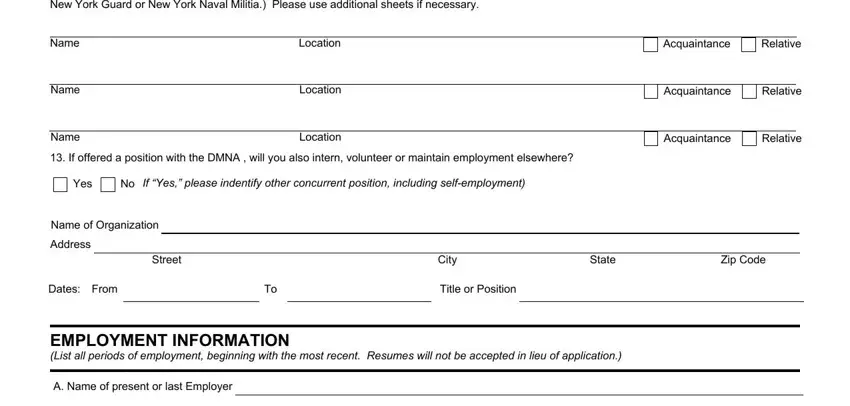 4. To go forward, your next section will require completing a few blank fields. Examples include Address, Supervisors Name and Title, Dates, From, May we contact, Yes, Your Title and Duties, Reason for leaving, B Name of present or last Employer, Address, Supervisors Name and Title, Dates, From, May we contact, and Yes, which you'll find key to carrying on with this particular process.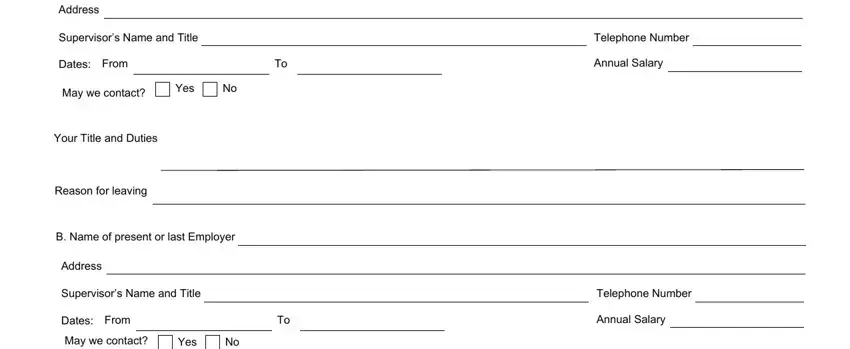 Always be extremely mindful when filling out Supervisors Name and Title and May we contact, as this is where a lot of people make errors.
5. This last stage to conclude this document is crucial. Make sure to fill out the displayed fields, including Your Title and Duties, Reason for leaving, and DMNA Form May All previous, before submitting. If not, it could produce an incomplete and potentially unacceptable form!

Step 3: Right after you've reread the information you given, simply click "Done" to finalize your form at FormsPal. Sign up with us now and instantly access Dmna Form 1041, prepared for download. Each and every change made is handily kept , enabling you to change the pdf later if required. When you use FormsPal, you're able to complete forms without having to get worried about data incidents or data entries getting shared. Our protected software ensures that your private information is maintained safe.