Completing va dealer board is a snap. Our experts created our tool to make it easy to use and enable you to complete any PDF online. Here are some steps you'll want to adhere to:
Step 1: Choose the orange button "Get Form Here" on this website page.
Step 2: You are now allowed to enhance va dealer board. You have numerous options thanks to our multifunctional toolbar - it's possible to add, delete, or modify the content, highlight its specific areas, and perform other commands.
You'll have to enter the following data to be able to complete the template: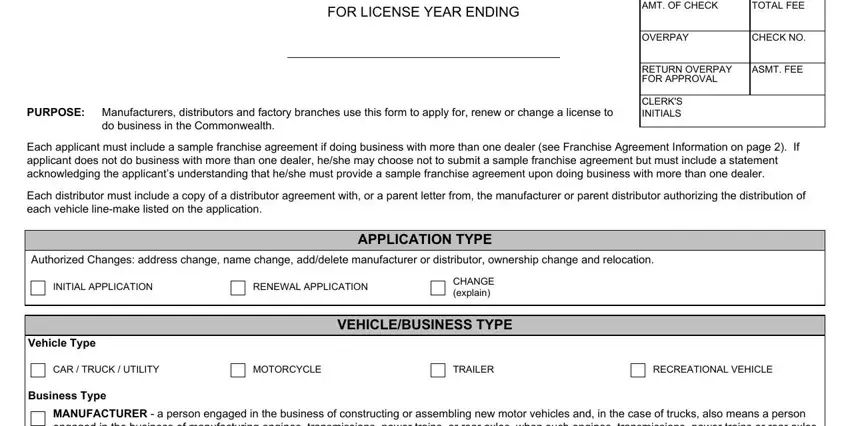 Within the field MANUFACTURER a person engaged in, DISTRIBUTOR a person who sells or, FACTORYDISTRIBUTOR BRANCH a, BUSINESS NAME, BUSINESS STREET ADDRESS, BUSINESS MAILING ADDRESS, BUSINESS JURISDICTION, BUSINESS INFORMATION, TRADING AS NAME, CITY, CITY, LICENSE NUMBER, STATE, ZIP CODE, and STATE type in the particulars that the system demands you to do.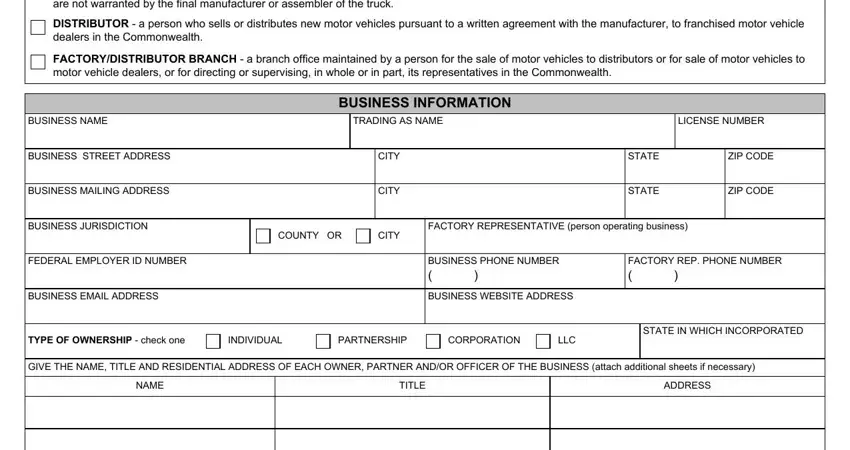 Write the vital particulars in segment.

The LIST LINEMAKES OF VEHICLES TO BE, LIST APPLICANTS FRANCHISE DEALERS, FRANCHISE DEALERSHIP, DEALERSHIP LOCATION, LINEMAKES, Read each question below and check, A Has any owner partner or officer, OWNERPARTNEROFFICER INFORMATION, Been refused a license or, suspended or revoked, and YES section needs to be applied to record the rights or responsibilities of both sides.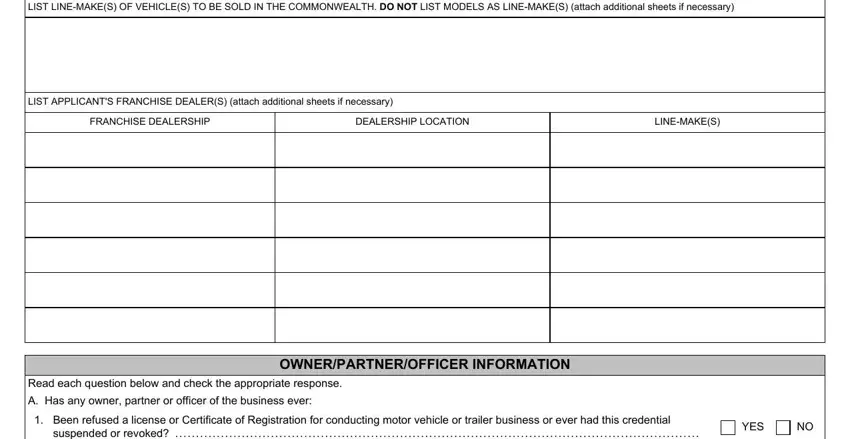 Finish by analyzing the following areas and completing them as needed: suspended or revoked, Been convicted of a felony, YES, Been convicted of a fraudulent, receipt or sale of a stolen, YES, Committed any act or omitted any, YES, B Does any owner partner or, YES, If the answer to any of the above, PRIVACY STATEMENT In accordance, CERTIFICATION I certify and affirm, OWNERPARTNEROFFICER OF BUSINESS, and NAME OF BUSINESS.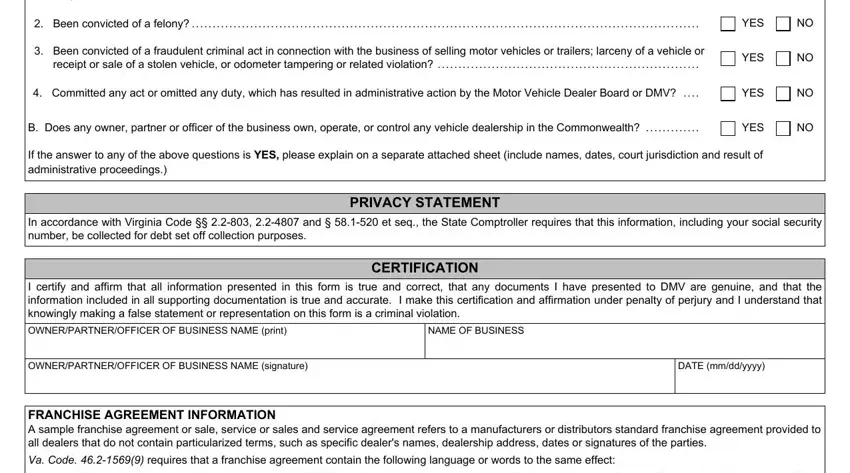 Step 3: After you have clicked the Done button, your file is going to be accessible for transfer to every device or email address you specify.
Step 4: Be certain to stay away from forthcoming difficulties by generating as much as a pair of copies of your form.